The forex market is known as the most liquid and dynamic one when compared to other financial markets. By many opinions, the forex market is not rigged, but online forex brokers can somehow manipulate prices and create an unfair trading environment. For that reason, many people prefer trading with a regulated and trusted broker, as well as with ECN brokers that cannot trade against their clients.
If you are looking to trade with one of the best ECN brokers in the market, this guide will help you know the ins and outs of ECN brokers, choose the best ECN broker for you, and understand how to open an account and get started with a trusted ECN broker.
Best ECN Brokers 2021 List
Below is our list of the best ECN forex brokers as of 2021:
VantageFX – Overall best ECN broker
Pepperstone – An award-winning global forex ECN broker
FXTM – An ECN broker that supports MT4 and MT5 and its own mobile app
IC Markets – True ECN broker with a wide range of products and markets
XM – Top ECN broker with ultra-low spreads
Best ECN Brokers Reviewed
1. VantageFX – Overall Best ECN Broker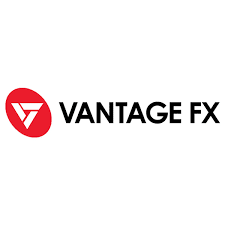 VantageFX is a true ECN broker that offers several ECN account types with a high leverage ratio, and a cost-effective trading solution for forex trading. Founded in 2009, this broker is known as the ideal platform for high-volume traders who are looking for fast execution, low fees, competitive spreads, and a fully transparent connection to the market via top liquidity providers.
The broker, which has servers in Australia, London, and New York – offers three account types – First, the Standard STP account is an ideal solution for beginners who want access to the market with no commissions. The second option is the Raw ECN account that is very popular among experienced traders who are looking for an ECN account with a relatively minimum deposit requirement and high leverage ratio. And, the third option is the Pro ECN account that was designed for professional traders who are looking for fast market execution, low commissions, and zero spreads.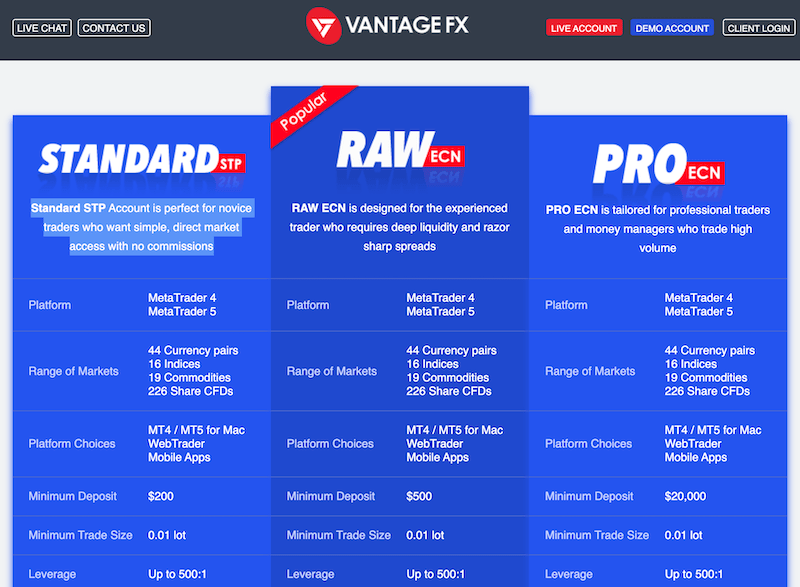 Crucially, VantageFX is not the best broker in the market in terms of the selection of assets. The broker offers a range of over 300 markets, which is lower than the other ECN forex brokers on our list. However, VantageFX is also one of the best high leverage brokers in the industry with a leverage ratio of up to 500:1. Further, the broker offers investors to trade on the most popular trading platforms in the forex and CFD market – the MetaTrader4 and the MetaTrader5.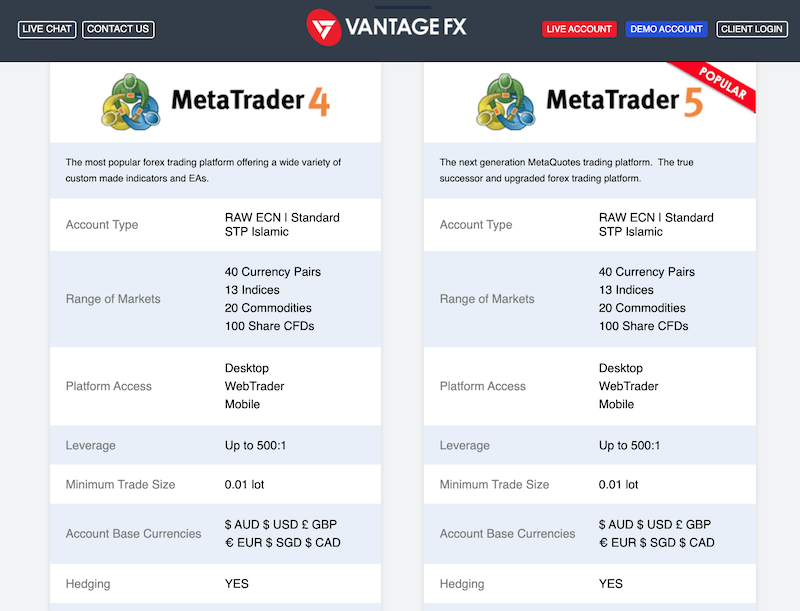 All things considered, VantageFX is perhaps the most recognized ECN broker in the industry, partly because it is one of the few that presents itself as an ECN forex and CFD broker.
Pros:
A true ECN broker with two ECN accounts
Zero spreads
Supports the MetaTrader4 and the MetaTrader5
A leverage ratio of up to 500:1
Over 300 markets
Offers swap-free trading
Cons:
Charges deposit and withdrawal fees
No cryptocurrencies
There is no guarantee you will make money when trading CFDs with this provider.
2. Pepperstone – An Award-Winning Global Forex ECN Broker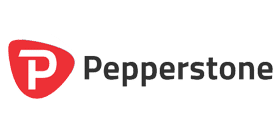 Pepperstone is an Australian forex and CFD broker that has over 500K users across the world and has been recently awarded as the best global forex ECN broker. The broker is a no-dealing desk broker, offering ECN and STP trading accounts by providing access to top liquidity providers and banks.
Overall, Pepperstone provides access to more than 800 instruments with competitive spreads through a range of advanced trading platforms. This includes the MetaTrader4, MetaTrader5, and cTrader. Plus, users get access to some of the best trading tools in the market including the AutoChartists, smart trader tools for MT4/MT5, MyFXBook, MirrorTrader, and RoboX.
In terms of trading accounts, Pepperstone offers users the Razor and Standard accounts. The Razor is an ideal solution for scalpers and those who want to apply algorithmic trading, and the Standard is a great option for newbies that need transparent access via ECN connection. All in all, Pepperstone certainly offers some of the most competitive variable spreads and fees in the market. For example, the broker claims that the average spread for EUR/USD is around 0.1 pips.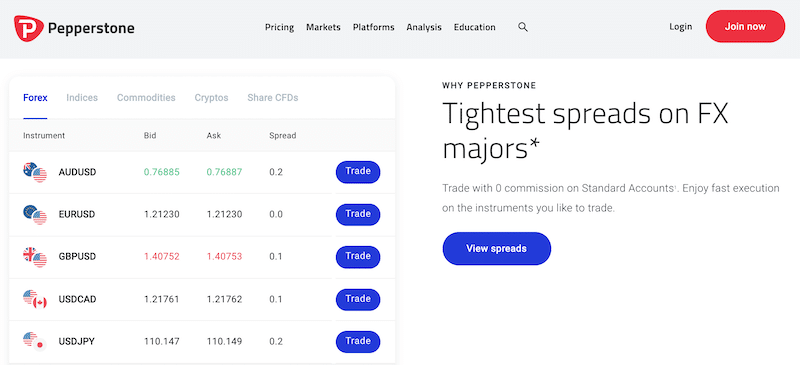 Finally, Pepperstone is also heavily regulated by top financial entities including the FCA, CySEC, ASIC, DFSA, BaFIN, SCB, and CMA.
Pros:
More than 800 instruments
Very competitive spreads
Excellent client area that helps you manage your account
Wide range of trading platform and tools
Offers cryptocurrency trading
Heavily regulated
Cons:
Charges swap-fees
Does not offer the lowest fees among ECN forex brokers
There is no guarantee you will make money when trading CFDs with this provider.
3. FXTM – An ECN broker that supports MT4 and MT5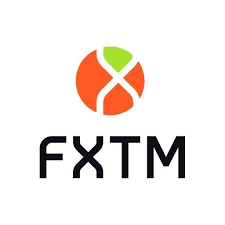 FXTM is another great option for traders that want to get access to the market via an ECN account. This broker offers investors to trade FX currency pairs, indices, commodities, stocks, FX indices, stock baskets – all with an extremely high leverage ratio of up to 1000:1.
The main attraction of FXTM is the low spreads it offers on each type of account. In that matter, even if you are a beginner who wants to make a small deposit of around $/€/£ 50, you'll be able to trade with a spread that starts from 1.5 pips. Otherwise, the most popular FXTM ECN account is the Advantage account that requires a minimum deposit of $/€/£ 500 and allows traders to trade with zero spreads and a fixed commission of average of $0.40 – $2 based on volume.
Moreover, this low spread forex broker offers a swap-free account option, meaning you can leave your positions open for a long term without paying overnight fees – a feature that is not available on some ECN brokers and market maker brokers. The broker supports the MT4 and the MT5 and has recently released its new trading app, the FXTM Trader, which is quite impressive in terms of the design and trading tools it offers.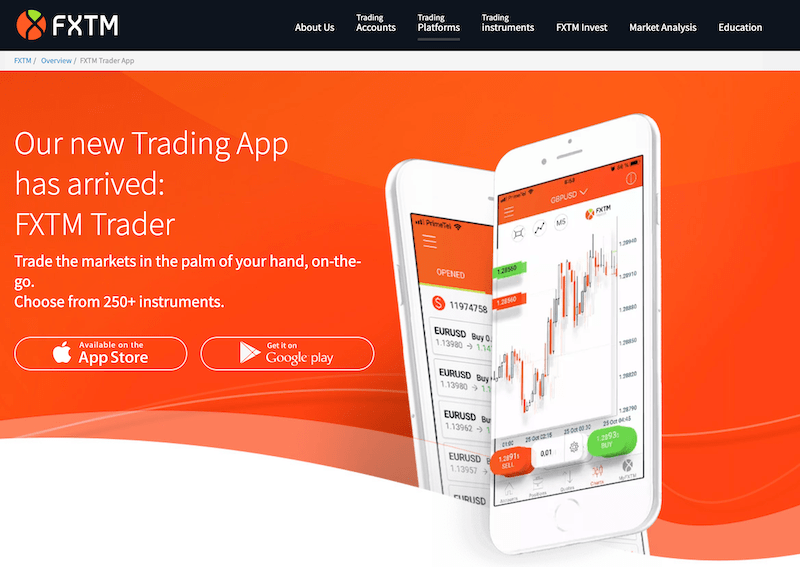 Finally, in terms of regulation, the Cyprus-based broker is one of the most regulated brokers in the industry as it holds licenses from CySEC, FCA, and FSC.
Pros:
High leverage ratio of up to 1000:1
Low overnight fees. Offers a swap-free account
Provides trading on six FX currency indices
Globally licensed and regulated brokerage firm
Tight spreads
Low minimum deposit requirement
Cons:
Limited selection of instruments compared to other brokers
Charges withdrawal and inactivity fee
There is no guarantee you will make money with this provider.
4. IC Markets – True ECN broker with a wide range of products and markets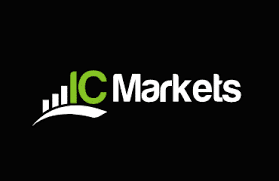 IC Markets is another Australian-based ECN brokerage firm that offers forex and CFD trading. The broker takes pride in offering a transparent trading environment for retail and institutional clients and is known as one of the most legitimate forex and CFD brokerage firms available in the market. With this broker, investors get access to over 1750 instruments in the following markets – FX currency pairs, commodities, indices, bonds, digital currencies, stocks, and futures.
In terms of the contract specifications, IC Markets offers a high leverage ratio of up to 500:1, zero spreads, and micro lot trading (0.01 lot). The broker offers a range of two ECN account options that include the Raw Spread cTrader, and the Raw Spread MetaTrader. Both accounts provide some of the lowest possible spreads available with spreads that start from zero and a commission of $3 for the cTrader account and $3.5 for the MT4 account. In total, on these accounts, users get access to 64 forex currency pairs.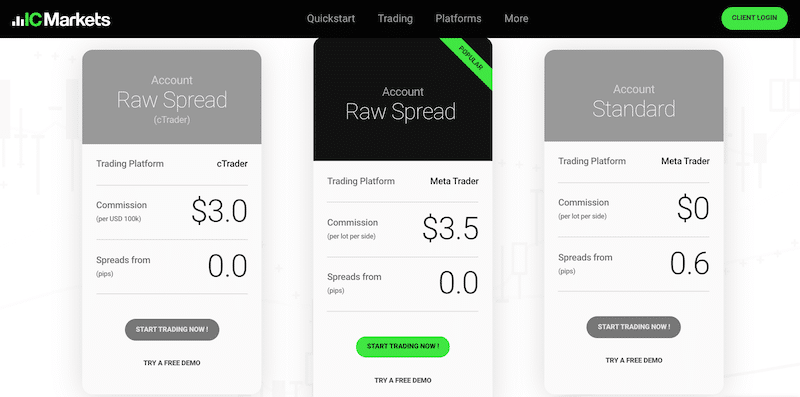 The minimum deposit required to get started at IC Markets is just $200 and the broker also offers a demo account for the Raw Spread MT4 account.
Pros:
High leverage ratio of up to 500:1
Over 1750 assets
Zero spreads
Average execution speeds of under 40ms
Offers a demo account
61 FX currency pairs
Huge range of stocks
MetaTrader is available on Mac
Accepts PayPal
Cons:
Long withdrawal process
No social trading tools
There is no guarantee you will make money with this provider.
5. XM – Top ECN broker with ultra-low spreads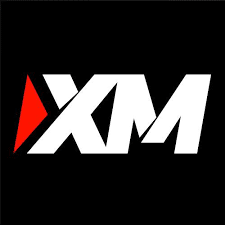 Another top-notch ECN broker that has won many awards over the past years is XM. This broker is regulated by several financial agencies across the globe and serves more than 3.5 million users from 196 countries. It offers a range of more than 1000 instruments including 55 FX currency pairs.
Even though XM does not define the type of its brokerage services as ECN, it ensures that 99.35% of all trades are executed in less than 1 second, and they provide a very strict no re-quotes policy – two strong indications that XM is an ECN brokerage firm. To be able to trade via its ECN network, you'll have to choose the XM Zero Accounts that provide ultra-low spreads and fixed commissions.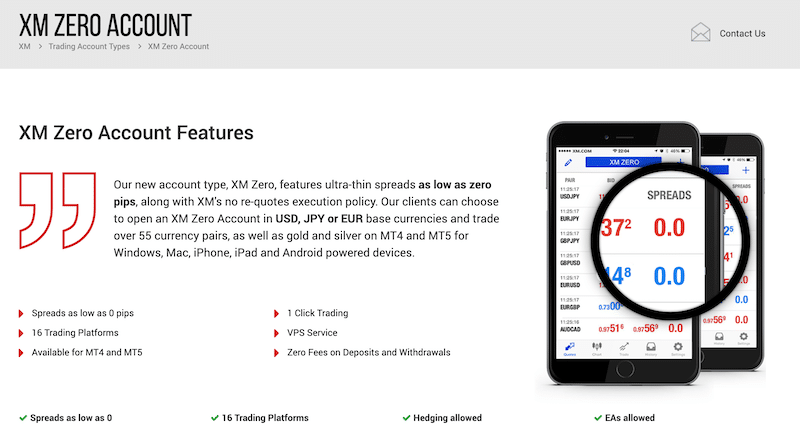 Moreover, if you decide to use this account – you get access to 16 trading platforms, automated trading, and hedging. Finally, if you have any concerns about the safety of your funds, then XM is regulated by CySEC, FCA, BaFin, and more. And, all retail traders' funds are insured by up to €20,000 by the Investor Compensation Fund.
Pros:
A leverage ratio of up to 500:1 for the XM Zero accounts
More than 1000 instruments including 55 FX currency pairs
16 trading platforms
A range of 25+ payment methods
Awarded the Best FX Service Provider in 2021
Offers free VPS
Cons:
No cryptos
Charges inactivity fee
There is no guarantee you will make money with this provider.
ECN Brokers Fees Comparison
Below you'll find a fee comparison table of our list of true ECN brokers:
| | | | | |
| --- | --- | --- | --- | --- |
| Broker | Spreads | Commissions | Inactivity Fee | Deposit and Withdrawal Fee |
| VantageFX | As low as zero | Raw ECN account – $3 per $100,000 traded, Pro ECN account – $2 per $100,000 traded | No inactivity fee | Varies depending on the payment method |
| Pepperstone | As low as zero on Razor accounts only | $3.5 per $100,000 traded | Pepperstone does not charge an inactivity fee | No deposit and withdrawal fee |
| FXTM | As low as zero | Average of $0.40 – $2 based on volume | An inactivity fee of $5 per month after 6 months of inactivity | No Deposit fee. A withdrawal fee of $3 |
| IC Markets | As low as zero | cTrader account – $3 per $100,000 traded, MT4 Account – $3.5 per $100,000 traded | No inactivity fee | No deposit and withdrawal fee |
| XM | As low as zero | $3.5 per $100,000 traded | $15 fee after one year of inactivity | No deposit and withdrawal fee |
What is an ECN Broker?
An ECN broker is a forex broker that connects market participants through an electronic communications network (ECN), which is is a computer-based system that matches clients' buy and sell orders via a network of forex liquidity providers. As such, ECN brokers are essentially non-dealing desk (NDD) brokers, meaning they cannot manipulate the market or "making a market' but instead, they act as a pure brokerage between traders.
ECN Brokers vs Market Makers
Clearly, before you start trading with an ECN broker, you must first understand the difference between this type of brokerage firm to a market maker broker, which is the other type of forex broker.
When we compare the two types of brokers, the downside to using an ECN broker is the fixed commissions you have to pay when you get in and out of a position, which can be pricey over the long term. A market maker broker, on the other hand, does not charge any fixed trading commissions, which for some traders is a big advantage. It does, however, charge a spread (usually fixed) and an overnight fee for a position held open overnight. 
Another advantage of using a market maker broker is the fact that you always get an execution regardless of the market conditions. This is something that an ECN broker cannot guarantee as it simply matches orders from liquidity providers.
However, that's about it. ECN brokers are better than market maker brokers in all of the other aspects. First, unlike market maker brokers (and STP brokers), ECN brokers do not trade 'against' their clients and cannot display any price they wish. Instead, ECN brokers simply display the prices of buyers and sellers on the network.
Another reason why many traders prefer ECN brokers is that with this type of accounts you get tighter spreads (on some ECN accounts you can even get zero spreads), instant execution, and no slippages. This makes an ECN network ideal for those who want to automate their trading by using programming languages, also known as algorithmic trading.
Finally, ECN brokers typically provide a more 'professional' connection to the forex market. This includes a level 2 order book, and tighter spreads in times of high volatility in the market. As such, ECN platforms are best for professional traders while market maker brokers are often a better solution for beginners.
Benefits of ECN Brokers
Generally, ECN brokers are considered a better option than dealing desk brokers for several reasons. These include:
ECN brokers don't trade against their clients and as such, remove the conflict of interest between the trader and the broker.
ECN brokers provide better prices and cost-effective trading conditions
More transparent trading environment – ECN brokers cannot manipulate prices
Fast market execution – A better solution for algorithmic trading
Tighter spreads. Some brokers offer ECN accounts with zero spreads
ECN trading is more beneficial for day trading, scalping trading, and algorithmic trading
How to Get Started with an ECN Broker
By now, you should have all the information you need to understand the benefits of trading with an ECN broker. So, if you want to instantly open an account and start trading with one of our best ECN brokers, we are now going to show the full process of getting started with VantageFX.
Step 1: Open an Account and Verify Your ID
To get started, you are required to visit the VantageFX homepage and register for an online account by clicking on the 'Join Now' button on the right corner of the screen. You'll then be asked to provide your email address or sign up using your Google or Facebook account. After that, VantageFX asks you to choose the account type, your country of residence, and create a password.
Once you have completed the registration process, you are transferred to VantageFX Client Area where you can manage your account, deposit funds, and get access to both trading platforms. In order to be able to trade with real money, VantageFX asks you to complete the application first. This includes submitting your personal details and uploading documentation that verifies your ID.
Step 2: Deposit Funds
VantageFX offers users a demo account for a duration of 30 days, so you can use the demo account to get familiar with the platform and test different trading strategies. However, once you are ready to trade with real money, the next thing you need to do is to add funds to your account.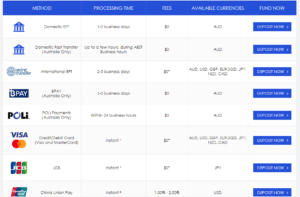 The broker has a minimum deposit requirement of $200 or equivalent, and, in order to make a deposit, you simply need to navigate to the Funds tab on the Pepperstone Secure Client Area and add funds.
Step 3: Choose a Trading Platform
Now that you have funds in your account, you can move on to the next step of choosing the platform you want to focus on. As mentioned previously, VantageFX gives you a great selection of trading platforms that include the MetaTrader4/MetaTrader5 (available on web-browser and mobile app), the cTrader that is designed for professional traders (web, desktop, and mobile app), and additional platforms that can help you get the most out of your trading account (AutoChartist and SpreadIndicator).
Step 4: Start Trading
At this point, you can start trading with the VantageFX ECN account. To make a trade, you need to learn how to place an order on the MT4 or MT5, which is very simple and straightforward. Once you are logged in to the platform, search for the instrument you would like to buy or sell and then double click on it on the Market Watch window.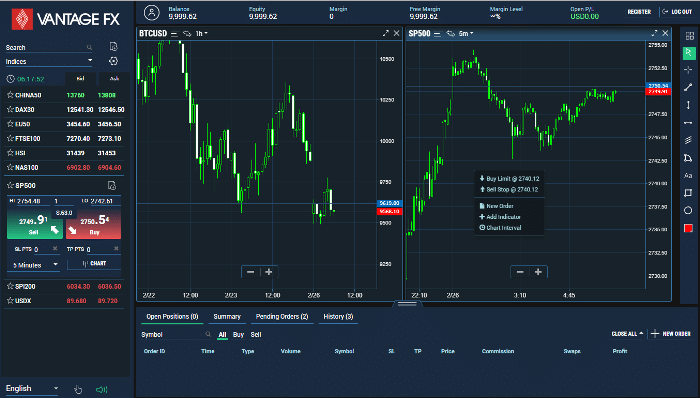 eToro – An Alternative to ECN Brokers
There's no doubt that there are many benefits of trading with an ECN broker, however, some traders still prefer to trade with a market maker broker for several reasons. First, unlike ECN brokers, a market maker broker always provides a solution to execute your order as they are willing to buy or sell an asset at any price. Secondly, a market maker does not charge a fixed trading commission. Instead, these brokers simply charge a buy and sell spread (variable or fixed).
Therefore, if you find a regulated and trustworthy broker with a large number of users like eToro, then you might want to consider opening an account with a market maker broker. In that matter, eToro has more than 17 million registered users on its platforms and is considered the largest social trading network in the world. And, even though eToro isn't the cheapest broker on the market, there are several reasons to choose this platform, especially if you are a newbie trader that is looking for a different trading experience.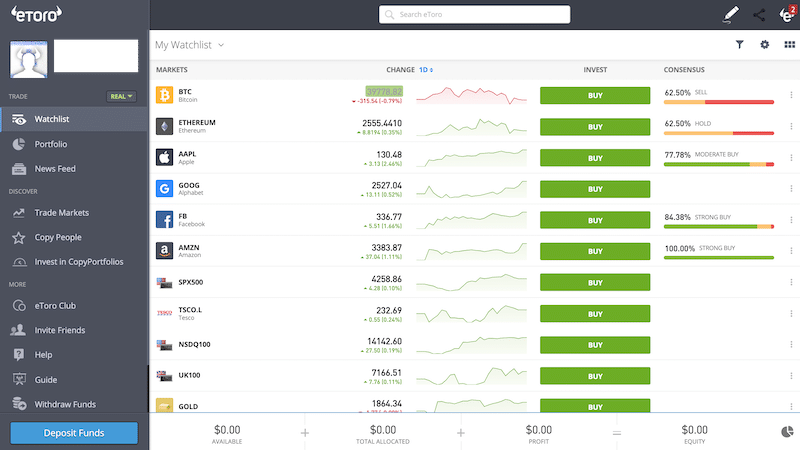 As you can see in the image above, eToro does not offer a conventional trading platform but instead, it has a design of popular social networks like Facebook, Linkedin, Twitter, etc. This enables users to get into the trading action faster and without going through the long process of learning a new trading platform.
Then, another factor to consider eToro is the ability to utilize social trading on eToro's platform in the way it suits you. As such, you can search for a trader based on the risk you want to take, the market, region, and the return of the investor in various time durations. Once you have chosen an investor you wish to copy, you simply click on a button and the system automatically copies all the trades of the investor.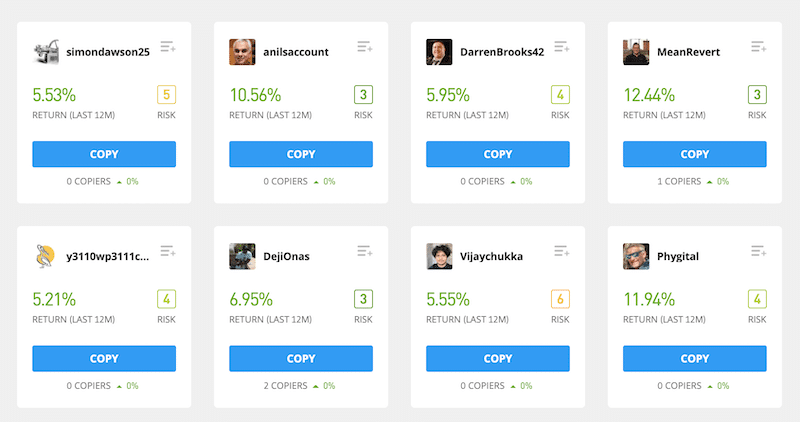 Past performance is not an indication of future results
All things considered, while ECN brokers offer great trading conditions, it might be a problem for newcomers that want a nice and easy trading platform. In our view, eToro is one of the best market maker brokers, in terms of the platform, the trading tools, and the reputation it has in the industry.
Vantage FX – Best ECN Broker 2021
The bottom line, trading with an ECN broker can make a huge difference in a trader's success. And, if it important for you to have a transparent trading environment, then you better choose a broker with an ECN account. From our research, VantageFX is the best ECN broker in the market, largely due to the competitive spreads, the variety of ECN accounts, the high-speed execution, and the selection of trading platforms.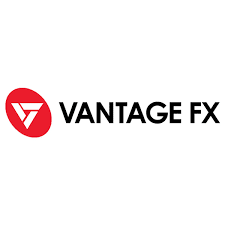 Your capital is at risk when trading financial instruments at this provider
FAQs
What is a true ECN broker?
How do ECN brokers make money?
What is the best way to identify an ECN broker?
Can I trade CFDs with an ECN broker?
How can you reduce your ECN fees?