GBP/USD trades nearly half a percent higher as the dollar weakens further.
The psychological 1.25 level has been broken and it was looking like a strong resistance.
GBP/USD 1-hour chart
The USD has once again been the underperformer in the FX markets as the risk-on environment continues. This has lead the price of GBP/USD to push higher despite GBP not really being one of the strongest of the G10 currencies on Tuesday. EUR/GBP and GBP/AUD can be our barometer with the pound struggling in both pairs. 
Looking at the 1-hour chart below, the 200 Simple Moving Average has been taken out. The indicator was closely aligned with the 38.2% Fibonacci retracement and both have now been rendered obsolete but the push higher in the pair. 
The next resistance point is now at the 50% Fibonacci retracement zone and beyond that the red line at 1.2612. As you can see from the chart below the blue downward sloping diagonal trendline has now been broken and there is a tendency for price to retest a trendline once broken. 
The purple upward sloping trendline is the one to watch. Any break below could mean the price could be heading back down. Until that point at least the bulls are in charge. 
Looking at the technical indicators the Relative Strength Index has a small divergence forming which could mean the price is ready to pullback. Around 1.2550 is a pretty sticky-price zone so the price could struggle to move beyond there but it does depend on the extent of the USD weakness at the moment.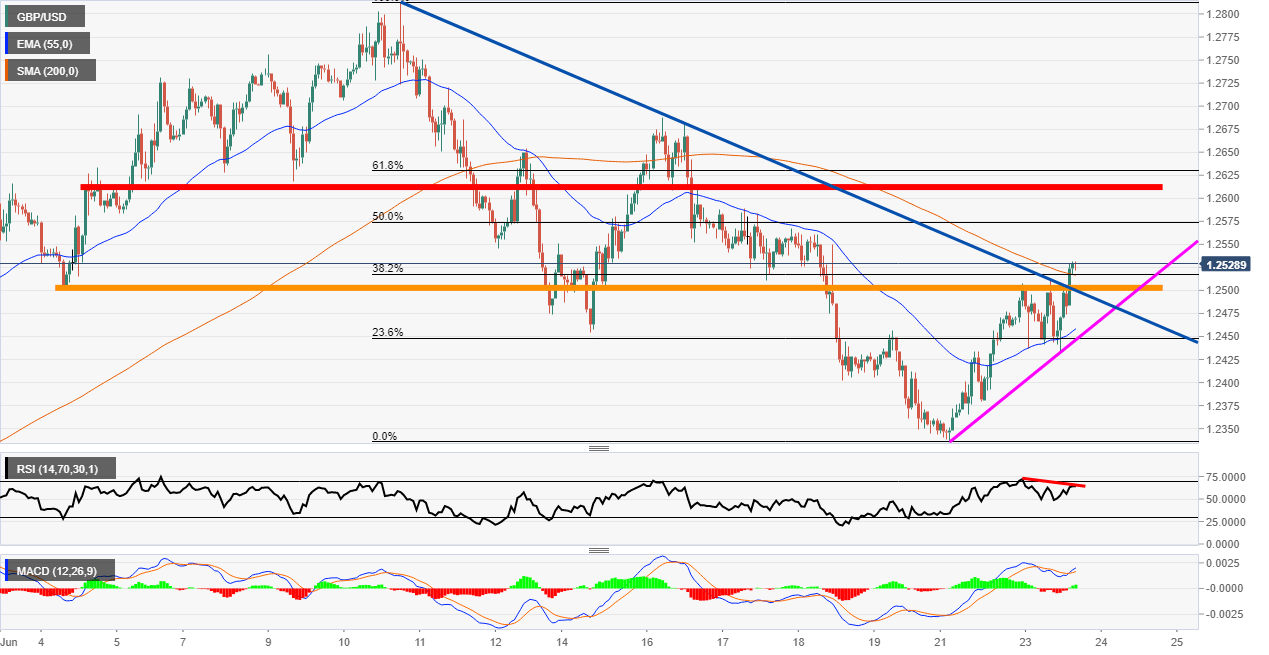 Additional levels