After another successful week, the pound faces a big test with the GDP release, among other figures. Is the British economy really doing well? Here's an outlook for the British events and an updated technical analysis for GBP/USD.
Inflation is raging in Britain – annual CPI is at 3.7%, too far from the target. On the other hand, employment could be better. Which direction will the pound take?
GBP/USD daily chart with support and resistance lines marked. Click to enlarge: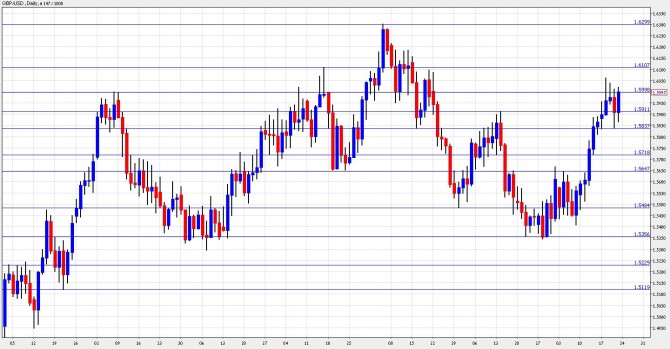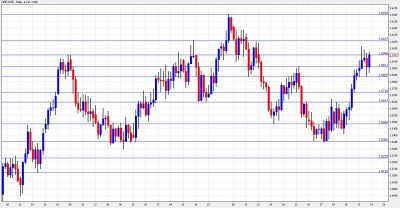 Andrew Sentance talks: Monday, 18:00. This external MPC member is known as a hawk – he has voted for a rate hike for many months. Following the high CPI, he might emphasize the urgency for a rate hike in the European Policy Forum conference in London.
Nationwide HPI: Publication time unknown at the moment. Nationwide's figures are considered rather accurate in measuring home prices. After two months of drops, a surprising rise was recorded last month – 0.4%. But this was probably a one time event – a drop of 0.2% is now expected.
BBA Mortgage Approvals: Publication time unknown at the moment. The British Bankers' Association represents around two thirds of Britain's mortgage approvals, making this figure important. Approvals have declined in recent months, dropping to exactly 30K last month. They're expected to tick down to 29.9K this month.
GDP: Tuesday, 9:30. The first release of GDP for the fourth quarter of 2010 is likely to show a slowdown in Britain. After enjoying a growth rate of 1.2% in Q2 and 0.7% in Q3, expectations are for a 0.5% figure now. The initial release always has a very strong impact on the pound, no matter the result.
Public Sector Net Borrowing: Tuesday, 9:30. Usually this number is very important, but it's overshadowed by GDP this time. The government vowed to fight the deficit, but last month's number of 22.8 billion, much worse than expected, has shown that the deficit is deepening. "Net lending of "only" 18.4 billion is predicted now.
Mervyn King talks: Tuesday, 19:40. The governor of the BoE will speak in Newcastle about the current situation. Any remarks about inflation will rock the pound, as the pressure to raise the rates is mounting.
MPC Meeting Minutes: Wednesday, 9:30. It will be interesting to see how the members voted in the recent rate decision. Did anyone join Andrew Sentance with voting for a rate hike? Has Adam Posen abandoned his call for more QE? The three-way vote is with us for quite a few months, in the current form. Any change will rock sterling.
CBI Realized Sales: Thursday, 11:00. The Confederation of British Industry surprised everybody last month with a rise in its index – 56 points instead of 38. This shows robust economic activity. A correction is due this time, with a drop to 42 points.
* All times are GMT
GBP/USD Technical Analysis
Pound/Dollar gradually climbed and managed to break the round 1.60 line (mentioned last week) before falling back eventually closing just around this line.
Looking above 1.60 still caps the pair, although this line is now less important. 1.60 was a peak in August. 1.6107, the swing high, is the next line of resistance after being a swing peak.
Above, 1.63, the highest level in a year and serves as significant resistance. An old peak at 1.6450 is the next line, and it's followed by 1.67, but these lines are still far now.
Looking down, 1.5910 now switched to support. It was a peak in December. 1.5840 is the next cushion, and is now a stronger line of support.
Below, 1.5720, is also a minor line, that worked in the past week and also beforehand.  More important support is found at 1.5650, which was the top border of wide range that GBP/USD traded in until the recent breakout.
It's followed by 1.5480, which is a minor line.  Further significant support appears at 1.5350, which was the bottom border or the wide range.
1.5230 capped the pair in the beginning of the summer, and is now has a different role.  It's followed by 1.5120, which already worked as support, and is a minor line now.
I turn bearish on GBP/USD.
The failure to close above 1.60 and the weakness of the economy weigh against the hopes that the soaring inflation will lead to rate hike. Raising the rates at this fragile timing is not the best policy option.
Further reading: