The initial release of GDP, meeting minutes and retail sales are part of the events that will rock the Pound in a busy week. Here's an outlook for the British events and an updated technical analysis for GBP/USD.
GBP/USD daily chart with support and resistance lines marked. Click to enlarge: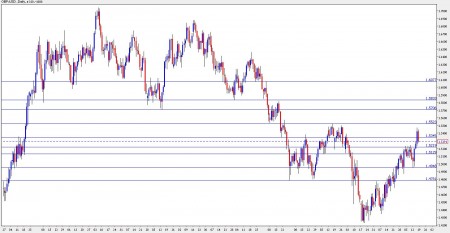 The Pound got out of the range it was stuck in, and made a move forward, enjoying another impressive drop in unemployment. It failed to break an important resistance line. Will it happen this week? Let's start:
Rightmove HPI: Published on Sunday at 23:00 GMT. Rightmove has shown 6 straight months of rises in prices of homes. In the past two months, the gains have been rather weak. Following last month's 0.3% rise, a similar rise is expected now. This will provide a shaky start for the week.
Mortgage Approvals: Published on Tuesday at 8:30 GMT. The second housing figure comes from an official source – the Bank of England. The preliminary release of approvals is expected to show a rise – from 50K to 52K. Note that the number tends to change in the final release, but the initial publication has a stronger impact on the Pound.
Public Sector Net Borrowing: Published on Tuesday at 8:30 GMT. Last month saw a surge in lending by the government – 16 billion, after a 8 billion in the previous month. A rise to 13.2 billion is expected now, in the first release for the new government.
MPC Meeting Minutes: Published on Wednesday at 8:30 GMT. Andrew Sentance, which voted for raising the interest rate to 0.75% last month, probably did it again, but remained the only one. The Bank of England left the rate unchanged at 0.5%. If another member voted to raise the rates, the protocols will boost the Pound.
CBI Industrial Order Expectations: Published on Tuesday at 10:00 GMT.  550 manufacturers are surveyed for this important indicator. After an improvement, this indicator fell back down last month to -23 points. A negative figure means expectations for weaker order volume. Another drop to minus 25 points will probably be seen now.
Retail Sales: Published on Thursday at 8:30 GMT. This major consumer indicator surprised with a neat rise last month – 0.6%. Consumers in Britain continue being optimistic and increase their spending. Another nice rise is likely to happen now – 0.5%.
GDP: Published on Friday at 8:30 GMT. The first release of GDP for the second quarter will rock the Pound, and will provide a strong finish to the week. After two quarters of weak growth following the recession, Britain is expected to see stronger growth this time – 0.6%. Such a result will boost the Pound bulls. Note that the NIESR institute showed a similar growth rate in Q2, so expectations are high.
BBA Mortgage Approvals: Published on Friday at 8:30 and overshadowed by the GDP release. The British Bankers' Association represents two thirds of mortgages – which the housing sector relies on. Stability is expected here for the third month in a row, with an insignificant rise from 36.7 to 37K.
GBP/USD Technical Analysis
The Pound fell at the beginning of the week, trading between 1.4950 and 1.5130. When it moved forward, the move was strong. The pair settled above 1.5220 and then jumped above 1.5350. After failing to reach 1.5520, GBP/USD lost the 1.5350 support line and closed at 1.5291.
Some lines have changed since last week's outlook. The Pound now ranges between 1.5350, which was a pivotal line back in April, and 1.5220, which served as a strong resistance line in recent weeks, and now works as a support line.
Looking down, the next minor support line is 1.5130, which was a support line in April. The next line is 1.4950, which supported the pair in the past week, and also had the same role in March.
Lower, 1.4780 held the Pound before it collapsed in May, and then worked as a resistance line. There are many lines below until the year-to-date low of 1.4230.
Looking up, 1.5350 returns to its role as a pivotal line. Above, 1.5520 is a very strong line of resistance. It worked as such many times in April and May.
Higher, 1.57 provided support for the pair in 2009, and is now a minor line of support. Above, 1.5833 worked in both directions at the beginning of the year, and provides a strong line of resistance now. The next line of support it 1.6080, quite far at the moment.
I am neutral on GBP/USD.
The improving employment situation in Britain, together with the inflation that is still high, balances the debt issues and the fear of a double dip recession.
Further reading:
Want to see what other traders are doing in real accounts? Check out Currensee. It's free..