The pound continued its free fall, as GBP/USD fell over  three cents this week, closing at 1.5358.  The upcoming week has 10 releases, including Manufacturing  PMI, Construction PMI and PPI Input. Here is an outlook for the upcoming events, and an updated technical analysis for GBP/USD.
Manufacturing PMI plummeted in the May release, with the  index's worst performance since June 2009.  As well, talk of a Greek exit from the Euro-zone and a lacklustre response to the  deepening recession and fiscal crisis  in the EZ  are weighing heavily on the pound.
Updates: Monday is a holiday in the UK, and there are no releases scheduled. The pound is up slightly to start the trading week, and was trading at 1.5386. UK Banks will be closed on Tuesday for the Queen's Diamond Jubilee. The BRC Shop Price Index will be released late Tuesday. GBP/USD was down, as the pair was trading at 1.5353. BRC Shop Price Index rose 1.5%, compared to 1.3% in the May reading. Construction PMI dropped to 54.5 points, almost matching the estimate of 54.5. BRC Retail Sales Monitor will be released later on Wednesday. The pound moved upwards, as GDP/USD was trading at 1.5486. BRC Retail Sales Monitor rebounded strongly, posting a 1.3% increase. Halifax HPI rose 0.5%, a four-month high. Services PMI came in at 53.3 points, exactly the same as the previous reading. This figure beat the forecast of 53.6. Asset Purchase Facility  remained at 325 billion. As expected, the central bank maintained the Official Bank Rate at 0.50%.  GBP/USD is up sharply, as the pair was trading at 1.5541.
GBP/USD graph with support and resistance lines on it. Click to enlarge: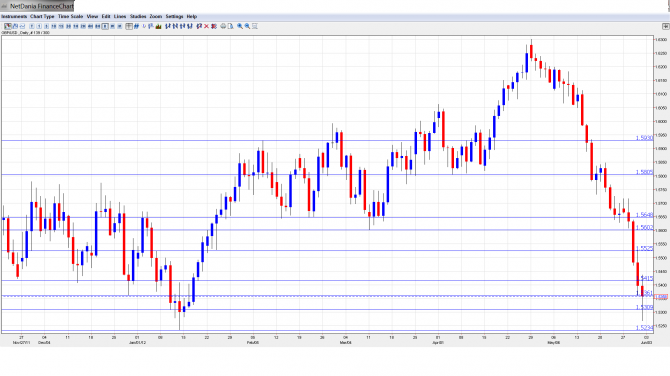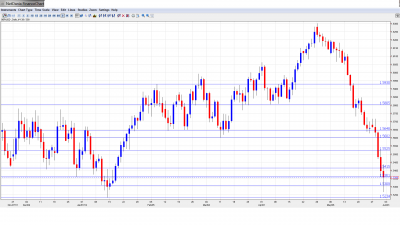 BRC Shop Price Index: Tuesday, 23:01. This consumer inflation index fell to 1.3% in May.  It precedes the official CPI publication, which will not be released until mid-June.
Halifax HPI: June 6th-8th.  In May,  the  index plunged by 2.4%., its lowest reading since May 2010. The markets are predicting a modest increase of 0.3% in June.

Construction PMI: Wednesday, 8:30. The construction sector has seen steady growth, with the past three readings  close to  56 points. The markets are expecting a slight decline in June.

BRC Retail Sales Monitor: Wednesday, 23:01. This indicator fell sharply in May, dropping 3.3%. Will the indicator bounce  back into positive territory in  June?  

Services PMI: Thursday, 8:30. The index dropped in May, posting a reading of 53.3 points. The market estimate is for another slight decline in June, to 52.7.

Asset Purchase Facility: Thursday, 11:00. QE has been steady at 325B since February. No change is expected for the June reading.

Official Bank Rate: Thursday, 11:00. This key interest rate has been at 0.50% since 2009.  The markets are not predicting any change  in this month's release.

PPI Input: Friday, 8:30. The index declined   sharply in May, falling by 1.5%. Another drop of 1.2% is forecast for the June reading.

Consumer Inflation Expectations: Friday, 8:30. The indicator has been falling in recent months, and posted a reading of 3.5% in May. Will the downward trend continue this month?

10-y Bond Auction: Friday, tentative. Analysts  keep a watchful eye  on government bonds sold at auction. The last auction,  which took place in  April, posted a yield of 2.22/1.9.
*All times are GMT
GBP/USD Technical Analysis
GBP/USD opened the week at 1.5679. After reaching a high of 1.57,7 the pound continued to slide, dropping all the way to 1.5268. The pair closed the week at 1.5358, just below the support level of 1.5361 (discussed last week).
Technical levels from top to bottom
With the continuing sharp drop by GBP/USD, we again start lower this week. We begin with  resistance in 1.5930, which was fluid in April. Below, there is resistance  at  1.5805.   This is followed by resistance at  1.5648, which was providing weak support just last week.  Close by,  there is  resistance at the round figure of 1.5600, which has had  provided support  since January.  
This is followed by resistance at 1.5521.  Next, there is resistance at 1.5415, which was providing strong support until this week. The next  line is 1.5361, just above the pair's close for the week at 1.5358.
Close by, the pair is  being supported at  1.5309. This line has not been breached since September 2010, but looks to be tested if the pound continues to weaken. Next, there is support at  1.5229. This is followed   by the line of 1.5124, which has not been tested since July 2010. The final line for now is at 1.4986, just below the psychologically significant 1.50 level.
I  continue to be  bearish on GBP/USD.
The pound's free fall continued this week, and the British currency and has  shed an astonishing 9 cents against the US dollar since May 1.  How much further can it drop? The recession in Europe and crisis in Greece are sending nervous investors to safe haven currencies such as the dollar, and the greenback is taking full advantage.
Further reading: