A very busy week expects pound traders – inflation and employment figures are the highlights. Here's an outlook for the British events, and an updated technical analysis for GBP/USD.
GBP/USD daily chart with support and resistance lines marked. Click to enlarge: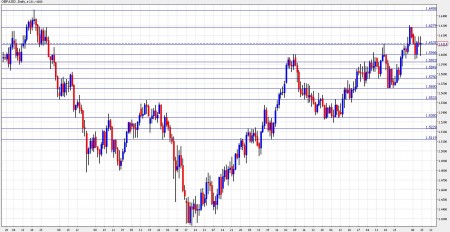 The pound showed significant strength in the past week, weathering the dollar's storm. This came despite weak figures in Britain such as manufacturing production and consumer confidence that disappointed. Will this continue? Let's start:
Rightmove HPI: Monday, 00:00. This is the earliest house price report in the UK. and is also released very early in the weak, providing an interesting start to GBP/USD. Last month saw a surprising rise of 3.1% in prices, after several months of drops. A small rise is expected now.
CPI: Tuesday, 9:30. Britain's inflation is above the government's 1-3% target throughout most of the year, although it has stabilized on an annual rate of 3.1% in recent months. The same stubborn 3.1% number is expected now, triggering another letter from BoE governor Mervyn King to the government. In previous letters and speeches, King blamed rising prices on VAT and oil prices, seeing inflation falling back down. Due to the government's austerity measures, King will probably dismiss inflation once again, reducing any chance of a rate hike, as his colleague Andrew Sentance wants. In addition to CPI, it's also important to note Core CPI, which is predicted to remain unchanged at 2.7% and the Retail Price Index (RPI) which is likely to continue staying high, at 4.5%. The pound will rock on any figures.
Employment data: Wednesday, 9:30. Claimant Count Change, the earliest employment report, shows the number of change in the number of unemployed Brits – this report is for October. After a few months of nice drops, the past two months saw fresh rises. Last month's 5.3K rise will probably be followed by another similar 5.1K rise. The other important figure, unemployment rate is for the month of September. It's expected to remain unchanged at 7.7%, a surprisingly lower level it reached in last month's report. It's also important to note significant changes in the Average Earnings Index, which is expected to rise by 2.1% after 1.7% last month.
MPC Meeting Minutes: Wednesday, 9:30. At the same time with employment figures, we'll get to see that members of the Monetary Policy Committee were split once again on the rate decision. Andrew Sentance wants to fight inflation with a rate hike, Adam Posen thinks the economy needs a boost with more quantitative easing (pound printing) while the majority, including governor Mervyn King want to leave policy unchanged. Any changes in members' votes or interesting comments, will add to the action.
Retail Sales: Thursday, 9:30. This all-important consumer indicator has shown another disappointing drop last month – 0.2%. A correction is expected this time with a rise of 0.5%. A third month of lower volume will weaken the pound.
Public Sector Net Borrowing: Thursday, 9:30. The new British government, under PM Cameron, has vowed to fight the high deficit, yet the results aren't seen yet in the amount of money borrowed by the public – the past two months saw net lending of around 15 billion pounds. A drop is expected this time to 9 billion – a figure that will help cable.
Mortgage Approvals: Thursday, 9:30. The last figure on this busy Thursday comes from housing – the initial release of mortgage approvals for October is likely to show a drop after reaching 47K last month. Note that this only small revisions happen after the initial release.
CBI Industrial Order Expectations: Thursday, 11:00. After many months of gradual improvements, the indicator plunged last month from -17 to -28, showing that a significantly lower volume is expected in industrial orders. A small correction to -24 is due this time, but the negative number isn't too good.
GBP/USD Technical Analysis
At the beginning of the week, cable fell and dipped under 1.60, It later recovered and managed to settle and close above the 1.0107 line (mentioned last week). At 1.6114, its weekly loss is rather modest.
Looking up, 1.6280 remains the strong and immediate resistance, as it did at the beginning of the year. The next resistance line is found at 1.6450, which was a peak around the same time.
Beyond, the next significant resistance is at 1.6712 that capped the pair twice at the end of 2009. The last point is 1.7040, 2009″²s high.
Looking down, 1.6107 was the peak a few weeks ago, and is immediate, yet weak support. The round 1.60 line is still an important support line. Below, 1.5923 is the next minor support line.
Lower, 1.5850 served as a pivotal line several times in the past weeks'  choppy  trading. It's followed by 1.5750. Stronger support is found at 1.5650 which was a stubborn support line a few weeks ago.
Even lower, 1.5530 capped the pair in April and worked as resistance not so long ago.  It's followed by 1.5230 – a stubborn resistance line back in July. The last line for now is 1.5120, that first served as resistance in June and then worked as support in July.
I remain neutral on GBP/USD.
While many indicators showed weakness in the British economy, Irish problems could affect Britain and unemployment isn't going down, the chances of a rate hike are still high.
Further reading:
Want to see what other traders are doing in real accounts? Check out Currensee. It's free..