A busy week expects Pound traders, as many important indicators are released. The rate decision is the main event. Here's an outlook for the British events, and an updated technical analysis of GBP/USD.
GBP/USD daily chart with support and resistance lines marked. Click to enlarge: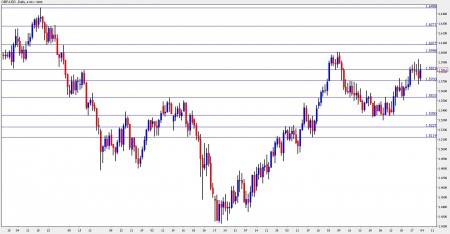 The Pound lagged behind other currencies in the past week, failing to reach new highs against the dollar. The Pound was talked down by thoughts about new pound printing. This will reach a climax with the rate decision. Let's start:
Halifax HPI: Publication timing unknown at the moment. This is considered one of the most accurate house price indices, as it's based on the internal data that the HBOS possesses. According to this indicator, house prices returned to growth in the past two months, rising by 0.7% and 0.2%, exceeding expectations of drops. Now, a 0.6% rise is expected.
Construction PMI: Monday, 8:30. The construction sector disappointed last month with a drop. Another dip is expected in this survey of 170 purchasing managers – to 51.7 points, still above the 50 point mark that makes the difference between economic expansion and contraction.
Paul Tucker talks: Monday, 10:25. After Adam Posen suggested more pound printing, sending the Pound down, while another wants a rate hike (Sentance), we'll get to hear what the BOE deputy governor has to say before the important rate decision. We've seen that speeches from MPC members have a very strong influence on the Pound.
Services PMI: Tuesday, 8:30. After the manufacturing sector disappointed with a low outcome, services aren't expected to be much better – a slide from 51.3 to 51.2 is expected. As in the other purchasing managers' indices, the score is expected to remain above 50. A dip under this critical mark means contraction of the services sector.
BRC Shop Price Index: Tuesday, 23:00. This release is usually overshadowed by other releases, but this time it will have a chance to move the Pound. A rise of 1.7% in prices at BRC retailers was seen last month, and a similar rise is expected now.
Manufacturing Production:  Thursday, 8:30. This release always rocks the Pound and overshadows the more comprehensive industrial production figure released at the same time. After dropping 4 months ago, manufacturing output rose by 0.3% on each month since then. Growth is expected to be slower this time – 0.1%. Industrial production is expected to rise by 0.3%.
Rate decision: Thursday, 11:00. British inflation refuses to slide back into the 1-3% target, and there's still one member of the MPC, Andrew Sentance, that pledges a rate hike. The other members aren't convinced and want to take the opposite direction to aid the economy – expansion of the quantitative easing program, standing at 200 billion for a long time. The rate will probably remain unchanged at 0.50%, and no new steps are expected, but any interesting wording of the accompanying statement will shake the Pound.
NIESR GDP Estimate: Thursday, 15:00. The National Institute of Economic and Social Research is usually quite accurate in predicting the actual growth. It will now release the growth rate in the three months that ended in September – the full third quarter. Last month's estimation of 0.7% will probably be repeated now.
PPI: Friday, 8:30. Producer prices fell in the past 4 months, but this didn't mean that consumer prices returned to the target. Now, PPI Input, the main figure, is expected to rise by 0.3%, while PPI Output is expected to rise by 0.2%. Another drop in producer prices will weaken the Pound.
All times are GMT.
GBP/USD Technical Analysis
The Pound struggled around 1.5820 during most of the week. An attempt to rise fell short of the important 1.60 line. A drop found support at 1.57. All in all, GBP/USD hardly moved from last week.
1.5820 provided support for the Pound when it was trading higher, at the beginning of August. Above, 1.60 was the highest level in 8 months, reached in August, and is a strong line of resistance now.
Higher, a break above 1.60 will find close resistance at 1.6080 which provided support back in January. Above, 1.6270 worked as support in November 2009 and later had a role in the opposite direction. The last point for now on the upside is 1.6450 – a swing high in January.
Looking down, 1.57 serves as the immediate support line. It was a tough resistance line in August. Below, 1.5530 capped the pair in April and worked as resistance recently.
Lower, 1.5230 was a stubborn line of resistance back in July. It's followed by 1.5120, that first served as resistance in June and then worked as support in July.
I turn from neutral to bearish on GBP/USD.
The Pound underperformed when the dollar was weak, due to internal problems, such as unemployment. Stability or strength of the greenback will likely find the Pound vulnerable.
Further reading:
Want to see what other traders are doing in real accounts? Check out Currensee. It's free..