Gold is trading 1.75% higher on Wednesday as the bulls step in.
The price is back above the previous all-time high of USD 1920.94 per ounce.
Gold 4-hour chart
The gold bugs are back in control of the market for now. The price of the precious metal has increased by 1.75% on Wednesday and the previous all-time (September 2011) high has been taken out again. On the way down there was a brief stutter at USD 1920.94 per troy ounce but the bears eventually pushed the price through the zone. 
The chart below shows the bulls stepped in at USD 1863.24 per ounce. That means from the highs the price of the precious metal fell 10.26% and this is quite a drop in just 3 sessions. In fact, yesterday's 5.73% drop was the largest seen in 7 years. Now the bulls seem to be back, there are some key resistance levels to watch. The main one is the blue line at USD 1980 per ounce. If this level is broken the chances of the new all-time high being tested are much greater. 
The metal is currently struggling at the green resistance zone but if there is a rejection there the bulls may find support at either one of the channel lines. The lower channel line was where the price stopped during Tuesday's session. 
The indicators have not turned positive yet. The MACD histogram is still red and the signal lines have not crossed the midpoint. The Relative Strength Index is under the 50 zone and has only just moved out of the oversold area. 
Overall the trend is still up, a good confirmation would be the MACD histogram moving back into the green. If this could coincide with a break of the USD 1980 per ounce resistance then the bull trend could be back in full swing.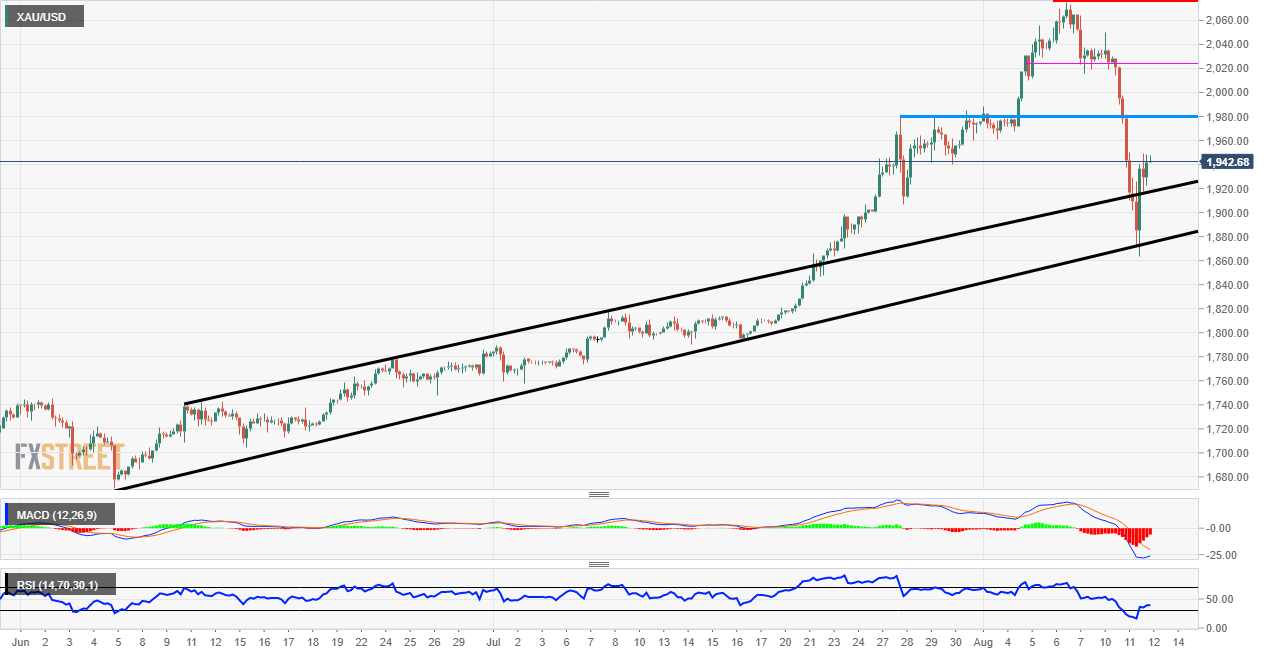 Additional levels