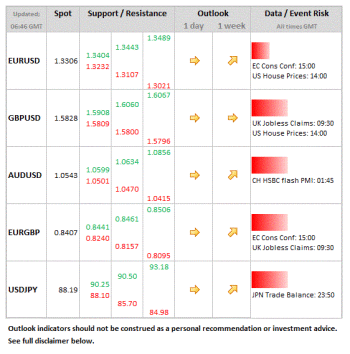 Data/Event Risks
USD: Not much of substance in terms of releases today, only house prices at 14:00. Tomorrow agenda includes jobless claims and Bloomberg consumer comfort. Next FOMC meeting now just one week away. Dollar struggling for direction. Probably needs word from the President as to what he thinks of Republicans' latest debt ceiling proposal.
GBP: Labour market news likely needs to be reasonably upbeat to prevent further sterling weakness. Continues to soften against the euro. Cameron's speech on the UK and Europe later today will also be pivotal.
EUR: Consumer confidence in the middle of the afternoon, otherwise not much to move the euro's dial.
Idea of the Day
Yen swung around wildly yesterday amidst a flurry of comments from Japanese politicians. Abe claimed 'monetary regime change' and that he had not forced the BOJ's hand – correct on the first one (the BOJ is now deeply politicised) and therefore wrong on the second one. Shirakawa and Aso also on the wires. Yen profit-taking accentuated for a short time by sudden free-fall in the euro. Coming into the London session, some additional profit-taking on yen shorts has been evident. Yen direction more evenly poised – USD/JPY now down near 88, EUR/JPY close to 117. Yen bears will want to see significant buying interest down at these levels soon, or else we could witness a much more savage short squeeze.
Latest FX News
EUR: Whiplash for euro-traders yesterday after early bid tone was replaced by a rapid drop after a myriad of bank rumours and talk that ECB head Weidmann had left the building. Single currency did obtain some confidence from buoyant German ZEW and claim from the Bundesbank that German growth for this year will be revised higher, only for the euro to drift back later. Entering the London session below 1.33 and looking just slightly offered.
GBP: Managed to outperform the struggling euro yesterday, in part because there is such a strong bid at 1.58. If that breaks, then we are in completely new territory. Latest government borrowing figures did not help speculation that the ratings agencies might soon decide to lower the UK's AAA debt rating. Also, CBI Trends survey was depressing. The suspicion remains that sterling is still vulnerable, although be careful because this is becoming consensus.
CHF: A third straight day of CHF gains as shorts were again sent scurrying by the latest bank rumours emanating from the Eurozone. Suddenly chatter about the SNB lifting the EUR/CHF ceiling to 1.25 has ceased.
AUD: A low print on inflation generated some excitement that perhaps the RBA would lower rates again next month, although on balance they seem likely to hold their fire. Aussie now at 1.0540, still seems pretty robust overall.