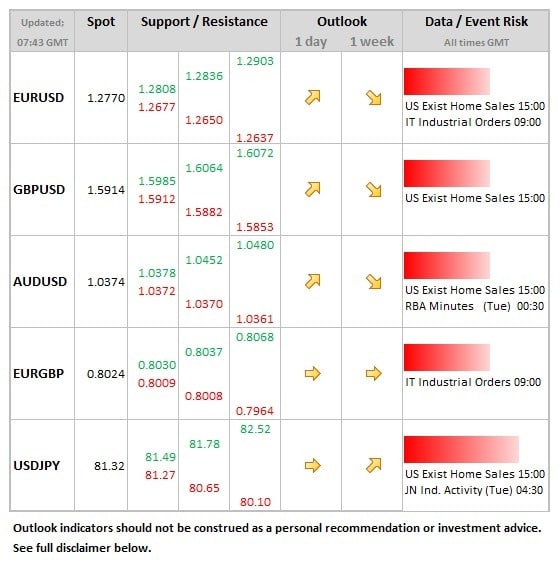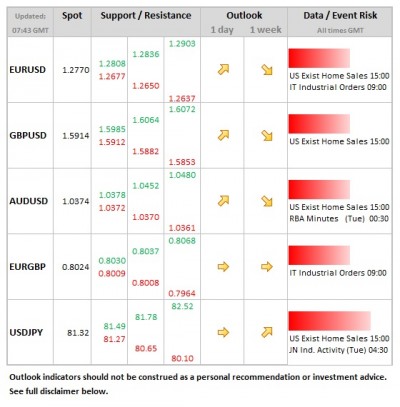 Data/Event Risks
USD: Existing home sales data should not rock the boat. Focus on fiscal cliff negotiations, but no key developments expected today.
EUR: Headlines on Greece still a risk ahead of finance ministers meeting tomorrow when final details of next loan tranche expected to be agreed.
Idea of the Day
FX markets moved back to form on Friday.   EUR/USD completed the sharp up-move, with the even sharper up-move on USD/JPY also taking a breather. These were mostly down to flow and positioning. The question is whether they are likely to continue. Yen weakness looks more likely to be sustained in the run-up to the election, but we really need to take out some key levels to make it look convincing.   On USD/JPY, 81.49 (Fibonacci March high, Sept. low) is the initial target for the bulls, which was briefly breached overnight.
Latest FX News
EUR: Like it or not, focus remains on Greece with meeting of finance ministers tomorrow to agree final details on latest aid package.   IMF still sounding vocal on its differences.
USD: Weaker for most of late NY and early Asia trade.   Focus remains on fiscal cliff negotiations, which remain on-going. US Treasury Secretary Geithner sounding positive Friday. Modest risk appetite evident in Asia equities, dollar tone softer.
JPY: Key focus on Bank of Japan meeting this week, but no major change in policy likely until after the election next month.   Yen holding above 81.00 in overnight trading.
GBP: Latest Rightmove house price data showed prices falling -2.6% in Nov. after 3.5% rise in Oct.   Rising in annual terms to 2.0%.   London still strong from overseas demand.   GBP crawling higher overnighht.
AUD: Firmer vs. both JPY and USD in Asia trade with sentiment modestly positive towards risk assets at start of the week.
NZD: Soft PPI inflation data released overnight, outputs falling 0.9% QoQ. Data of modest interest to the currency, but initial strength vs. AUD has been partially unwound, AUD/NZD above 1.2708 low.