Idea of the Day
EURJPY was clearly the place to be long last week, with a solid push from just below 132 to above 135. A strong performance from Japanese stocks ensured that the yen weakened, with USDJPY moving back above the 100 level for the first time in 2 months. As for the euro, there remains decent underlying support for the currency, as we outlined in our blog of last week. This is dependent on expectations of further policy action not gathering pace too much and with four ECB speakers on the agenda today, the market will be listening closely as to the other options the ECB may be considering and how likely they are to be introduced in the coming months. The previous trendline support for EURUSD (drawn from 10th July low) has offered decent resistance in recent sessions. A push above would be taken positively overall (currently sits at 1.3518).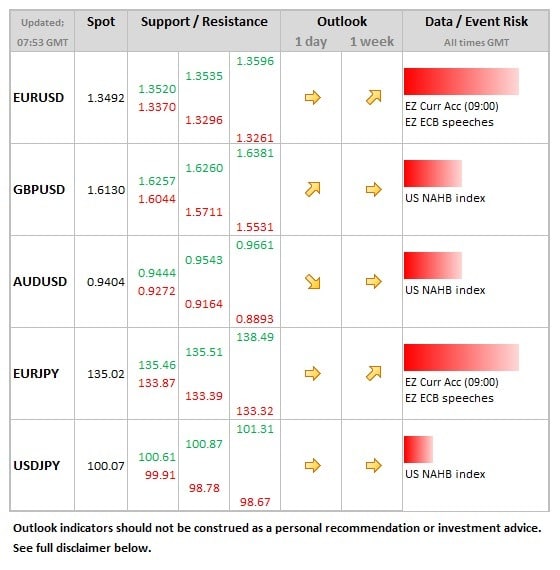 Data/Event Risks
EUR:  There are a spread of ECB speakers due today which will be worth keeping an ear open for, including Mersch, JAzbec , Nowotny and Asmussen. Even though a rate cut has been delivered, the market is sensitive to any signs of what further measures the ECB could introduce.
Latest FX News
GBP:  Sterling's difficulty in pushing above the 1.60 level vs. the dollar on a sustained basis continues to be the main focus. Last week's data was not that supportive for the sterling, but a decent recovery was achieved in the latter half.
AUD: Something of resurgence in the Aussie overnight, back above the 0.9400 area. More positive noise over long-term policy in China has offered some support in the background, but this is from modestly over-sold conditions with the Aussie having dragged behind the other majors (besides the yen) over the past week.
JPY:  The Asia session has seen USDJPY bump along the 100 level, with stocks a lot more steady than was the case last week. Charts suggest that the yen actually held up pretty well, given the extent of the gains in stocks, so some further yen weakness could well be seen if stocks move higher.
Further reading:
GOLD: Remains Biased To The Downside
EUR/USD: Halts Weakness, Bounces Higher