Idea of the Day
It's all about central banks today in particular the BoE and ECB.   More focus will be placed on these decisions, not what they will do which is expected to be nothing, but what they will say.   New BoE governor Mark Carney has of course spelt out his forward guidance paving the way for the base rate to remain at 0.5% until 2016, unless something dramatic changes and Mario Draghi of the ECB has claimed to have given far greater detail in terms of the future outlook for monetary policy in the Eurozone.   Most focus is likely to be given to Mr Carney since his forward guidance has been pretty much pooh-poohed by the market as UK gilt yields have steadily been rising even hitting a two year high last month.   The good economic data and surveys from the UK keep on coming and so sterling still seems to have momentum behind it.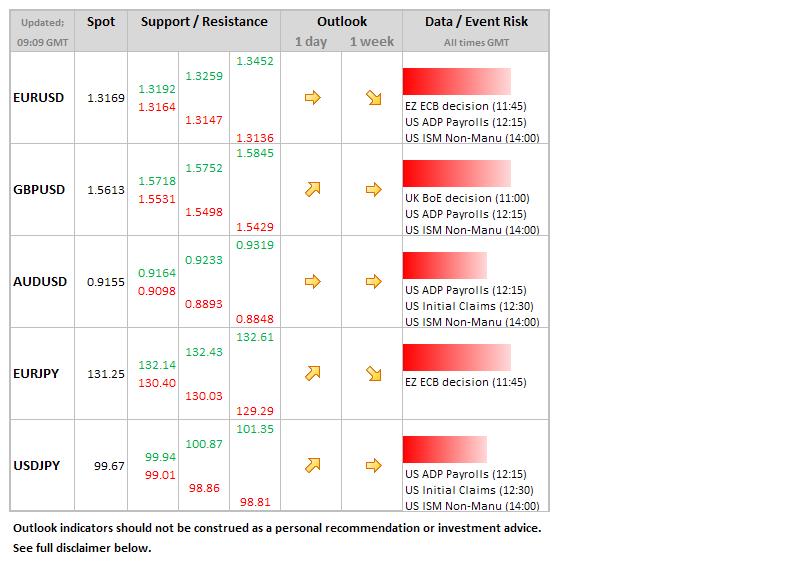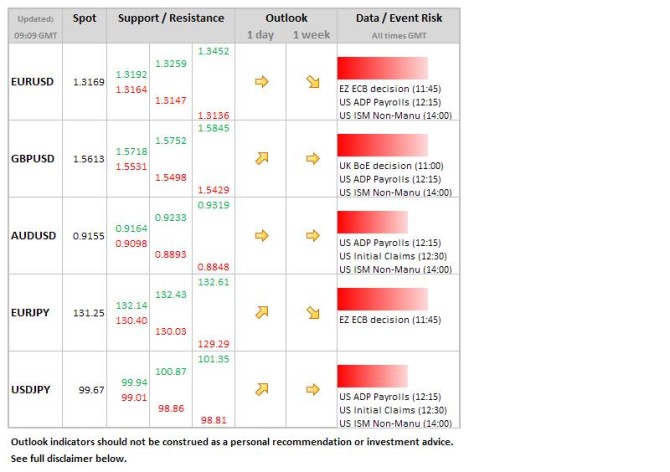 Data/Event Risks
SEK: There's the usual plethora of central bank decisions today an ahead of the BoE and ECB, Sweden's central bank announces its latest interest rate decision.   The last cut to their base rate was in December 2012 and although there have been expectations of a further cut this year, so far they've refrained keeping the rate at 1.00%.
GBP: The BoE announces its interest rate decision ahead of the ECB where no change is expected but all ears will be listening carefully to what the governor has to say following his instance that the base rate will remain at its historical low levels for years to come.
EUR: As mentioned the ECB rate decision follows the BoE and rates are expected to remain unchanged.   The press conference afterwards will also be closely watched for any further comments on the future outlook for monetary policy.
USD: The warm up for tomorrow's nonfarm payroll figure comes in the form of the ADP private payrolls today.   An increase of 180k is expected and whilst this is not considered a major piece of economic data it can cause a move in the markets, so anything better than expected could see the Dollar gain.   Shortly after this the weekly initial jobless claims are released a day later than usual due to the bank holiday in the US on Monday.   Also in the afternoon the US releases ISM non-manufacturing figures which are expected to decline slightly to 55.0.
Latest FX News
JPY: The BoJ unanimously voted to keep monetary policy unchanged and at the same time was a little more upbeat about the outlook for the Japanese economy.   This has done little to boost or weaken the Yen so far this morning as Yen bears still eye the 100.00 level in USDJPY.
Further reading:
Tension rises amid Obama's planned military action in Syria
BOC leaves policy unchanged – Canadian Dollar strengthens