The New  Zealand dollar is rallying nicely on the rise in milk prices as well as other commodities. Can this "risk on"  rally continue?
The team at BNZ analyzes the drivers of the kiwi:
Here is their view, courtesy of eFXnews:
A pick-up in risk appetite, on delayed Fed hikes, has seen EM FX, AUD higher, and NZD up through 0.66, notes Bank of New Zealand (BNZ).
"NZD/USD's rally through 0.66 comes courtesy of a remarkable turnaround in risk sentiment. The recent disappointments in US data (non-farm payrolls, in particular) have given succour to the view that US rates will remain low for a little while longer. Having been downbeat of late, global investors decided to take a "glass half full" approach to this news.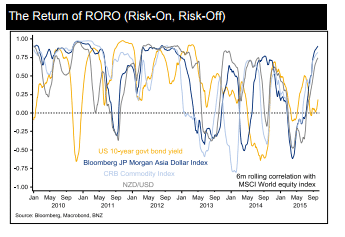 Equities, commodities, and emerging market currencies are all sharply higher from late-September levels. As we've discussed before, the return of RORO (risk-on, risk-off) behaviour is particularly salient for NZD," BNZ adds.
"If sentiment remains positive, NZD could remain at these levels, or even push through 0.67 briefly. We'd be sellers. The balance of risks, on interest rates and volatility, strongly suggest a return toward 0.60," BNZ advises.
For lots  more FX trades from major banks, sign up to eFXplus
By signing up to eFXplus via the link above, you are directly supporting  Forex Crunch.