The  New Zealand dollar  resumed its downtrend and experienced a big falls, below the post crisis low. All eyes are now on the RBNZ. Will it hit the kiwi when its down?  Here is an analysis of fundamentals and an updated technical analysis for NZD/USD.
For the 8th consecutive time, the dairy auction resulted in a fall, and it was a big one this time: 10.7%. Also quarterly inflation numbers fell short, by rising only 0.4%  and this will certainly enter the RBNZ's calculations.  And from the other side of the equation, we had a relatively upbeat testimony by Fed Chair Yellen. She didn't say anything new, but  her talk about a rate hike contradicted weak data. NZD/USD  itself trading at the 0.64 handle for the first time since 2009.
[do action="autoupdate" tag="NZDUSDUpdate"/]
NZD/USD  daily graph  with support and resistance lines on it. Click to enlarge: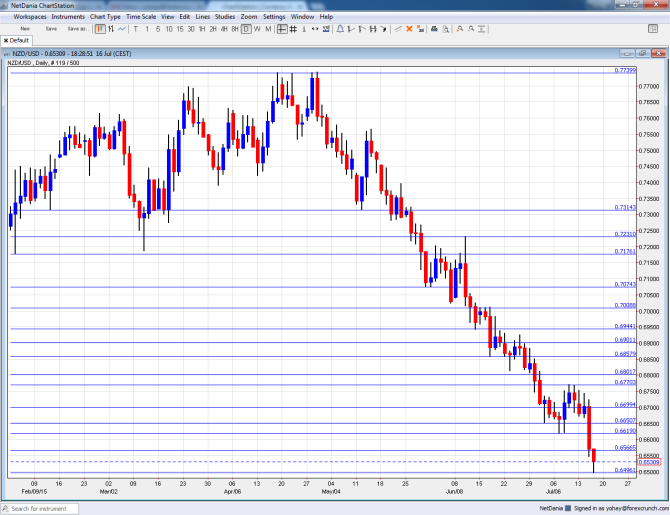 Visitor Arrivals: Monday, 22:45. Tourism also plays a significant role in the economy. After a rise of 0.1% in May, no big changes are on the cards for June, which is mid winter.
Credit Card Spending: Tuesday, 3:00. With retail sales published only once per quarter, this indication from spending with cards provides insight on the consumer. After a y/y rise of 7.1% last time, a more moderate rise is on the cards.
Rate decision: Wednesday, 21:00.  Graeme Wheeler and his team cut the rates back in June, from 3.50% to 3.25%. Will they cut again? Given the  fall in milk prices, as well as other commodities related to the Chinese slowdown, there's a good chance the rate will fall to 3%. In addition, the  RBNZ expressed its desire for a weaker exchange rate, and would probably find a vulnerable NZD at this time. A cut is not fully priced in, and could further weigh on the kiwi. A no-cut would send it shooting higher.
Trade Balance:  Thursday, 22:45. New Zealand a fifth consecutive  surplus in June, with a rise to 350 million. Another positive number is on the cards for June, albeit smaller: 100 million.
NZD/USD  Technical  Analysis
Kiwi/dollar
Live chart of NZD/USD:
[do action="tradingviews" pair="NZDUSD" interval="60″/]
Technical lines, from top to bottom:
We start from a lower point this time. 0.7160 served as resistance back in 2010 and was the low in January.  Lower, the round level of 0.71 used to provide support in the past but was eventually breached.
0.7075 provided some support in May and is a weak level now.  And of course, the very round level of 0.70 looms large and gave a fight before the pair continued south in June.
Further,  the low of 0.6940 allowed for a temporary bounce.  The round 0.69 level is  switched positions to resistance.
0.6860 was a low point as the pair dropped in June 2015. It is followed by the 0.68 level that worked as resistance when the pair was climbing a few years back.
Close by, the July high of 0.6770 serves as resistance. It is followed by the round level of 0.67 that is a pivotal line in the range.
The now previous July  low of 0.6650 was a multi-year low and the break below it was not confirmed. 0.6620 is the new 2015 low and for now serves as minor support.
The post crisis low of 0.6560 is still of high importance. Below, the round 0.65 level is of high importance now.
There isn't much on the way down. 0.6160 can be noted as a post crisis attempt to recover.
I remain  bearish on  NZD/USD
The RBNZ might not settle for the current low exchange rate  and will ask for more. Assuming no disaster in US data, we could see more downside pressure for yet another week.
In our latest podcast, we drill down the deals, the aGreekment and Iran and the market impact.
Further reading: