The  New Zealand dollar  struggled once again, dipping to lower ground, but managed to recover. What's next? Trade balance is the main event now. Here is an analysis of fundamentals and an updated technical analysis for NZD/USD.
Retail sales rose 1.6%, better than expected, and showed that the economy is still running nicely.  Also PPI showed a strong rise of the same scale. However, milk prices dropped for the third consecutive time, this time by 7.9%. In the US, the meeting minutes did not tell us anything new.
[do action="autoupdate" tag="NZDUSDUpdate"/]
NZD/USD  daily graph  with support and resistance lines on it. Click to enlarge: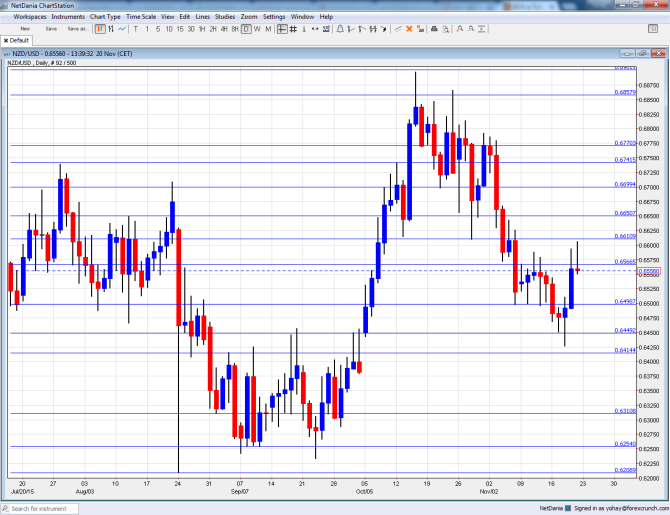 Visitor Arrivals: Sunday, 21:45. Tourism plays a significant role in the New Zealand economy. As the summer season begins, we expect further gains after 4.3% last month.
Trade Balance: Wednesday, 21:45. New Zealand saw a big deficit of 1.222 billion in September. For October,  an improvement is expected now, to a round 1 billion of deficit.
NZD/USD  Technical  Analysis
Kiwi/dollar  lost the 0.65 support line (mentioned last week) and struggled to recover.
Live chart of NZD/USD:
[do action="tradingviews" pair="NZDUSD" interval="60″/]
Technical lines, from top to bottom:
0.7075 is where the pair found support back May. It is naturally followed by the very round level of 0.70.
The low of 0.6940 allowed for a temporary bounce.  The round 0.69 level is  switched positions to resistance.
0.6860 was a low point as the pair dropped in June 2015. It is followed by the 0.68 level that worked as resistance when the pair was climbing a few years back.
Close by, the July high of 0.6770 serves as resistance. Quite close by, the high of 0.6740 seen in July is another cap.
It is followed by the round level of 0.67 that is a pivotal line in the range.  The now previous July  low of 0.6650 was a multi-year low and the break below it was not confirmed.
0.6615 was a low point in October and is closely watched.  The post crisis low of 0.6560 is still of high importance.
Below, the round 0.65 level is of high importance now. The last line is  0.6488, which was the low both in July and in August – a double bottom.
Minor resistance can be found at the October swing high of 0.6440.  6408 works as a pivotal line. Below,  0.6310 provides some support after doing so in early September.
I  am neutral  on  NZD/USD
The data in  New Zealand is improving and this could result in a better weathering of the USD strength.
Our latest podcast is titled Between Terror and Thanksgiving:
Follow us on Sticher or on iTunes
Further reading: