Retail Sales and NBNZ Business Confidence are this week's market-movers. Here's an outlook for the events in New  Zealand, and an updated technical analysis for MZD/USD.
Last week, New Zealand's central bank left its  benchmark interest rate unchanged, claiming increases in the next couple of years will be more limited than before. The central bank cut forecasts for consumption and gross domestic product because of the effects of the earthquake that struck near the South Island city of Christchurch on Sept. 4. Will the preservation of the 3.0% interest rate help the NZ economy in the next two quarters?
NZD/USD daily chart with support and resistance lines on it. Click to enlarge: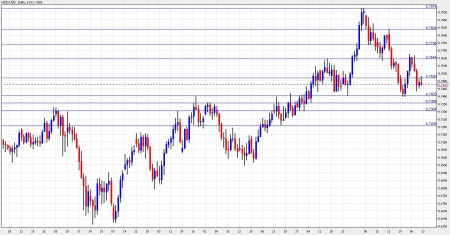 FPI: Sunday, 21:45. Food prices rose 2.2 percent in October.   Prices were affected by Goods and services tax rising to 15 percent on 1 October 2010. Although it is a highly volatile component it is still noticed since New Zealand's inflation data is released on a quarterly basis only.
Retail Sales: Monday, 21:45. Retail Sales index gained a better than expected 1.6% compared with the flat rate in the previous month after analysts predicted 1.1% rise and Core Retail Sales excluding Automobile sales increased by the same rate following a previous drop of -0.6%, while the expected reading indicated an increase of 1.0%.
Business NZ Manufacturing Index: Wednesday, 21:30. The BNZ-Business NZ performance of manufacturing index rose 0.5 point to a seasonally adjusted 49.7 in October. New Zealand's economic recovery has been delayed in recent months, prompting the Reserve Bank to pause its tightening policy in a bid to reinvigorate consumer spending. Customer caution and slow demand caused the index to drop while exports to Australia increased.
NBNZ Business Confidence: Thursday, 2:00. Zealand businesses were more optimistic in November rising to 33.2 from 23.7 in October. This was the second consecutive rise. The survey indicated a growth rate of 4 percent over the year ahead.
NZD/USD Technical  Analysis
The kiwi couldn't hold on to 0.7644 at the beginning of the week, and dropped all the way below the 0.7523 line (mentioned last week) before closing at 0.7476.
Looking up, 07523, which was a resistance line in the past week and also back in 2009, provides the immediate cap. Above, 0.7644 was a peak in October and is already a strong line of resistance – NZD/USD couldn't settle above this line recently.
Above, 0.7736 is another minor resistance line before 0.7836, which was a swing high a few weeks ago. The next level is 0.7975, the highest level this year, and just under the round number of 0.80.
Looking down, 0.74 provided strong support three times in recent months, and is now a serious cushion. Below, 0.7355 provided minor support before 0.73.
The last line for now is 0.7210 which was a sing low a few months ago. There are further lines below.
I turn bearish on NZD/USD.
The rising inflation in China and the fear of harsh tightening moves there weigh on the New Zealand dollar. 0.74 is a key line.
Further reading
Want to see what other traders are doing in real accounts? Check out Currensee. It's free..