Inflation Data and Retail Sailes are the major events this week.Here's an outlook for the events in New  Zealand, and an updated technical analysis for MZD/USD.
The New Zealand government disaster insurance fund had paid out nearly NZ$581 million in claims on damages to buildings caused by the September earthquake and aftershocks in Christchurch. New Zealand's Current Account Deficit widened more than expected due to the earthquake costs. Would this deficit have a lasting effect on New Zealand's economy?
NZD/USD daily chart with support and resistance lines on it. Click to enlarge: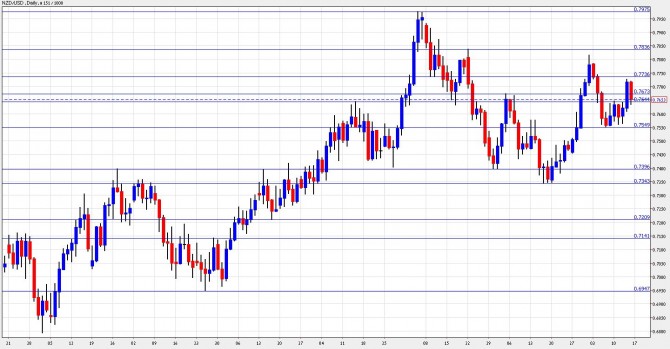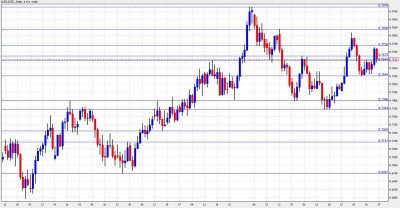 Business NZ Manufacturing Index: Wednesday, 21:30. The Manufacturing sector showed signs of expansion in November after four flat months reaching 52.7 stronger by 2.7 compared to September. A wave of new orders together with exports to Australia gave a boost to November's reading showing optimism in the market. A similar Figure is expected now.

Inflation data: Wednesday, 21:45. New Zealand consumer price Index rose more than expected by 1.1% in the July-September period, with higher food and electricity prices rather than strong domestic demand. Over the year, the strong kiwi curbed imported inflation, while low consumer and business demand has kept domestic inflation under control. Consumer prices moderated on an annual basis to 1.5% from 1.8% in the second quarter and sit well within the central bank's target. A big jump of  2.3% in  inflation rates is expected now.

Retail Sales: Thursday, 21:45. New Zealand Retail Sales plunged 2.5% in October following September's climb of 1.7%. This is the biggest drop in more than 13 years which could be accounted by the sales-tax increase.  Core sales, which exclude vehicle dealers and fuel outlets, fell 1.6 percent from September when they rose 1.7 percent, today's report showed. Economists expected a 1 percent decline. Retail Sales is expected to rise 1.3% while Core Retail Sales by 0.6%.
* All times are GMT.
NZD/USD Technical  Analysis
The kiwi traded under the 0.7644 line throughout most of the week, but eventually didn't close very high above this line – at 0.7653.
Looking up,  0.7673 is only minor resistance. It prevented a rise for two consecutive days in December.  Above, 0.7738 is a minor line – it provided support at the beginning of November.
Higher, 0.7975 was the 2010 high and serves as strong resistance, just under the round number of 0.80.  Even higher, 0.81 was an important resistance level back in 2008, and it's followed by the all-time high of 0.8214.
Immediate support is at 0.7644, which switched its role from last week. Below,  stronger support appears at 0.7523, that was a peak a long time ago, and returns to have an important role now.  Lower, 0.74 is a strong support line, working twice like this in recent months.
When this line was finally broken, it was followed closely by 0.7350 – which is now of high  importance  as well.  Below, 0.7210 was a stepping stone for the kiwi on the way up and now provides support.
Even lower, 0.7140 was a resistance line in July and also in August, and now works as support. The last line for now is 0.6950, which was the lowest line in 6 months.
I am bearish on NZD/USD.
The Chinese tightening measures, alongside the troubles in Australia, continue to weigh on the New Zealand dollar. Only a surge in inflation, seen in some parts of the world, will boost the kiwi.
Further reading: