NZIER Business Confidence is the major event this week. Here's an outlook for the events in New  Zealand, and an updated technical analysis for NZD/USD, that is now testing high waters.
New Zealand business confidence dropped drastically  in March after the earthquake in Christchurch city in February 14.7% of companies expect their sales and profits will rise over the next 12 months, down from 36.6 per cent expecting an increase in February, according to a survey by ANZ National Bank released on March 31. This adds to the signs that economic growth will be weak in 2011.
NZD/USD daily chart with support and resistance lines on it. Click to enlarge: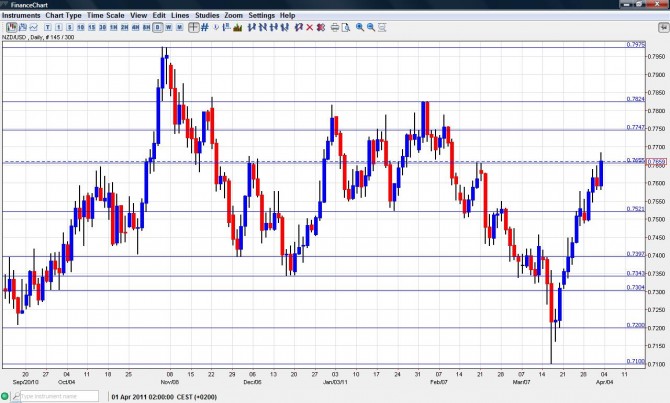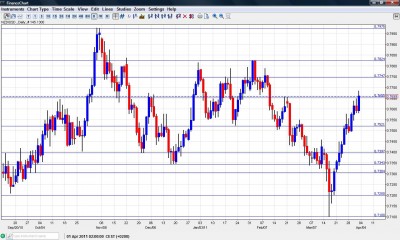 ANZ Commodity Prices: Monday, 4:00. International prices for key New Zealand commodities rose again in February by 2.7% marking its sixth consecutive gain. The economy benefited from the higher income from strong export prices, despite the higher prices in the homeland.
NZIER Business Confidence: Monday, 23:00. NZIER's  Quarterly Survey of Business Opinion (QSBO) shows the economy gained strength in the December 2010 quarter, after contracting in September. Firms' experienced trading activity improved from -15% to -1% on a seasonally adjusted basis. However following the second major earthquake in Christchurch Economic growth expectations for the New Zealand economy turned grim. The new estimate is that economy will barely grow at all in 2011 which definitely have a negative effect on Business Confidence.
* All times are GMT.
NZD/USD Technical  Analysis
After struggling with the veteran 0.7524 line (mentioned last week), the kiwi continued higher. The 0.7655 capped it for quite some time and it eventually managed to close just above this line, at 0.7659.
Looking down, 0.7655, that capped the pair in recent months, now turns to a critical line for the beginning of the week, and immediate support.
The next line of support is only at 0.7523, which is now only a minor line, after being shattered just now. It's followed by 0.74, November important support.
Under 074, we have quite a crowded area –  0.7350 was a cushion back in December and it's followed by  0.73, which was a stepping stone on the way up. It's role is minor now.
After some space, we find  0.7200, a round number that also worked as a stepping stone for the kiwi on the way up and as resistance a long time ago, when the pair was struggling below. 0.71, which was a swing low recently is the next minor line of support.
Looking up, if 0.7655, the peak of February is indeed conquered, the next resistance line is only at 0.7750. This was support in November when NZD/USD was very high, and later worked as resistance.
Above, 0.7825 is tough resistance as well. It capped the pair twice, in December and in January. Next we find the big peak of 0.7975, just under the very round 0.80.
81 and 82.15 are the next peaks, but they're still far, despite the gains.
I remain bullish on NZD/USD.
The strength of the kiwi began with the positive GDP figures. New Zealand avoided recession and its currency can now move forward. This strength was evident after the release of the US Non-Farm Payrolls.
Further reading: