Retail Sales and PPI data are the main events this week. Here's an outlook for the events in New  Zealand, and an updated technical analysis for MZD/USD.
The New Zealand's annual budget will be released on May 19, said Bill English the Finance Minister. The aim of the budget is to control spending and reduce reliance on foreign debt.
NZD/USD daily chart with support and resistance lines on it. Click to enlarge: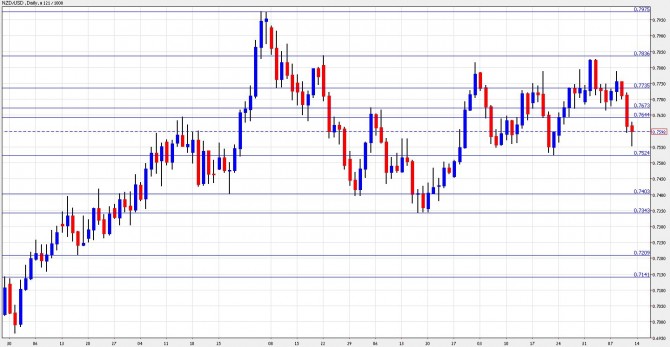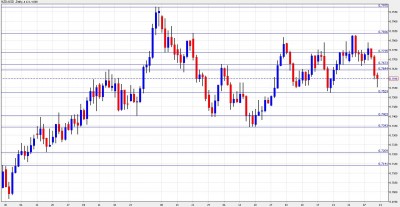 Retail Sales: Sunday, 21:45. Retail sales in New Zealand rose in November by a seasonally adjusted 1.5% while Core retail sales, which exclude vehicle related transactions, declined a seasonally adjusted 0.2 percent. Nine of the 13 industries comprising the core sales data showed increases. In non-seasonally adjusted terms, overall retail sales for November 2010 were up 2.5 percent versus November 2009. Retail Sales is expected to drop -0.3% this time and Core Retail sales is expected the same drop.
Business NZ Manufacturing Index: Wednesday, 21:30. New Zealand manufacturers rose to a seasonally adjusted 53.1 in December following 52.7 in the previous month. Indicating the country's businesses are moving towards recovery at a moderate pace. The same figure is expected now.
PPI: Wednesday 21:45. Producer prices inputs during the third quarter, decreased to 0.7%, from 1.4% in the second quarter while the analysts' expectations estimated of 0.4%. Meanwhile New Zealand producer prices outputs rose 1.2% during the quarter of July to September, following an increasing 1.1% in the second quarter, where the anticipations predicted of 0.6%. A smaller increase of  0.4% is expected in Producer prices inputs and gain is predicted in PPI Output   0.7%
G20 Meetings: Friday-Saturday. France hosts the finance ministers and heads of the central banks of the G20 bloc of developed and major emerging economies. The ministers will follow up on the pledges made by the leaders at the close of the G20 summit of November in Seoul, particularly regarding exchange rates. They will also hear France's priorities for the G20 as its 2011 president. These focus on global monetary system reforms, the enhancement of global governance and the stabilization of prices for raw materials.
* All times are GMT.
NZD/USD Technical  Analysis
An attempt to rise higher didn't succeed, and NZD/USD went lower, bouncing off above the 0.7523 line (discussed last week). All in all, a bad week for the kiwi.
Looking up, resistance appears at 0.7644, which was a peak a few months ago, and played a minor role since then. It's closely followed by 0.7673, which was a tough peak a few weeks ago.
Higher, 0.7738 is is a tough resistance line – that couldn't be conquered recently. It's followed by 0.7836, which was a peak in November and is stronger resistance.
Further above, the peak of 0.7975 was the 2010 high and serves as strong resistance, just under the round number of 0.80.  Even higher, 0.81 was an important resistance level back in 2008, and it's followed by the all-time high of 0.8214.
Looking down,  strong support appears at 0.7523, that was a swing high quite some time ago, and provided support for the kiwi just now. It's followed by another significant line, 0.74 – it prevented further falls a few months ago.
When the 0.74 line was finally broken, it was followed closely by 0.7350 – which is now of high  importance  as well.  Below, 0.7210 was a stepping stone for the kiwi on the way up and now provides support.
Even lower, 0.7140 was a resistance line in July and also in August, and now works as support. The last line for now is 0.6950, which was the lowest line in 6 months
I am neutral on NZD/USD
Rising food prices aid the kiwi, but the improving US economy balances it. Retail sales will set the tone for the whole week.
Further reading: