REINZ Monthly Housing Price Index is the main event this week. Here's an outlook for the events in New  Zealand, and an updated technical analysis for MZD/USD.
New Zealand's finance minister dreads a stronger Kiwi and calls it an "impediment" to export growth and claims the government should refrain from raising interest or exchange rates in fear the local dollar would get stronger.
NZD/USD daily chart with support and resistance lines on it. Click to enlarge: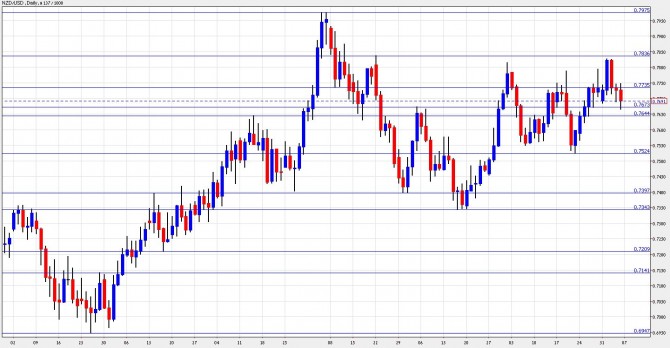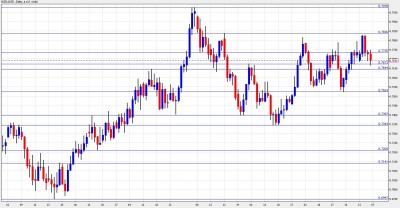 REINZ HPI: Thursday. Property prices and sales continued to drop in December due to the Christmas shut-down. The REINZ Monthly Housing Price Index decreased by 0.6 per cent and was down 1.6 per cent on year-ago levels. The market remains weak and is good for buyers.

FPI: Thursday, 21:45. New Zealand's food price Index for dropped -0.8%.  The index has fallen by 0.2% from its previous value of -0.6% for November. The New Zealand Food Price measures price changes of food bought by households in New Zealand. As New Zealand depends upon exporting agricultural goods and food products, a higher than expected food price will generally indicate an increase of trade interests and subsequently be seen as bearish for the NZD.
* All times are GMT.
NZD/USD Technical  Analysis
After moving higher and falling short of the 0.7836 line (discussed last week), NZD/USD fell and found support only above the 0.7673 line, at 0.7691.
Looking down, the 0.7673 line, just stopped the fall of the kiwi, and also was a stubborn peak during November. It's the first support line, followed closely by 0.7644 which is only a minor line, after capping NZD/USD in October.
Below,  strong support appears at 0.7523, that was a swing high quite some time ago, and provided support for the kiwi at the beginning of 2011. Lower, we find another significant line, 0.74 – it prevented further falls a few months ago.
Further below, when 0.74 was finally broken, it was followed closely by 0.7350 – which is now of high  importance  as well.  Below, 0.7210 was a stepping stone for the kiwi on the way up and now provides support.
Even lower, 0.7140 was a resistance line in July and also in August, and now works as support. The last line for now is 0.6950, which was the lowest line in 6 months.
Looking up, 0.7738 is the initial line of resistance – although after being broken several times, it's of less importance.  Higher,  0.7836, which was a peak in November is the next line. It became stronger after the moves in the past week.
Higher, 0.7975 was the 2010 high and serves as strong resistance, just under the round number of 0.80.  Even higher, 0.81 was an important resistance level back in 2008, and it's followed by the all-time high of 0.8214.
I remain neutral on the kiwi.
The improvement in the US economy balances rise in global food prices, which aids New Zealand.
Further reading: