Labor Cost Index and Employment Data are the main events this week. Here's an outlook for the events in New  Zealand, and an updated technical analysis for MZD/USD.
Prime Minister John Key considers selling $10 billion of key assets including state owned power companies and a stake in Air New Zealand in order to pay down Government debt a year earlier. The Government would consider Treasury's advice and make its plans clear well before the election. The partial sales would have to provide good opportunities for investors, the freed-up capital would be used to fund new public assets and they would have to be satisfied that industry-specific regulations would protect consumers.
NZD/USD daily chart with support and resistance lines on it. Click to enlarge: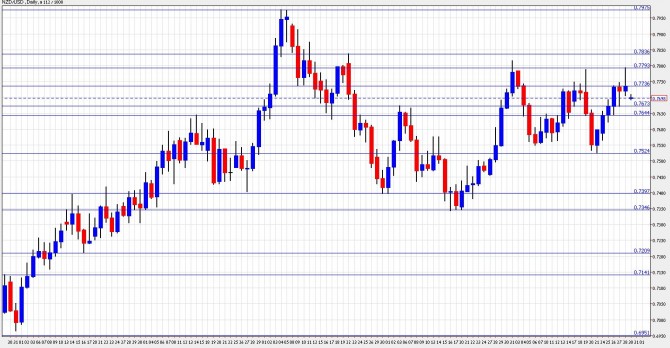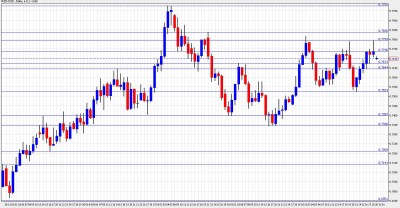 Building Consents: Sunday, 21:45. Signs of improvement in the housing market with a seasonally adjusted gain of 8.8% in November following 1.8% drop in the previous month. Building consents in November reached the highest level since May 2009, at $479 million.

Trade Balance: Sunday, 21:45. New Zealand's trade balance deficit grew more-than-expected last month reaching 186.00 Million from 224.00 Million in the prior month.
Analysts had expected the trade balance to fall to -151.00M last month. Trade balance deficit is predicted to decrease to Million.

Labor Cost Index: Monday, 21:45. Private sector salary and wage rates  rose 0.5 percent while public sector rates  rose 0.3 percent in the September 2010 quarter. In seasonally adjusted terms, total gross earnings increased 0.8 percent for the September 2010 quarter, while total paid hours increased 0.2 percent.  A further increase of 0.5% in Labor Cost Index is expected. ANZ Commodity Prices: Wednesday, 2:00. ANZ Commodity Price Index surged 2.0% following the increase in global demand at the end of last year indicating a growing economy.

Employment Data: Wednesday, 21:45 New  Zealand's seasonally adjusted  unemployment  rate  fell to 6.4 percent in the September 2010 quarter. The  unemployment rate  in the June 2010 quarter was 6.9 percent. The  employment  in  New Zealand grew 1.0 percent in  September, compared to  the  expected value of  0.5 percent. Unemployment is predicted to grow to 6.5% while an increase of 0.2% in new jobs is expected.

Visitor Arrivals: Thursday: 21:45. The number of short-term visitor in New Zealand rose to 3.0% for November 2010 compare to November 2009, while in October the 2010 rate dropped 2.0%. Migration slightly rose, mainly because people tent to move to Australia which offers higher wages and has lower unemployment rates.
* All times are GMT.
NZD/USD Technical  Analysis
The New Zealand dollar had a good week, rising and getting stuck at 0.78, a new line that didn't appear last week. It eventually suffered from the Egyptian crisis and closed at 0.7720.
Looking up, 0.7738 is the immediate line of resistance – it worked as support at the beginning of November. It's followed by 0.78, which capped the pair in the past week.
Above,  0.7836, which was a peak in November is the next line.  Higher, 0.7975 was the 2010 high and serves as strong resistance, just under the round number of 0.80.
Even higher, 0.81 was an important resistance level back in 2008, and it's followed by the all-time high of 0.8214.
Looking down, the 0.7673 line, which was a stubborn peak during November, provides immediate support. 0.7644 is the next minor line after capping NZD/USD in October.
Strong support appears at 0.7523, that was a peak a long time ago, and provided support for the kiwi two weeks ago. Below this strong line, 0.74 is yet another strong line of support, after cushioning a fall a few months ago.
When 0.74 was finally broken, it was followed closely by 0.7350 – which is now of high  importance  as well.  Below, 0.7210 was a stepping stone for the kiwi on the way up and now provides support.
Even lower, 0.7140 was a resistance line in July and also in August, and now works as support. The last line for now is 0.6950, which was the lowest line in 6 months.
I am neutral on NZD/USD.
The rise in commodity prices, especially food, boost the kiwi, despite the Egyptian crisis that triggers risk aversive trading. These two forces balance each other.
Further reading: