Current Account, GDP  and Alan Bollard's speech are the main events this week. Here's an outlook for the events in New  Zealand, and an updated technical analysis for MZD/USD.
Finance Minister Bill English announced last week that New Zealand's return to budget surplus will be delayed by one year to 2015/16 instead of 2014/15 as was projected in last year's budget due to the cost of the devastating earthquake in Christchurch roughly estimated at NZ$15 billion.
NZD/USD daily chart with support and resistance lines on it. Click to enlarge: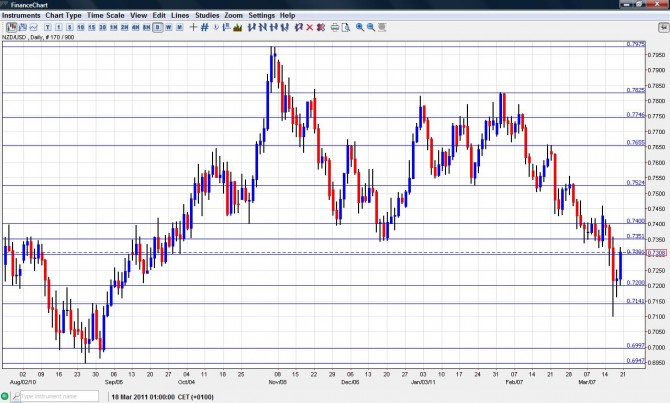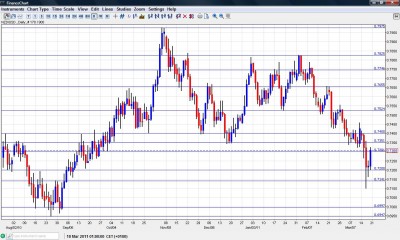 Credit Card Spending: Monday, 2:00. Credit card billings in New Zealand surged to a  nine years record of 5.6% in January, suggesting some pick-up in consumer. The Reserve Bank of New Zealand said total billings rose a seasonally adjusted 3.8 per cent last month, the best monthly gain since December 2001, and compares to a downwardly revised 1.7 per cent decrease the month before. Billings were 5.6 per cent higher than a year earlier, the best annual rise since May 2008, from a revised gain of 2.1 per cent in the December year. The January data contrasts with the fourth quarter retail report, which showed falling retail volumes, raising the prospect that the economy slipped back into recession in the fourth quarter.

Current Account: Tuesday: 21:45. New Zealand's current account deficit widened less than expected in the third quarter to $1.77 billion from $987 million in the second quarter. The annual current account gap widened to $5.93 billion from $5.6 billion. Economists had expected the quarterly deficit to grow to $2.3. The improvement was due to lower imports while commodity export prices have climbed.

GDP: Wednesday: 21:45. New Zealand's gross domestic product declined 0.2% in the September quarter while economists had expected 0.1% gain. "The decline in GDP this quarter was due to weakness in the primary and goods-producing industries," the statistics agency said.

Alan Bollard speaks: Thursday, 22:30. RBNZ Governor Alan Bollard  is due to speak at the Basel III Conference, in Sydney. The global economic catastrophe that led to the collapse of Lehman Brothers in September 2008 and the near bankruptcy of several large financial establishments in the United States led to a joint venture of authorities around the world to provide a set of enhanced guidelines to regulate financial institutions, especially banks. Basel 3 is the latest set of guidelines drawn the oversight body of the Basel committee on banks. The group meets regularly at the headquarters of the Bank for International Settlements (BIS) in Basel, Switzerland. Allan Bollard may enclose information on monetary policy and rate changes in light of the recent earthquake in Christchurch.
* All times are GMT.
NZD/USD Technical  Analysis
The kiwi began the week with a failed attempt to break above the 0.74 line (discussed last week) before free falling and even temporarily losing the 0.7140 line, before recovering to close at 0.7308.
0.73, which was a stepping stone on the way up, is the first line of support at the moment, and it's very close. It's role is minor now.  It's followed by 0.7200, a round number that also worked as a stepping stone for the kiwi on the way up and as resistance a long time ago.
Lower, 0.7140 was a resistance line back in July and also in August, and now works as minor support.  Below we find the round number of 0.70, which was a strong cap a long time ago. And just below it, important support at 0.6950 is even stronger – it was the lowest line in 6 months.
Looking up, 0.7350 is the first and immediate support. It was a bottom in December, and capped a rise just now. It's followed by the round number of 0.74 which was support back in November.
Looking up, we find 0.7523, which capped a recovery in recent weeks. It also was a peak a long time ago and later served as support.  It's followed by 0.7655, which was a stubborn line of resistance and the highest level in the past months. Also in October, this line had a role.
Above, 0.7750 is a tough bar which served in February as resistance and as support in November. It's followed by 0.7830, which was a peak in November and is stronger resistance.
I remain bearish on NZD/USD.
The horrific earthquake joins New Zealand's own earthquake in Christchurch. The heavy rate cut on an economy that was already struggling means more losses for NZD/USD.
Further reading: