Producer prices are the highlight of this week's kiwi trading. Here's an outlook for the events in New Zealand, and an updated technical analysis for NZD/USD.
NZD/USD graph with support and resistance lines on it. Click to enlarge: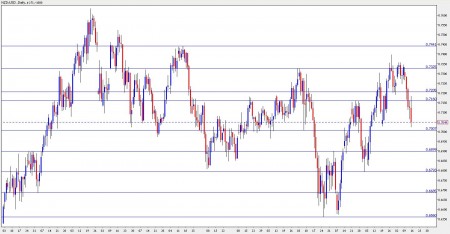 NZD/USD suffered from Bernanke's move and hardly managed to remain above 0.70. Will it stabilize this week?
PPI: Published on Monday at 22:45 GMT. Producer prices are released only once per month in New Zealand, making this publication a big event. PPI Input, which follows the prices that the manufacturers buy, jumped by a whopping 1.3% in the first quarter. A more modest rise is predicted this time. PPI Output, the prices that leave the manufacturers' gates, jumped by 1.8% last time. A negative number in both indicators will hurt the kiwi.
Visitor Arrivals: Published on Thursday at 22:45 GMT. New Zealand's economy enjoys lots of tourism, making this figure very important. A similar rise to last month's 0.3% rise is expected now.
Credit Card Spending: Published on Friday at 3:00 GMT. Consumers increased spending in credit cards by 4.5%, showing that despite the employment issues, consumers are still confident. A smaller rise is expected now.
NZD/USD Technical Analysis
The kiwi failed to settle above 0.7325 at the beginning of the week, and started deteriorating quickly. After losing 0.72 and 0.7160 mentioned in last week's outlook, NZD/USD closed at 0.7049, a weekly loss of about 250 pips.
The kiwi is now supported by the round important number of 0.70, which often supports the pair. Below, 0.69 is the next line of support. It worked as a line of resistance in May, after the pair collapsed.
Lower, 0.6790 that was a swing low in July and also supported the pair in February is the next support line. Below, 0.6685 provided support back in September and was a pivotal line in July. The final line is the year-to-date low of 0.6560.
Looking up, 0.7160 provides minor resistance, and its followed by 0.72 that worked as support quite recently. Higher, 0.7325 that was an area of struggle and also a peak in May is the next line of resistance, followed by the 0.7440 region.
I turn bearish on NZD/USD.
After the disappointing quarterly employment data, the kiwi is more vulnerable than others to the gloomy market mood.
Further reading:
Want to see what other traders are doing in real accounts? Check out Currensee. It's free..