Opinion is polarised about the UK economy at the moment. On Monday October 8 sterling endured a difficult day on the markets as it dropped 0.6% against the US dollar and stooped to a three-week low against the euro.
The US dollar was still, perhaps, basking in the afterglow after a surprise fall in the unemployment rate which dropped from 8.1% to 7.8%. Meanwhile, the euro was boosted by the formal inauguration of the new €500 billion European Stability Mechanism.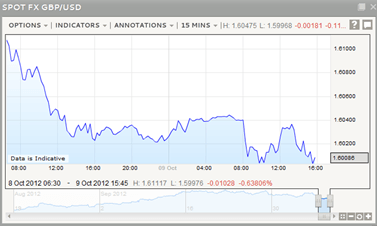 A raft of figures released on October 9 continued the uneven outlook. And while Monday's dramatic drop wasn't repeated and the pound still descended against the dollar to just below the 1.6000 level – pretty much exactly where it was a month ago.
Official figures from the Office for National Statistics showed that industrial production in the UK declined 0.5% in August from the previous month where it had grown 2.8%.   The decline was helped by a fall in manufacturing output which fell 1.1% after rising 3.1% in July.
Don't forget that it was only a week ago that the British Chambers of Commerce latest survey of 7,593 UK firms suggested that the UK economy will grow by 0.5% in the third quarter.
The British Retail Consortium (BRC) released its latest retail sales figures that were much improved on the previous month up 3.4% on the year in September compared to a climb of 1.6% in August.
Director General of the BRC Stephen Robertson tempered reaction saying that the figures were 'relatively acceptable in these relentlessly tough times. September's figure was helped by the cooler weather which led to a climb in sales of clothing and footwear and online sales returning to normal after a slump during the Olympic months.
However, the UK's trade balance widened again to £4.2 billion in August from £1.7 billion in July. And, a day of contrasts was complete when the National Institute of Economic and Social Research suggested in its monthly GDP outlook that the UK's economy expanded during the third quarter by 0.8%.
Nick Dockerty is a financial writer for IG, a leading CFD provider. The above comments do not constitute investment advice and IG accepts no responsibility for any use that may be made of them. For more information visit: www.igmarkets.co.uk.
CFD trading may not be suitable for everyone and can result in losses that exceed your initial deposit, so please ensure that you fully understand the risks involved.