The Ripple price appears to have stabilized between the $0.65 and $0.70 mark over the past few days. It seems to be well supported at this level although buying strength is somewhat more muted than usual.
Ripple reached the $0.71 price point on June 29 and there were hopes of a resurgence to begin a charge to the $0.80 level. Resistance kicked in however and over the past 24 hours, the price has fallen almost 8% to the $0.645 mark. The $0.60 retracement level seems to be well supported however although alternative theories seem to invalidate that thesis.
Ripple Price Short Term Forecast: Waiting In The Wings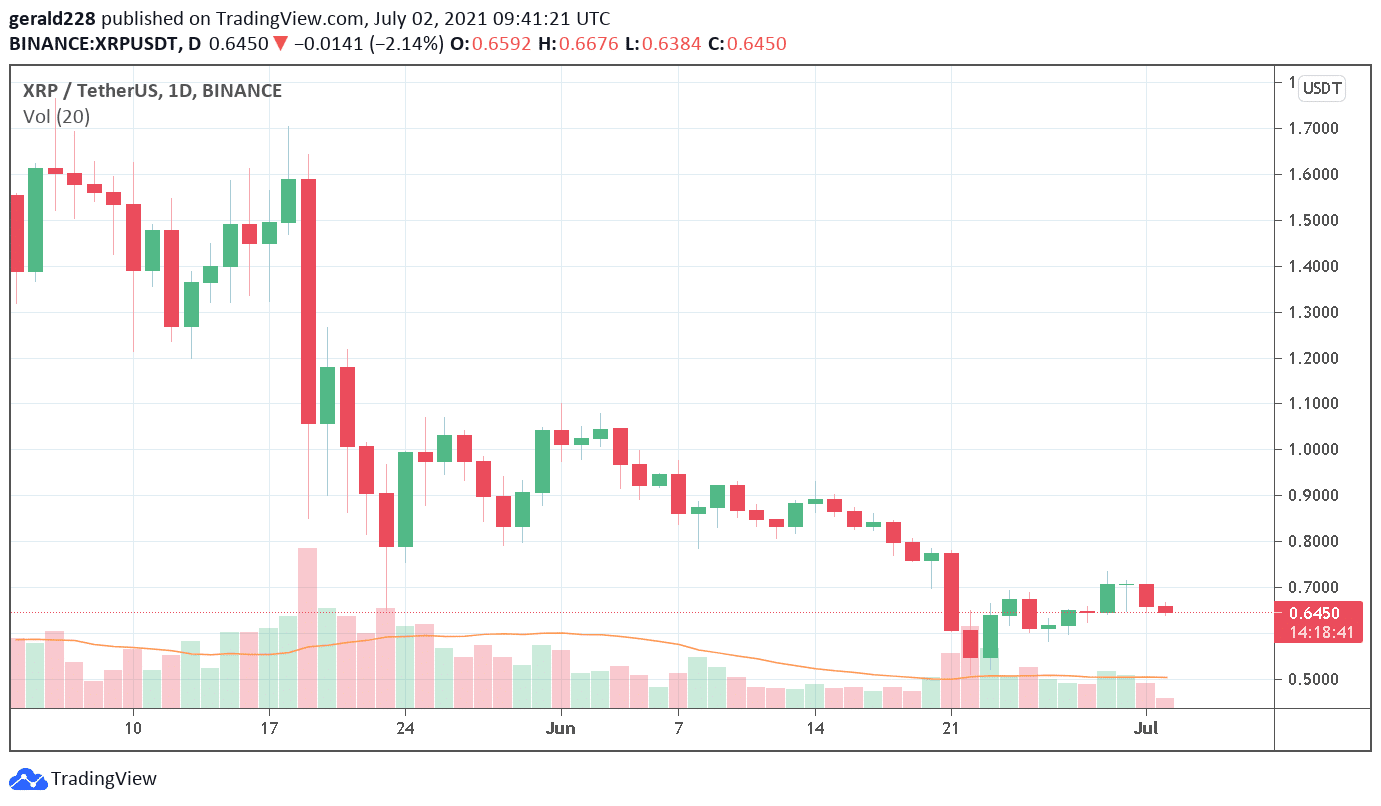 The short-term prospects for the fourth largest cryptocurrency by market cap do not look too enticing. Although there was an impressive gain of 45% from the June 22 low to the June 29 high, the overall impression is a bearish one. The retracement of 7% from the $0.71 to the $0.65 level was relatively swift and fresh lows could be reached very soon. If a descent from the $0.65 continues, then the next levels of support are the retracement level of $0.55 and the June low of $0.51.
At present, those looking to buy XRP should be mindful that the bearish narrative does look highly likely to happen. The bearish thesis would be invalidated if Ripple manages to close above the $0.76 neckline but that looks to be quite far-fetched now. The short-term scenario is that XRP will likely continue to move between the $0.55 and $0.71 price range presenting opportunities for quick but modest gains. There is also the possibility of a further decrease to the $0.431 mark if the bearish scenario persists.
Long Term Forecast For XRP: Further Bearish Sentiment?
After having reached a peak of $1.98 in early May, the Ripple price has been on a consistent decline. It crashed considerably on May 19 when it descended by no less than 40% to $1.07 from $1.58. A further leg down occurred on June 22nd when the price descended to the $0.51 level, another 50% decrease. As already discussed, bearish sentiment appears to be affecting the Ripple price so it may very well be along time before the $1 value is tested again.
Looking to buy or trade Ripple now? Invest at eToro!
Capital at risk