Both Asian and European markets moved higher after positive sentiment seen at the close of the New York session on Friday. Despite a gap lower on Eur/Usd and Aud/usd at yesterdays open that appeared because of the "no real news from weekends EU summit", pairs managed to recover on hopes that by Wednesday final decisions will be made.
From a technical perspective, the RISK appetite may easily continue in this week, after Weekly/Fridays close above 1230 mark on the S&P Futures. A running triangle is considered as finished, so more gains to come while 1192 holds. Based on this outlook, "Risk currencies", such as Eur, Aud, Cad, Chf, and Gbp should also extend the gains, as corrective "B" patterns also show sign of a completion on the FX.
S&P Futures chart: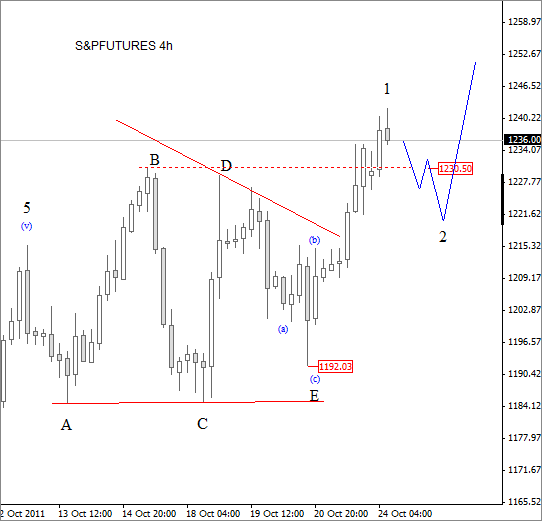 Guest post by Gregor Horvat
Gbp/Usd Technical review:
As expected, cable moved into a new high in the past few sessions, with quite powerful break out of a triangle consolidation, which means that wave B is complete, and wave C underway. Wave B as we can see, found the lows around 1.5685, so as long this level holds, we will be looking up, towards 1.61, followed by even 1.63, where wave C equals to A!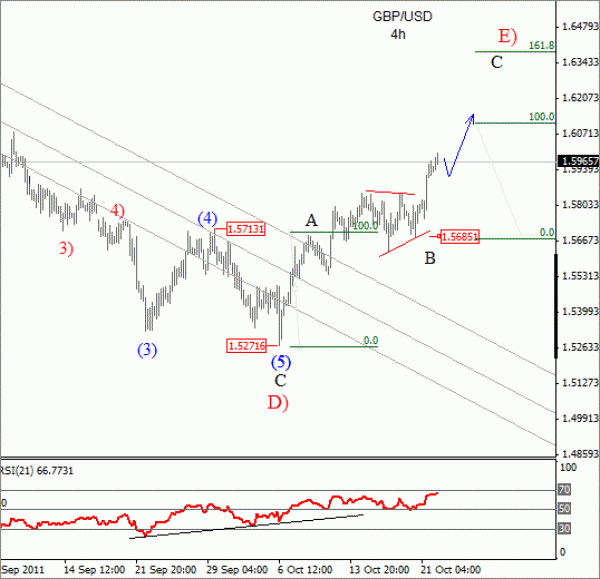 For more analysis visit us at   www.ew-forecast.com or follow us on twitter.