Idea of the Day
There has been a much greater focus on the ECB meeting today after the surprise fall in Eurozone inflation seen last week (down to 0.7%). A rate cut is a low probability today. A decent proportion of the fall in inflation was owing to food and energy price effects, which changing rates will do little to counteract. Also, the impact of the last rate cut on lending rates to households and businesses was minimal; falling 6-8bp in response to the 25bp ECB cut (see "ECB rate cut the worst available option" for more). More likely is a pre-announcement of new measures to provide liquidity to the banking sector, or there remains the scope for the deposit rate to move into negative territory (currently it's zero). This is the rate at which banks park funds back at the ECB on an overnight basis if they cannot or do not want to lend it in the wider money market. Most likely is that the ECB will not want to see the euro higher, so even if no changes are seen at 12:45 GMT, the press conference could well serve to keep hopes alive for the next 1-2 months.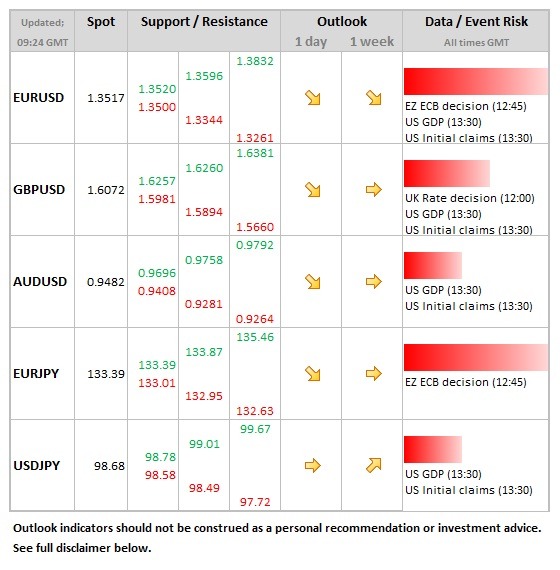 Data/Event Risks
GBP:  Bank of England policy decision is at 12:00. No change is expected and normally no detailed statement is issued when this is the case, but there have been some exceptions, the most recent being July of this year, so need to keep one eye out for volatility from this.
EUR:  ECB rate decision comes at 12:45, with press conference following at 13:30. The media chatter around a possible rate cut is higher than the expectation in the market, which remains pretty low. Biggest risk to euro is move to negative deposit rate, more from the surprise than the actual impact of it on market rates.
Latest FX News
AUD:  Employment expanded in October, but only by 1k vs. the 10k increase expected. The rate held steady at 5.7% (upward revision to September to this level). As such, the data fell to the disappointing side overall, meaning the Aussie fell back below the 0.95 level to hold close to the 0.9480 area during most of the Asia session.
GBP:  It's now the 1.61 level on cable that is the focus, with firmer than expected production data yesterday allowing the pound to push higher once again. Rate decision the focus for Thursday.
JPY:  The yen was steady in overnight trading, both against the dollar and on the crosses. For now, the impetus from Abenomics is dead in the water as the market awaits solid in-roads into structural reforms.
Further reading:
EUR/USD: Trading the US Non-Farm Employment Change
Forex Analysis: GBP/USD Rebounds from Double Bottom towards Double Top