There are persistent rumors that the French bank  Société Générale is going under, or on the brink of bankruptcy. There are various sources, but they are not necessarily independent and nothing is confirmed yet. Here are 7 point related to this story.
Italian and French bank shares collapsed. Trading was halted on some of these shares. EUR/USD feels this strongly: It plunge around 200 pips from around 1.44 to 1.4190 at the time of writing.
Update: Société Générale denies the rumors. If the markets will truly be convinced, EUR/USD can retrace its losses. But too many things don't look right and many feel that "there's no smoke without fire".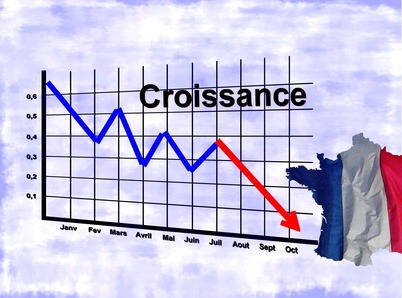 A clarification of what went on today at the  Élysée Palace in Paris is necessary to clear the rumors of insolvent  Société Générale.
Some facts, some rumors
1) The French president Nicolas Sarkozy cut short his vacation to attend an emergency meeting in Paris. This is certain. There are details about the participants in that meeting. Were there representatives from  Société Générale? Sarkozy's office denies.
2) Izabella Kaminska, on Alphaville, notes a pretty rare thing regarding the French bank:
Societe Generale (a bullion bank)was recorded offering 12-month gold forwards in the London bullion market at a rate lower than the one-month rate
Are they pressured to cover up some losses to avoid insolvency? Perhaps these are losses on the Swiss franc, as is suggested.
3) The British Daily Mail suggested already on Sunday that was in a  perilous  state.  The paper had to issue an apology afterwards.
4) Earlier in the day, the German Commerzbank reported a whopping drop of 93% in its profit in Q2 – all to blame on writing down Greek debt.
Regarding Greek debt, French banks were significantly more exposed to Greek debt than German ones. So is  Société Générale hurt by the PSI agreed in Brussels? This doesn't sound likely, as the sums necessary to cover some kind of write-downs should have already been accounted for.
But perhaps this fear I expressed back in April is becoming real:  Greek Default to Start Huge Credit Crunch?
5) There were also rumors about a credit downgrade for France. The rating agencies already affirmed France's AAA rating and the stable outlook. They were forced to reiterate it after rumors spread today. At least this is off the table. For now.
6) CDS spreads on French banks have widened  significantly, also for BNP Paribas and Credit Agricole. For  Société Générale, the spreads widened from 14 to 284 basis points. Quick math shows that this is almost 2000%.
7) And something from the past:  Jerome Kerviel, who worked at  Société Générale made some serious wrongdoings that cost the French bank 4.9 billion euros. He was convicted and sent to three years in prison.
Markets Background
It's important to note that Spanish and Italian yields, which have been at the center of the recent round of the European debt crisis, are very stable at around 5%-5.10%, thanks to Trichet's buying.
It already seemed that Ben Bernanke managed to stabilize the markets with his pledge to leaves rates low for two more years.
EUR/USD has found support at 1.4160. Further support is at 1.41, followed by 1.4070. Resistance is at 1.4220. For more on the pair, see the euro to dollar forecast.