A lot of details are pouring in regarding the size and the details of the ECB's QE program, which is set to be announced on Thursday, January 22nd.
But is such an announcement already baked into the price of the euro? Not necessarily so. The team at BNP Paribas explain why they remain EUR bears:
Here is their view, courtesy of eFXnews:
"The ECB takes centre stage next week, with markets expecting a significant broadening of asset purchases to include sovereign bonds.  While the EUR exchange rate and nominal yield levels appear to be pricing in a fairly significant announcement already, market-implied measures of inflation expectations have continued to trend lower this month.
A powerful announcement from the ECB which revives confidence in the central bank's ability to meet its 2% inflation target over time would push real yields lower. For this reason, we would be cautious about assuming a 'buy the fact' EUR reaction to an announcement.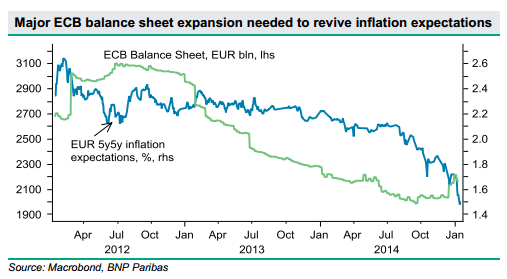 In assessing the potential impact on inflation, the market will likely focus primarily on the size of the programme, and we would emphasize that attention should focus on the broader balance sheet target. A relatively modest initial target for sovereign purchases could be couched in a firming of the EUR 3trn balance sheet target that has been referred to in the past, implying that sovereign purchases could increase if needed to meet the target.
We remain broadly bearish on the EUR and are short EURGBP heading into the meeting."
Daniel Katzive – BNP Paribas
For lots  more FX trades from major banks, sign up to eFXplus
By signing up to eFXplus via the link above, you are directly supporting  Forex Crunch.