We can see some massive dollar moves after BOJ intervention which obviously caused cause some selling pressure on other majors as well, and not only against the Japanese yen. We are sure that many traders out there are considering a change of a larger trend on many FX pairs; in fact, even we did. But we however, must keep in mind that just few hours of reversal does not necessarily mean "change of a larger trend".
On our latest 4h updated counts (members only), you will notice that all pairs are still trading above/below their critical regions, which means that these moves can be temporary as well! In fact, 37if trend has really changed because of the BOJ, then we also need to keep in mind that any Usd/Jpy recovery after the intervention was mostly limited, and did not last more than 48 hours.
The next important thing that we need to mention is Euro/SP futures correlation. We know that these two markets are mostly trading together! Well, if that's the case, and if this dollar gains are for real, then of course we would expect lower levels on SP Futures also.
Guest post by Gregor Horvat
Well, on the chart below we can see that there is actually a "gap" between those two markets, which means that current dollar strength is not confirmed by a stock market. Even oil prices did not move lower as we would expect while dollar is rising. Now the question is which market will catch up the moves!? Will Euro move higher or S&P lower?!
So, what is our bias here!? Well, from a long-term we expect a decline on stocks, so if we get weaker SP and broken critical levels highlighted on 4h FX pairs, then we will go with dollar bulls. So until then we remain cautious.
Euro vs. SP Futures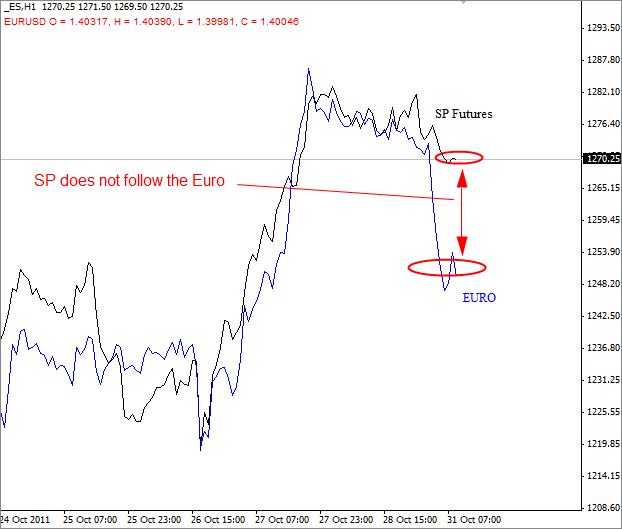 For more analysis visit us at www.ew-forecast.com and try our services with limited special offer *2 for 1* (get two months for price of one)