The VIX is 6.18% lower on Thursday in another positive session for equities.
The price is testing the old consolidation high and could break back into the old range.
Fundamental backdrop
Once again investors and traders are choosing to focus on the positive news rather than the negative as the major US bourses all trade higher. Today the non-farm payroll data beat expectations of 3mln to print at 4.8mln, also the previous number was revised higher to 2.699mln from 2.509mln. Also, the unemployment rate fell to 11.1% from last months reading of 13.3%.
Elsewhere on the positive side US Treasury Secretary Mnuchin said "a number of businesses will be hit hard and need additional money. He added that the "money in paycheck" protection program will be repurposed. On the other end of the scale, the case count in Florida has risen again by 6.4% above the 7 day average of 5.6%. Alabama also had its daily record increase since the pandemic began. It seems there is still a lot more pain to come in the US unfortunatly.
VIX daily chart
The chart below shows just how close the VIX is to breaking into the "normal" range. The consolidation top is at 24.8 and the VIX hit a low of 25.9 during Thursday's session. Looking at the technical indicators the MACD has moved back below the mid-line with the signal lines also following. The Relative Strength Index is also dipping sharply and is below the 50 zone. Tomorrow US markets are closed due to Independence Day so we will probably have to wait till next week to see if the market can break the support.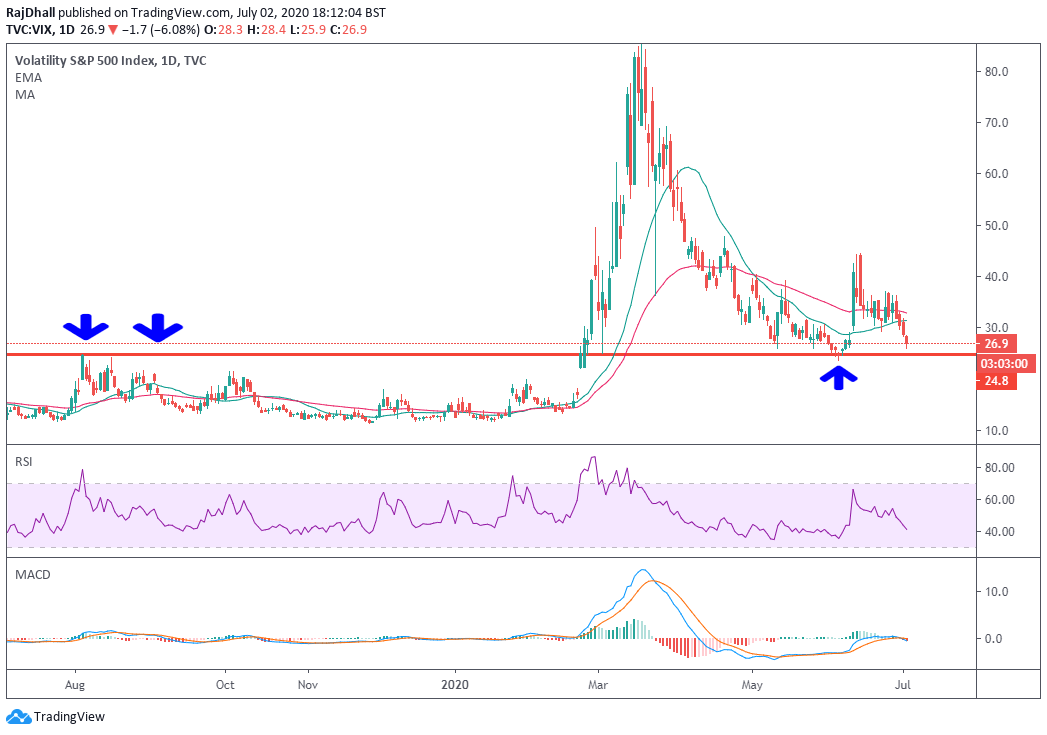 Get the 5 most predictable currency pairs