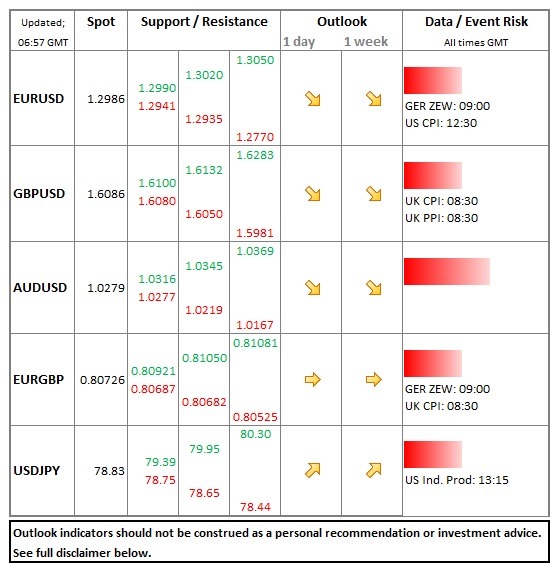 Data/Event Risks
ALL: Major event risks this week are the EU Summit on Thursday/Friday, China Q3 GDP on Thursday, and UK PSNB on Friday. UK RPI today at 0830 GMT, German ZEW at 09:00 GMT, EC trade balance at 09:00 GMT.
USD: CPI at 12:30 GMT likely to show benign inflation. Industrial production at 13:15 GMT.
Idea of the Day
Safe-haven currencies (the dollar, yen and gold) are all on the defensive. US growth appears healthier, corporate earnings are surprising, China seems to be stabilising and so risk appetite has improved. Both the yen and gold seem especially vulnerable to further losses.
Latest FX News
EUR: A creeping bid yesterday and last night, although 1.30 will be hard to break near-term. EU Summit Thursday the main focus. Spain still prevaricating on aid request – will wait until after regional elections in Galicia & Basque country this weekend.
USD: Dollar weaker despite strong retail sales. A big week for corporate earnings – 84 of S&P 500 companies report, including Google, IBM and Intel. Citicorp +5.5% after strong results, home-builders surging on housing optimism.  
AUD: RBA Minutes confirm easing bias amidst weaker Asian growth and a slowing of mining investment. Another rate cut next month looks very likely. Even so, 1.02 has been huge support recently for the Aussie. Play a 1.02-1.06 range.
GOLD: Recent price action should concern gold bulls. With the US consumer doing OK, and signs Chinese recovery is stabilising, the worry for gold bulls is that the two major economies have turned the corner. Technically, gold looks vulnerable, with USD 1,700 likely before too long.
JPY: Yen weakness yesterday amidst growing intervention speculation. New FinMin Jojima claims his French counterpart responded positively to ERM bond-purchase suggestion. Great window of opportunity currently exists for a determined MoF move. Further yen weakness likely.