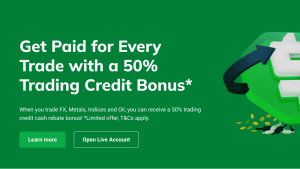 Go Markets, Australia's premium CFD trading platform with MT4 and MT5 capabilities, offers 50% credits when you deposit between $100 and $15000. In other words, you can earn up to $7500 by using the platform.
The platform facilitates trading on CFD contracts for forex, indices, commodities and shares. Its integration with MT4 and MT5 and tight spreads undoubtedly make it one of the top forex brokers in Australia.
Earn up to $7500 effortlessly
In order to receive the platform's cash rebate, you must follow a couple of simple steps. First, deposit on the Go Markets platform, and then you will receive 50% trading credits into your account. To turn these into cash, just make trades with the free credits. 
For each trade you make, you will receive a rebate. Retail Standard Accounts receive $2 per metal and forex contract and $0.10 per oil contract. On the other hand, Retail Plus accounts will receive $1 per metal and forex contract and $0.10 for each oil contract.
Your rebates will be returned as withdrawable cash, or you can keep it on the platform to trade.
Tight spreads from zero pips
One of the most significant issues CFD traders face is the notoriously high fees and wide spreads. Spreads come from volatility, and CFD contracts are often leveraged and, therefore, pretty volatile.
Go Markets solves this by providing users with the lowest spreads in Australia, starting from zero pips. What does this mean for its users? Tight spreads lead to a better overall buy and sell price for an asset. Therefore boosting the trader's PnL sheet with no extra effort.
Go Markets fees are some of the most competitive in the industry, with no non-trading fees or deposit fees, just a $3 per lot side charge for Go Plus+ account trades and zero commission for Standard accounts trades.
Earn a supplementary income through the Go Markets referral scheme
CFD trading can be highly profitable, but it is difficult to guarantee an income stream. Traders often experience an entire month of a net loss, so the Go Markets referral scheme is the perfect solution.
It has been known that traders earn a full- income from the Go Markets referral scheme by referring just a handful of clients per month to the platform. This is a fantastic way to create a more reliable income stream to supplement CFD trading.
The ideal referee would be someone with an online audience already interested in trading and finance; this could include signal providers or online educators.
Strategies and market insights
Go Markets is Australia's most renowned CFD trading platform due to its MT4 and MT5 capabilities. Metatrader 4 and 5 and powerful trading software compatible with Go Markets, allow traders to use advanced trading techniques and strategies and fast execution to carry out trading on a level rivalling institutional trading.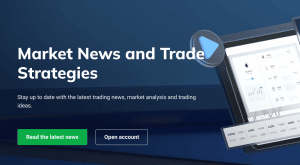 The platform is available on mobile, web app or desktop. It enables users to develop trading strategies, use indicators and technical charting tools such as Fibonacci forex analysis, deploy automated scripts and trading bots and backtest their trading strategies.
The platform is suitable for traders of all levels, with a user-friendly interface but capabilities for bots and fast execution, meaning it can even facilitate high-frequency trading.
About Go Markets
Go Markets is a CFD trading platform founded in 2006 in Melbourne, Australia. It is known as the first platform to bring MT4 and MT5 to the nation and has now become a leading broker worldwide.
The platform is fully regulated in Australia and has received numerous awards for security, user experience and secure handling of user funds. Concerning its clients' funds, the platform keeps them segregated in a secure account.
More recently, Go Markets has launched its campaign to reward its users for trading by offering a 50% cash rebate reward on deposits. The platform is also a leading trading educator and features an education hub that provides podcasts and articles teaching traders all they need to know for market success.