Bernanke relatively relaxed on energy prices
New Zealand dollar lower on rate cut speculation
US manufacturing setting a blistering pace
The plucky pound
Germany et al not keen to re-negotiate Irish loan terms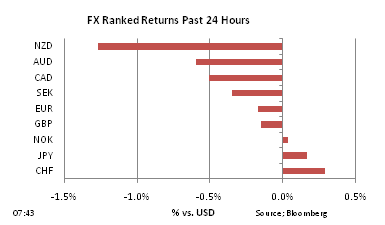 Guest post by  FxPro
Markets remain in defensive mood, given the escalation of events in Libya and also the increased fears regarding Saudi Arabia, with the Saudi stock market down nearly 7%.   Credit default swaps were also wider, with CDS having nearly doubled since January.   Overnight, oil (Nymex WTI) touched $100pb once again, whilst equities in Asia are lower, the Nikkei down by more than 2%.   The shift in sentiment has managed to pull the dollar from the lows of the year (on the dollar index), but the reaction has been muted, as the fear factor fights widening interest rate differentials between the US and Europe.  After six week of unrest in the Middle East, there's no real feeling that we are nearing the end-game. As such, markets will favour a modest amount of fear and defensive positioning.   Current events may not stop those central banks which are looking to tighten rates from acting in coming months but, for now, it could temper slightly some of their hawkishness.
Commentary
Bernanke relatively relaxed on rising energy prices. Speaking in Washington yesterday, the Fed Chairman did not appear overly concerned with rising energy prices and their impact on inflation. His comments largely reflected the historical evidence in the US of core inflation largely ignoring the volatility of headline inflation (including food and energy).   He also underlined the Fed's desire to see a sustained period of job creation, something which remains lacking in the recovery to date. There's was nothing in these comments to suggest that the Fed will waver from its course of completing the USD 600bn of Treasury purchases under its QE2 program.   The tone of his testimony had largely been pre-announced by Dudley's comments on Monday, so the impact on interest rate markets and also the dollar was relatively muted.
New Zealand dollar lower on rate cut speculation. The biggest mover overnight has been the Kiwi, with the PM saying he would "welcome" an interest rate cut.   The government also hinted at slower growth to come, with some larger infrastructure projects delayed or cancelled as efforts are channelled into the task of rebuilding in the wake of the earthquake last month.   The Kiwi has pushed below the December lows vs. the Aussie, taking it to levels not seen for 18 years.
February's ISM reading was the highest for 27 years. The production, new orders and export orders components remain very elevated, while the backlog of orders is extremely high as well, a great sign for the sustainability of the recovery. Employment is strong and customer inventories are very low. Not surprisingly, prices paid rose still further, to 82, the highest reading since the summer of '08.   For those with worries about the US economy, this survey offers some reassurance at the very least. Against the backdrop of significant longs in the euro and cable it is possible that some dollar shorts may get washed out in coming days ahead of Friday's payrolls which, on the basis of the ISM report, may well come out on the stronger side of expectations.
The plucky pound. Sterling broke through November's high against the dollar on Tuesday to reach a new 13-mth high of 1.6329, although the more risk-averse tone overnight has seen cable pull back below the 1.6250 level. Benefitting the pound has been growing expectations that a BOE rate-hike is likely within a couple of months. In addition, there has been decent buying interest observed from Asian sovereign wealth funds over recent trading sessions. Yesterday's news that the February PMI was above expectations at 61.5, and that mortgage approvals jumped in January, will help to placate some who harbour fears that the economy is set to slide back into recession.
Germany et al not keen to re-negotiate Irish loan terms. Enda Kenny, leader of the Fine Gael party and now the Irish Prime Minister, may struggle with his promise to convince Europe to re-negotiate the terms of the bailout package. According to today's FT, there is hardening opposition from Europe's core AAA-rated economies (Germany, Finland and the Netherlands) to lowering the 5.8% interest rate on the rescue loans. All three countries face critical elections over the next couple of months and so, politically, it is a very difficult time to agree to such a move.  Current Bundesbank President Axel Weber penned a piece in the FT last week which articulated his opposition to any re-negotiation and on Monday German Finance Minister Schaeuble also pushed back against calls for easier loan terms. Speaking in the German Parliament, Schaeuble said that profligate euro members must fix their finances or endure pain. It promises to be an extremely tough EU meeting on the 11th of March.
Looking Ahead
Wednesday: UK: PMI Construction, February (expect 53.0, previous 53.7); US: MBA Mortgage Applications; ADP Employment Change, February (expect 185K, previous 187K).
Thursday: UK: Hometrack Housing survey, February (previous -0.5% MoM); IT/FR/GER/EC: PMI Services, February (expect 51.2/60.8/59.5/57.2, previous 49.9/60.8/59.5/57.2); EC: Eurozone GDP, Q4 (expect 0.3% QoQ and 2.0% YoY, previous 0.3% and 2.0%); Eurozone Retail Sales, January (expect 0.3% MoM and 0.0% YoY, previous -0.6% and -0.9%); ECB Board Meeting (expect no change); US: Initial Claims (previous 391K); Bloomberg Consumer Comfort, February 27th (previous -39.2); ISM Non-Manufacturing, February (expect 59.7, previous 59.4).
Friday: US: Non-farm payrolls, February (expect 175K, previous 35K); Unemployment Rate, February (expect 9.1%, previous 9.0%); Factory Goods Orders, January (expect 2.2%, previous 0.2%).      
Source: Bloomberg