The TRON price has followed a similar trajectory to other cryptos in the past few weeks. It is considerably down from its highs of late April and mid-May where the $0.17 mark was reached. The descent was equally brutal and the TRON price was trading at the $0.0508 mark yesterday.
A reversal began over the past 24 hours with the TRON price up by 5% to the $0.053 level. This seems to be quite a modest gain, but the trend reversal seems to be there. A constant decline from June 21 when the price was $0.0677 has been occurring with the drop being about 20% overall.
If you haven't yet bought cryptocurrency, have a look at this How To Buy Cryptocurrency Beginner's Guide.
Short Term Price Forecast For Tron Price: A Slow Recovery On The Cards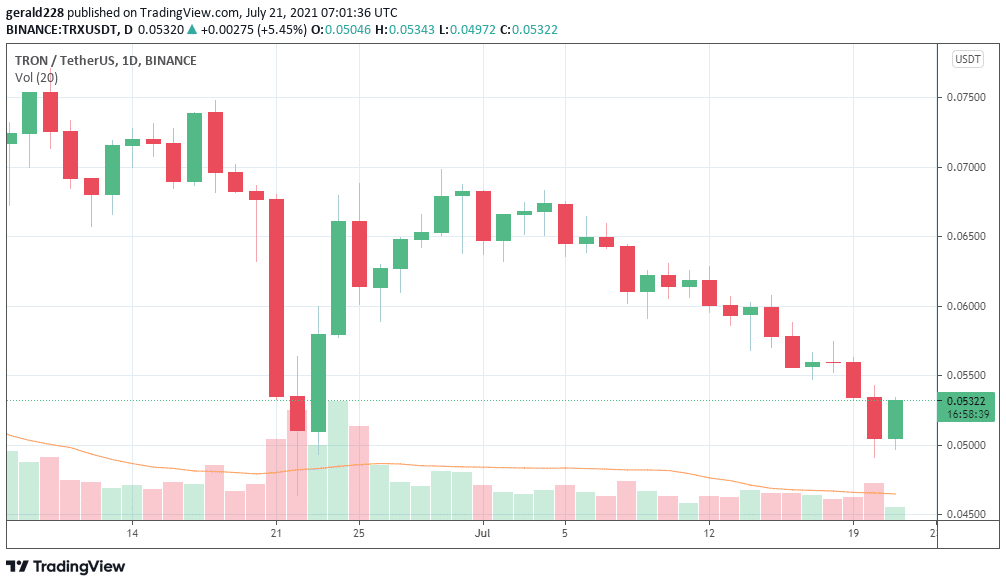 After having reached the $0.17 level in mid-April, the TRON suffered a considerable drop where it careened down to the $0.05 level in June and early July. This represents a drop of around 70% from the high registered just a few weeks ago.
At present TRON is trading around the $0.053 levels or a 5% increase over a 24 hour period.
A bullish forecast for TRON would see it begin to tackle the next resistance level of $0.06. If that is breached then there would be a possibility that the price continues to tag upwards and the important resistance line of $0.65 will be tested.
A bearish thesis would have the TRON price once again fall below the $0.05 level and continue crashing downwards to test the crucial level of support at $0.049. If you are looking to test your mettle in the crypto market, have a look at these Best Cryptocurrency Brokers.
Long Term Price Forecast For TRX: Back to the double digit figures
Although the TRON price has been in considerable decline of late, it does seem that a reversal is on the cards at least for the long term. Other factors to be taken into consideration include the issue of private currency transfers which could have an impact on crypto market sentiment as a whole.
TRON will likely hold around the $0.053-$0.057 mark for the time being if it is going to contemplate some sort of push upwards. Several predictions are looking at a price of $0.10 by end of year. This would still be well below the $0.17 price set in mid-April but a considerable 80% advance on the current Tron price.
As with all cryptocurrency, much depends on the long-term future for Bitcoin. The BTC price seems to have stemmed the decline below the $30K mark but is still in vulnerable territory. At present TRON remains mildly bullish but things may change in an instant.
Looking to buy or trade [coin name here] now? Invest at eToro!
Capital at risk