USD/JPY is a mixed bag of fundamentals and technicals which make it a less favourable trade set up.
There are arguments from both sides of the equation, but bulls will need to defeat a looming weekly resistance to convince additional bids.
The bears will need to see signs of exhaustion and a trigger to short below said resistance.
USD/JPY is at an interesting crossroad where it meets a weekly resistance structure and bears line up for a run back to test daily support.
At the same time, the US dollar has picked up a bid following a 4HR support structure playing out.
The dollar bulls, however, may need to mind their stamped doesn't bolt too soon as there will be plenty of supply to conquer yet to come.
A moderate rise in real yields is hardly the basis for a full-blown resurgence in the dollar.
After all, lower real rates are the central bank lever to support the recovery and compensate for supply, so it's a theme that is not going to vanish anytime soon.
Instead, it can be expected to see lower yields, more QE and dovish Federal Reserve forward guidance this autumn.
The trade war demand for the greenback could come undone also.
White House economic advisor Kudlow said China was fulfilling its trade deal commitments on agricultural purchases, an encouraging tone ahead of the formal high-level review due Saturday.
The following downside forecast is only as valid as there is some further upside into resistance prior to scanning the 4HR charts for a short entry for a lower risk to reward set-up:

DXY 4HR chart, double bottom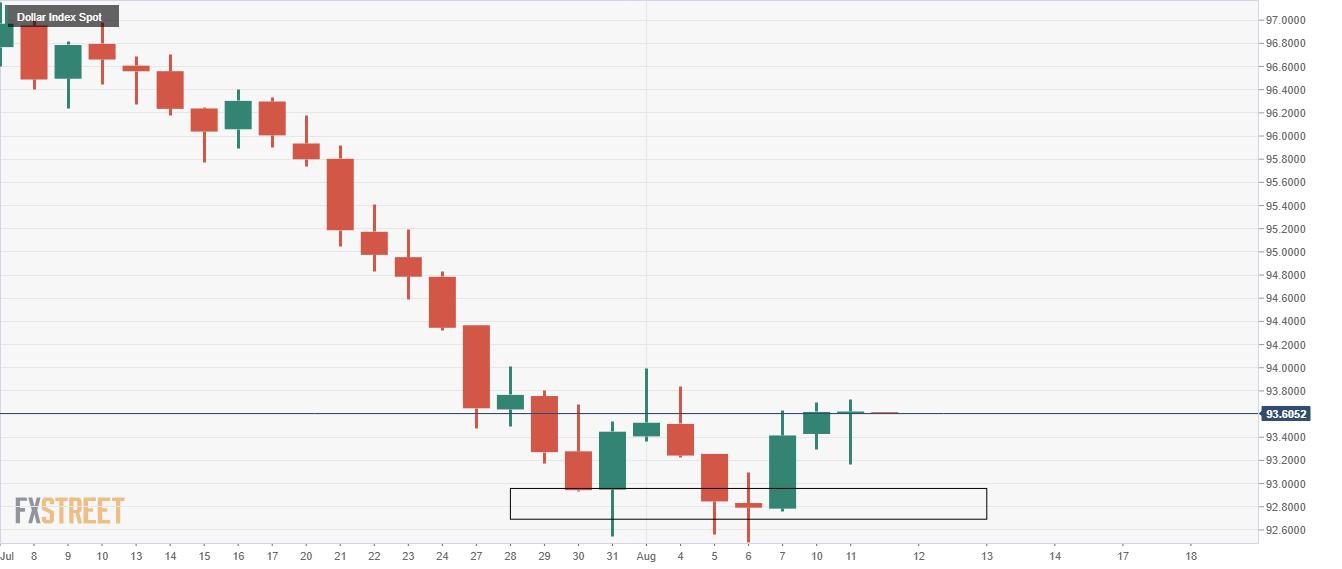 There is going to be some short term pain for the bears banking on a smooth ride all the way to 100 in the yen.
USD/JPY monthly support

Still, the downside is also limited by the monthly support.
USD/JPY weekly resistance

However, the weekly resistance is likely a hurdle in the coming days which could equate to a test back to the downside if the US dollar buckles.
USD/JPY daily support target

Expect the W-formation's prior resistance to draw in the price like a magnet and hold initial tests.
Get the 5 most predictable currency pairs