USD/CAD finally broke below the stubborn support line and found itself in levels last seen one year ago. Is there more room on the downside? Trade Balance is the highlight of this week. Here is an outlook on the major market-movers and an updated technical analysis for USD/CAD.
The Bank of Canada continued the hawkish bias, in a world that is full with monetary easing. This is supportive of the loonie. Last week, the Canadian job market reversed its 30.4K job decrease in July by gaining 34.3K jobs in August, beating analysts' prediction of a 9.9K increase. The unemployment rate was not affected by this sharp rise, remaining at 7.3%, in line with predictions. All job gains were part time, paralleling part-time losses in July.  Will the Canadian labor market continue to improve?
Updates: Housing Starts and Trade Balance, a key release,  will be  published later on Tuesday. The Trade Balance deficit is expected to narrow in the September release. The loonie continues to improve against the US dollar, as USD/CAD was trading at 0.9726. The Trade Balance deficit widened, surprising the markets. The deficit increased to 2.3 billion dollars, while the estimate stood at -1.4B. Housing Starts were positive, with a reading of 225 thousand new starts. This was well above the forecast of 203K. The loonie is steady, as USD/CAD was trading at 0.9736. NHPI and Capacity Utilization Rate will be released later on Thursday. The markets are expecting similar readings to the August releases. The  Canadian has edged higher, as USD/CAD was trading at 0.9752.  It finally happened:  the Fed announced QE3  – open ended, $40 billion per month, in addition to more twist and a longer pledge for low rates through 2015. The loonie enjoyed this very much. USD/CAD is under 0.97.
USD/CAD  daily chart with support and resistance lines on it. Click to enlarge: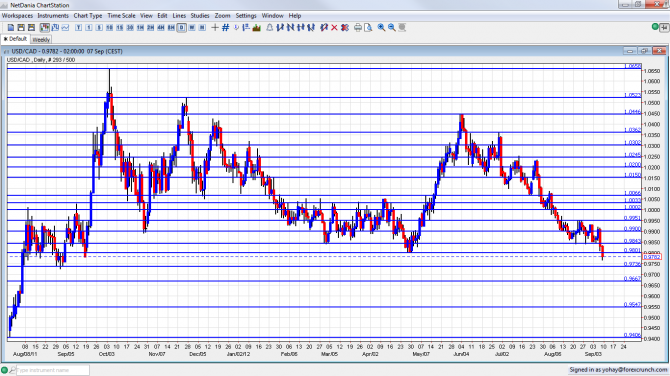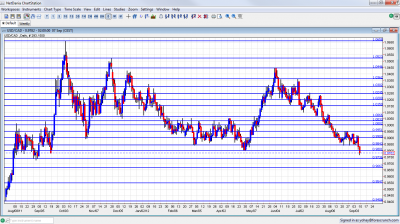 Housing Starts: Tuesday, 12:15. Housing starts in Canada plunged more than expected in July dropping to 208,500 on a seasonally adjusted annual basis in July from 222,700 the previous month. The decline was worse than the 212,000 housing starts predicted by analysts. In the face of the recent strong figures in the housing sector, the Canadian government tightened conditions for homeowners and buyers alike in order to deflate a possible bubble buildup which is the probable cause for this decline. Another drop to 206,000 is expected now.
Trade Balance: Tuesday, 12:30. The gap between what Canadians import and exports increased to a deficit of $1.8 billion in June doubling predictions of $0.9 billion deficit and following $1.0 billion deficit in the previous month. Imports rose 2.5% while exports gained only 1.1% before the recession since in late 2008 Canada had trade surplus as a resource-rich nation. Deficit is predicted to reach $1.5 billion this time.
NHPI  :Thursday, 12:30. The new housing price index (NHPI) edged up 0.2% in June following a 0.3% gain in May, amid higher land prices and better market conditions on Toronto and Oshawa. Economists expected a 0.3% rise. On a yearly basis, the NHPI climbed 2.3% in June, following a 2.4% increase in May. Another increase of 0.3%is predicted.
Manufacturing Sales: Friday, 12:30. Manufacturing sales in Canada continued to disappoint in June dropping 0.4% following an upwardly revised flat rate in the preceding month, dragged down by falling oil prices and refinery shutdowns. Petroleum sales plunged10.6% and coal products pushed down overall sales to $48.9 billion in June, 0.4 per cent lower than in the previous month. A gain of 0.5% is anticipated.
* All times are GMT.
USD/CAD  Technical  Analysis
USD/C$ started the week by another failed attempt to break below the 0.9840 line (discussed last week). A temporary surge eventually resulted in a big downfall, and the pair eventually fell below two support levels, closing at 0.9782.
Technical lines, from top to bottom:
We start from a lower point this week. The round figure of 1.02 was a cushion when the pair dropped in November, and also the 2009 trough. It remains a distinct separator after working as such in July.  1.0150 was a swing low in September and worked as resistance several times afterwards. It was challenged in June 2012. and served as a separator in July 2012.
1.0066 was key support before parity. It's strength during July 2012 was clearly seen and it gave a fight before surrendering. Now, it is somewhat weaker. 1.0030 is another line of defense before parity after capping the pair earlier in the year. The move below this line is not confirmed yet.
The very round number of USD/CAD parity is a clear line of course, and the battle was very clear to see at the beginning of August 2012.  Under parity, 0.9950 is now the top border of the range, similar to a role it played in March 2012. It also worked well as resistance in August 2012, in more than one occasion.
0.99, the round number capped the pair in May 2012, was a pivotal line in the middle of the range during the summer of 2012. 0.9840 provided support for the pair during September and proved its strength in several occasions during August 2012. This very strong line now switches to resistance.
The round number of 0.98 provided support for the pair in April and is a key line. Lower, 0.9725 worked as strong support back at the fall of 2011.
0.9667, which was another strong cushion in June 2011 is the next line. Further below we find 0.9550, which worked as resistance when the pair traded in low ground.
The ultimate line of support is 0.9406, which was the bottom in 2011 and the lowest since the financial crisis broke out.
I remainbearish on USD/CAD.
Even if QE3 isn't launched by the Fed (which could do other things as well), the Canadian dollar has the back wind of a hawkish central bank and the strong employment numbers. It's also important to follow the price of oil.
Further reading: