For the second straight week, the Canadian dollar was almost unchanged  and  closed the week  just above the 1.03 level. This week's highlights include GDP and Ivey PMI.  Here is an outlook on the major market-movers and an updated technical analysis for USD/CAD.
Canadian Core Retail Sales was strong, but the Canadian dollar failed to take advantage. US Unemployment Claims looked sharp, but key manufacturing and housing releases disappointed.
USD/CAD daily chart with support and resistance lines on it. Click to enlarge: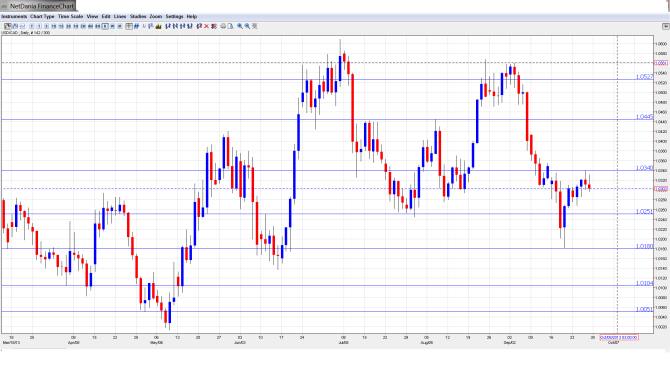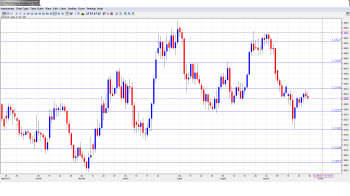 GDP: Monday, 12:30. Unlike the US and other major countries, Canada releases its GDP on a monthly  basis. The July release looked awful, declining 0.6%. This missed the estimate of -0.5% and was the first decline since February. The markets are expecting a strong turnaround for the August release, with an estimate of a gain of 0.6%. Will the indicator meet  or beat this rosy prediction?
RMPI: Tuesday, 12:30. The Raw Materials Price Index  measures inflation facing manufacturers. RMPI unexpectedly shot up 4.2% in July, its highest level since  April 2011. This was well above the estimate of 1.2%.  Another sharp  rise is expected  for August,  with an estimate of 3.2%.
BOC Senior Deputy Governor Tiff Macklem Speaks: Tuesday, 16:30.  Macklem will address the Economic Club in Toronto. Analysts will be looking  for  clues regarding the BOC's future monetary policy,  ahead of the BOC's rate announcement in late October.
Ivey PMI: Friday, 14:00. This key indicator  has  dropped below  the 50-point level only once in 2013, indicative of ongoing expansion. The index came in at 51.0 points in July, and the markets are expecting  a stronger reading in August, with an estimate of 52.6 points.
* All times are GMT.
USD/CAD Technical Analysis
USD/CAD opened the week at 1.0299 and touched a low of 1.0268. The pair reached a high at the resistance line of 1.0340 (discussed last week), and closed the week at 1.0303.
Live chart of USD/CAD: [do action="tradingviews" pair="USDCAD" interval="60″/]
Technical lines, from top to bottom:
We  begin with resistance at 1.0853. This line  has held firm since May 2010.
1.0723 was a cap in mid-2010, before the US dollar tumbled and  dropped all the way into 0.93 territory.
1.0660  is an important resistance line, which was last tested  in  September 2010.
1.0523 was a peak back in November 2011.  This line  saw some action earlier this month, but is  currently providing strong resistance.
1.0446 was a cap in mid-July, but has been  providing support for the past  several weeks.  This line has some breathing room as the pair trades in the low-1.03 range.
1.0340  is  a weak resistance line. This  pair touched this line  as the pair lost  pushed upwards  before retracting.
USD/CAD is receiving support at 1.0250. This  line has not  been tested since July.
1.0180 provided support for the pair during March, and saw a lot of activity in the first half of June. It remains a strong resistance line.
The round number of 1.01 was a trough back in July 2012 and switched to resistance afterwards. The line proved its strength several times in 2013, most recently in mid-May.
1.0050 provided support for the pair in May 2013 and on other occasions beforehand. It remains a barrier before parity. The very round number of parity is a clear line and has  not  been tested  since mid-February.
The final support line for now is 0.9910.  This line  was last tested in January, which marked the start of a strong US dollar rally which saw USD/CAD climb to the mid-1.03 range.
I  am  neutral  on USD/CAD
USD/CAD has been staying close to the 1.03 line, and the pattern could continue this week. A threatened shutdown of the US government could hurt the US dollar, but chances are that cooler heads will prevail in Washington and some compromise will be hammered out between the politicians.
Further reading: