USDJPY: The pair still remains weak and vulnerable on corrective pullback though seen hesitating during early trading on Wednesday. However, except it returns above the 125.04 level, risk continues to point lower.
On the upside, resistance resides at the 125.00 level with a turn above here aiming at the 126.00 level. A break will target the 125.50 level. Further out, resistance comes in at the 126.00 level where a violation will aim at the 126.50 level.
Conversely, support comes in at the 124.00 level where a break will target the 123.50 level. Below here if seen will aim at the 123.00 level followed by the 122.50 level. On the whole, USDJPY remains exposed to the upside in the medium term but faces pullback threats.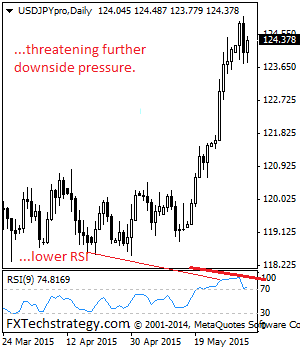 In our latest podcast, we explain the recent USD  rally, what's ahead and lots more
Subscribe to Market Movers on iTunes