USD/JPY  posted slight gains last week, as the pair closed at 119.57. There are seven events this week. Here is an outlook on the major events moving the yen and an updated technical analysis for USD/JPY.
Japanese inflation numbers met expectations, but retail sales and household spending posted declines. In the US, Janet Yellen's testimony signaled that a Fed rate hike is not imminent, and that wage growth and inflation will  need to improve first.
[do action="autoupdate" tag="USDJPYUpdate"/]
USD/JPY graph with support and resistance lines on it: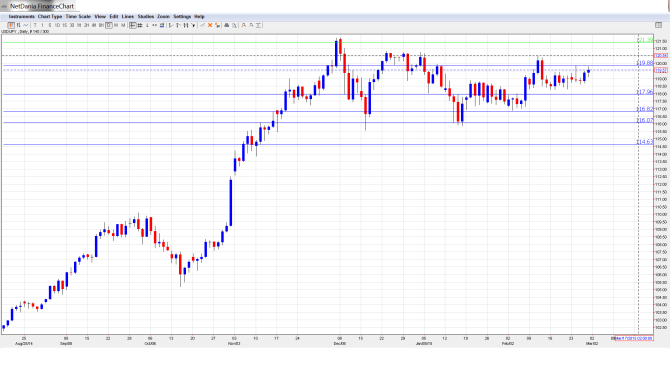 Capital Spending:  Sunday, 23:50. Capital Spending is released on a quarterly basis, magnifying the impact of each release. The Q3 reading showed a strong gain of 5.5%, easily beating the estimate of 2.1%. Another solid gain is expected for Q4, with the estimate standing at 4.1%.
Final Manufacturing PMI: Monday, 1:35. This PMI continues to post readings above the 50 level, indicating ongoing expansion in the manufacturing sector. The January reading came in at 52.2 points, almost matching the forecast. The estimate for the February report is 51.5 points.
Monetary Base: Monday, 23:50. Monetary Base has been fairly steady, and the January reading came in at 37.4%. This was shy of the estimate of 40.1%. The indicator is expected to dip in February, with an estimate of 34.3%.
Average Cash Earnings: Tuesday, 1:30. This is the major event of the week. This indicator measure employment income, which is closely linked to consumer spending. In December, the indicator bounced back with a strong gain of 1.6%, matching the forecast. The January estimate stands at 0.6%.
10-year Bond Auction: Tuesday, 3:45. 10-year bonds have  been quite steady, with the previous yield coming in 0.31%. No significant change is expected in the upcoming reading.
30-year Bond Auction: Thursday, 3:45. The indicator bounced back in February, posted a yield of 1.46%. Will the upward swing continue in the March auction?
Leading Indicators: Friday, 5:00. This  index is based on 11 indicators, but is considered a minor event since most of the data has already been released. The index improved in January to 105.2%, very close to the estimate.
* All times are GMT
USD/JPY Technical Analysis
USD/JPY  started the week at 119.08. The pair  climbed  to a  high of 119.88, as  resistance held firm at 119.88 (discussed last week).  The pair then reversed directions, climbing to a  low of 118.63.  USD/JPY  gained ground late in the week and  closed at 119.57.
Live chart of USD/JPY: [do action="tradingviews" pair="USDJPY" interval="60″/]
Technical lines from top to bottom:
124.16 marked the start of a yen rally in June 2007, which saw USD/JPY drop to the 96 level.
122.19 remains a strong resistance line which has held firm since July 2007.
121.39 is the next resistance line.
119.88 held firm as the pair climbed to a high of 119.84 before retracting.
117.94 is providing support. The line held firm for a  third straight week as the yen lost ground before recovering.
116.82  is providing strong support  and has remained intact  since mid-January.
116.02 is the next support level.
114.65 is the final support level for now. This line has remained intact since December 2007, when the yen posted a strong rally which saw USD/JPY drop below the 96 line.
I am  bullish on USD/JPY
The BOJ signaled that its accommodative monetary stance will continue, and this will  weigh on the struggling  Japanese yen.  In the US, Fed chair Yellen tried to dampen expectations about a mid-rate hike in her Congressional testimony, but a strong NFP could boost the June rate expectations.
In this week's podcast, we cover Yellen & the hike, AUD & CAD rate previews, Jobless claims vs. USD & Greek back burner
Subscribe to our iTunes page