Trade Balance and Tokyo Core CPI are the major events this week. Here is an outlook on the major events ahead and an updated technical analysis for USD/JPY.
The dollar fell for a second day versus the yen as U.S. consumer prices rose more than forecast in January and initial jobless-benefit claims increased more than estimated last week. This situation weighs on Japan's export growth.
USD/JPY daily chart with support and resistance lines marked. Click to enlarge: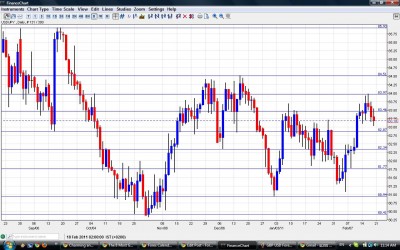 Let's start:
All Industries Activity: Monday, 4:30. Japanese all industry activities index fell -0.1% in November following a previous reading of -0.2% in October, while analysts expected 0.2% gain. This represents the sixth decline in 2010 and the fourth in a row.  A climb of 0.1% is predicted now.

Trade Balance: Tuesday, 23:50. Japan' trade balance surplus rose more-than-expected last month to a seasonally adjusted 0.71T, from 0.43T in the preceding month. Analysts had expected the trade balance to rise 0.53T last month. Japan's major exports are: consumer electronics, automobiles, semiconductors, optical fibers, optoelectronics, optical media, facsimile and copy machines. Its main trading partners are The United States, China and European Union. A small decrease to 0.70T in trade surplus is predicted.

CSPI  : Tuesday, 23:50. Japan's corporate services price index fell 1.3% in December from a year earlier, the 27th consecutive year-on-year drop. The total CSPI, which stood at 96.4 in December against 100 in the 2005 base year, was down 0.2% from the previous month, posting the first monthly fall in two months and the eighth in 2010. The same drop of -1.3% is expected now.

Tokyo Core CPI: Thursday, 23:30. Tokyo Core CPI measuring change in the price of consumer-purchasable goods and services in Tokyo dropped less than expected by 0.2% in January following 0.4% drop in the previous month. Analysts expected -0.3% drop.  Consumer prices usually have a significant impact on overall inflation. If prices rise, the central bank may raise their interest rates. The release of Tokyo's Core CPI gives traders an idea of what the National CPI may be. Meanwhile the national Core CPI fell 0.4% over the year to December 2010, beating expectations of a 0.5% decrease. This result is the 22nd decrease in a row pointing to persistent deflation in the economy. Tokyo Core CPI and the National CPI are expected to drop 0.3%.
*All times are GMT
USD/JPY Technical Analysis:
Dollar/yen had a strong start to the week, and it bounced at 84, a new line that didn't appear last week. It then fell back and closed at 83.18.
Looking down, the 82.87 line, where the BOJ intervened is the first line of support.. 82.34 now has a bigger role after giving a hard time to the pair.
Lower, 81.80 is of importance after serving as  support in recent weeks. The next line is even more important – 80.87, which provided support back in November and now has the same role.
Further below, 80.40, was the lowest close ever and by 79.75, the lowest intra-day level, reached back in 1995.
Looking up, 83.40 provides immediate resistance, though weaker than in previous weeks. 84, which was quite stubborn now, is a tough line of resistance.
Higher, the next line above is 84.50 which is the highest level since October and is a very tough resistance line.  Above, 85.93 was the top that the pair made after the BOJ intervention in September.
Further above, we have 86.34 and 87.02, which were support lines on the way down, and now work as minor resistance.
Above, strong resistance is found at 88.12, which worked in both direction last summer, and then by 89.15 which capped USD/JPY at that same period
I remain bullish on USD/JPY.
A stronger American economy, a struggling Japanese one should push the pair higher. Note the correlation between US bond yields and the pair. While weaker than earlier in the year, it is still relevant.
Further reading: