Guest post by  Nick Dockerty, who is a financial writer for IG, a leading financial spread betting and CFDs provider. For more information visit:  http://www.igindex.co.uk/
Over the last couple of years Brazil's economy has slowed down. After notching up growth of 7.5% in 2010, annualised GDP in 2012 so far is just 1.9%. However, a series of recent figures suggest that the economy is on the mend, right? Well, not quite.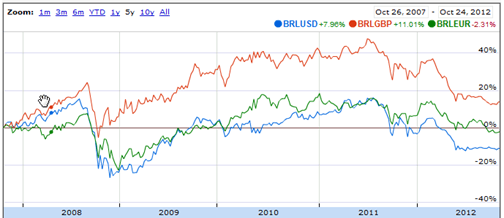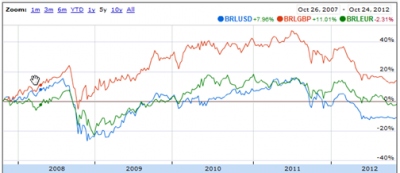 Brazil's GDP growth rate climbed 0.4% in the second quarter from the previous quarter. Inflation is creeping up, climbing to 5.28% year-on-year in September compared to adding 5.24% in August. Industrial production declined more than expected in August to 2% on an annual basis.
In order to help stimulate the economy the Brazilian central bank has recently cut its interest rate to 7.25%- which is an all-time low. Consumer sentiment has rebounded; the consumer confidence index increasing to 122.1 points in September from 120.4 points in August. Meanwhile, retail sales in Brazil climbed 0.2% in July according to the Brazilian Institute of Geography and Statistics.
Governmental tax breaks for Brazilian car manufacturers has helped keep prices low and boosted demand in this crucial sector that accounts for 5% of the economy. So much so that August saw a record rise of 15% in car sales as consumers rushed to take advantage- before the scheme ended and prices went up again.
With car sales plummeting 31% in September the government will be hoping that by announcing it is extending the scheme until the end of the year the figures will stabilise.
'We don't want price increases at the end of the year… we want prices to continue low and well-behaved,' said finance minister Guido Mantega. (Source: Reuters)
While there is no doubt that a combination of lower interest rates, relatively stable wages and government tax breaks have helped boost domestic demand, it is the consumer credit boom which economists believe is helping to keep the retail sales -and consumer confidence-figures above water.
'Brazilian shoppers, typically, buy almost anything on credit, even when they know they are paying very high interest rates,' wrote Jonathan Wheatley on FT.com recently.
Perhaps then, for the moment at least, Brazil is a victim of its own success. The staggering growth has created a lot of positive global publicity and local political goodwill, helped stimulate foreign investment and boosted domestic optimism that expectations for this to continue are, perhaps, unrealistically high.
Along with Russia, India and China Brazil is one of the so-called BRICs that have been fated with driving the world economy for at least the next decade or so. In reality, the pressure to deliver feel-good year-on-year growth figures is immense, as countries such as the UK would attest to.
The rebirth of Mexico- which has recorded 3.9% annualised GDP growth rate so far in 2012- has only added to this pressure.
There are still sizeable infrastructural obstacles that Brazil's policy makers must act upon. The World Bank rates Brazil 130th out of the 185 countries it ranks for ease of doing business with. That leaves it trailing well behind its less well-off neighbours Columbia (45) and Peru (43).
Despite these problems and Brazil's leaning toward increased protectionism, many of the world's leading businesses believe that Brazil is a market that is just too hard to ignore.
And it's a country that is going to be the centre of attention in the next few years as it hosts the football World Cup in 2014 and the Olympics in 2016.
'With education, investment, tax incentives for competitiveness and cheaper credit via interest rate reductions based on a solid macro-economic balance, we're ready to fly,' noted Marcio Holland, Brazil's finance ministry chief economist.
Brazil's fate looks like it is very much in its own hands.
Spread betting and CFDs may not be suitable for everyone and can result in losses that exceed your initial deposit, so please ensure that you fully understand the risks involved.