The Australian dollar didn't need much: slightly better than expected figures from Australia and China sent the pair higher in a gradual and steady rise.
And now, the pair is getting close to downtrend resistance. Will it take a break before the next move?
The Data
The Australian economy grew by 0.6% in Q2 2013. This was somewhat better than a rise of 0.5% that was predicted, but it came on top of a downgrade for Q1: a growth rate of 0.5% instead of 0.6% originally reported. So, quarter over quarter, the numbers were basically as expected.
Year over year, the economy grew by 2.6%, exceeding 2.4% expected. This isn't a big surprise, but it isn't marginal like the QoQ number.
In China, Australia's No. 1 trade partner, the HSBC Non-Manufacturing PMI came out at 52.8, a nice advance from 51.3 in July. While Chinese services are not so important for Australia, a healthier Chinese economy is good news for the land down under.
AUD/USD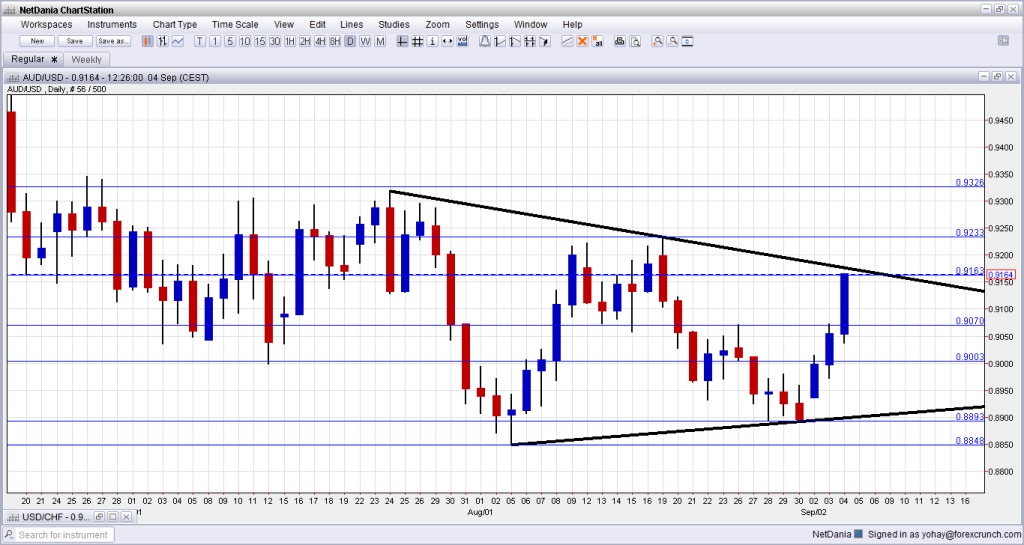 The Australian dollar reacted to the news with a rise: the pair broke above the 0.9070 level that capped it since the not-so-dovish rate statement, and climbed above 0.91. This wasn't the end of it: during the European session, the pair extended the move and completed a gain of 100 pips from the previous cap: it reached 0.9169.
On the daily chart, we can observe that the pair is very close to downtrend resistance, which currently stands at 0.9176. This trendline began in late July and was formed in mid August.
A bounce from this line will make it even stronger. Other significant resistance lines are 0.9230 and 0.9330.
On the downside, we can also see rising uptrend support which began in early August and continued into early September. 0.9070 and 0.90 provide support.
For more lines, events and analysis, see the AUD to USD forecast.
Get the 5 most predictable currency pairs