Cryptocurrency is one of the fastest-growing asset classes in the world. In this guide, we'll cover everything you need to know about how to buy cryptocurrency in 2021.
How to Buy Cryptocurrency – Quick Guide for 2021
Want to buy cryptocurrency right away? You can get started in just 4 quick steps:
Open an account with eToro: eToro is our top-rated cryptocurrency exchange for 2021. Just click 'Join Now' to create a new account.
Upload ID: Upload a copy of your driver's license or passport and a proof of address to verify your identity.
Deposit: Make a $50 deposit with a credit card, debit card, bank transfer, PayPal, Neteller, or Skrill.
Buy Cryptocurrency: Search for your favorite cryptocurrency, click 'Trade,' and enter how much you want to buy.
Step 1: Choose a Crypto Broker or Exchange
The first step to trading or investing in crypto is to figure out where to buy cryptocurrency.
Choosing the best place to buy cryptocurrency is essential. That's because your trading platform will impact what cryptocurrencies you can buy, how much it costs, and what trading tools you have access to.
To make it easier to find out where to buy cryptocurrency, we've reviewed our top 3 crypto brokers and exchanges for 2021:
1. eToro – Overall Best Platform to Buy Cryptocurrency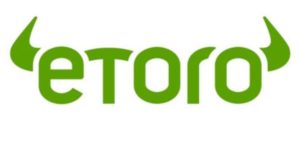 eToro is our #1-rated cryptocurrency trading platform for 2021. The broker offers a selection of 16 of the most popular cryptocurrencies, including Bitcoin, Ethereum, Litecoin, you can buy XRP, Dogecoin, and more. Trading costs start from just 0.90% of your purchase, and there's no fee when you sell.
This global platform serves as both a CFD broker and a cryptocurrency exchange, which is terrific news for investors of all stripes. With cryptocurrency CFDs, you can buy and sell cryptocurrency without ever owning the underlying coin. So, you don't need to set up a cryptocurrency wallet and you can trade on margin up to 2:1. If you choose to buy cryptocurrencies outright, eToro has a built-in digital wallet you can use to store your tokens.
Another thing we love about eToro is that the platform makes it easy to move from fiat currency to cryptocurrency. You can fund your trading account with a credit card, debit card, or bank transfer, or use e-wallets like PayPal, Neteller, and Skrill. eToro only requires a $50 minimum deposit for US traders (a $200 minimum deposit is required for international traders).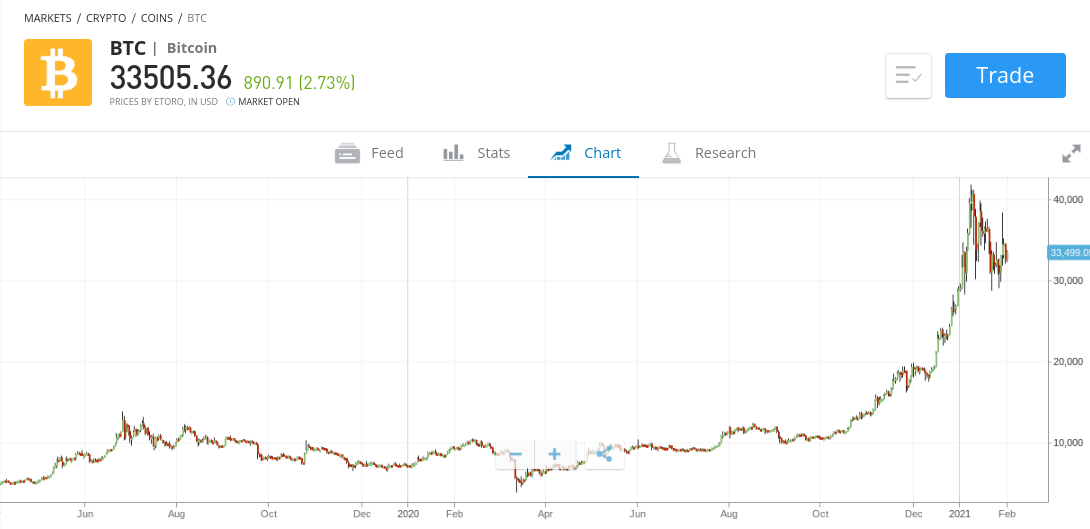 There's also a lot to praise when it comes to eToro's trading platform. The exchange has a custom-built platform for the web and mobile devices that comes complete with technical charts and over 100 annotation tools.
eToro also provides professional analysis for every cryptocurrency and a built-in social trading network that enables you to connect with other crypto traders. You can even copy premade cryptocurrency portfolios if you want to invest in a wide range of coins quickly.

Past performance does not guarantee future results.
eToro is regulated by the UK's Financial Conduct Authority (FCA) and is considered highly trustworthy. The broker provides 24/5 customer support if you need help with your account.
Pros:
Buy cryptocurrencies outright or through CFDs
Built-in cryptocurrency wallet
Social trading network with copy portfolios
Accepts credit/debit cards and PayPal
Regulated by the UK FCA
Cons:
Doesn't offer hundreds of altcoins to trade
67% of retail investor accounts lose money when trading CFDs with this provider.
2. Binance – Cheapest Exchange to Buy Cryptocurrency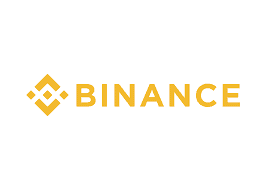 Ask any cryptocurrency trader you meet where to buy cryptocurrency, and they'll likely suggest Binance. That's because Binance is the largest cryptocurrency exchange in the world by trading volume and offers over 500 cryptocurrencies for trading. Whether you want to trade ultra-popular tokens like Bitcoin or highly niche altcoins, Binance makes it possible.
One of the reasons Binance is so popular is that it makes it incredibly inexpensive to buy and sell cryptocurrency. The platform charges just 0.10% per trade, regardless of what token you want to trade. You can even get reduced fees by holding Binance's own cryptocurrency, BNB, or by using the platform's decentralized exchange (DEX) capabilities.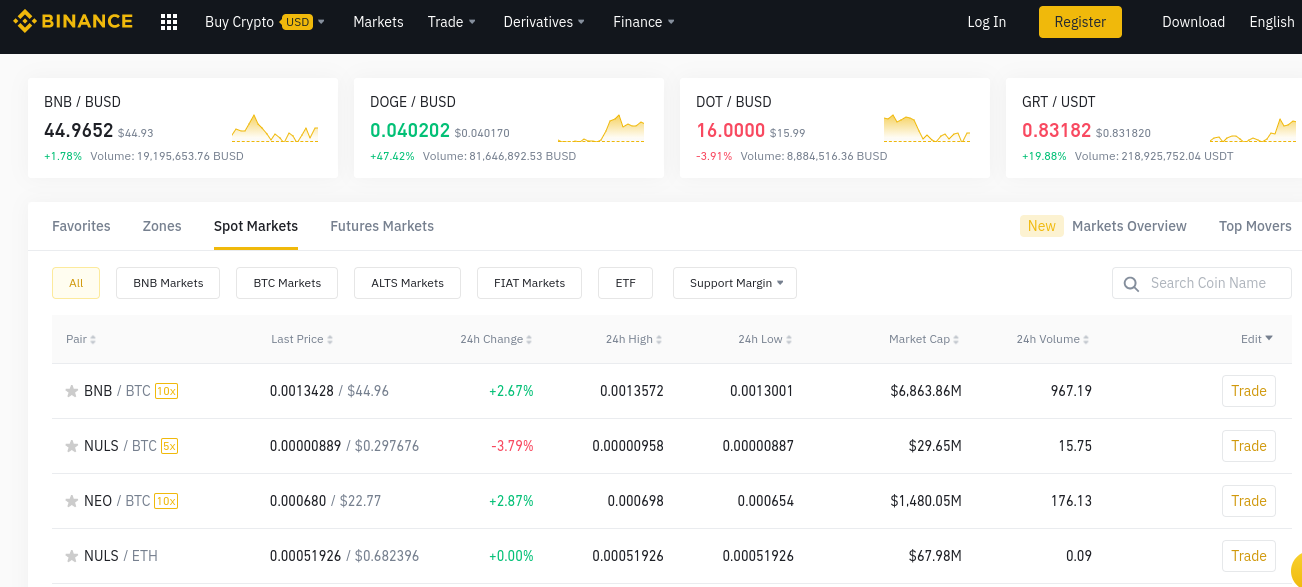 Binance's trading platform is very comprehensive, so it's ideal for more advanced cryptocurrency traders. In addition to technical charts, you get access to the order book and depth charts for every cryptocurrency available for trading. The platform also offers more complex order types, like good-til-cancelled and trailing stop loss orders, that can help you manage trading risk.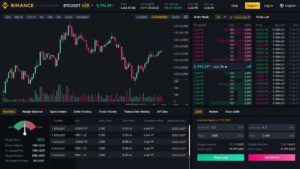 Since all cryptocurrencies are traded outright with Binance, you will need a cryptocurrency wallet with this exchange. You can bring your own or use Binance's Trust wallet, available for iOS and Android devices.
One thing to note about Binance is that it is not a regulated exchange. In fact, the exchange is currently under investigation in the US for evading regulations. That said, Binance has never been accused of harming traders and the platform is widely considered to be trustworthy. The exchange has also never been successfully hacked.
Pros:
Trade over 500 cryptocurrencies
Ultra-low spreads from 0.10%
Advanced trading platform with depth charts
Offers mobile crypto wallet
Has never been hacked
Cons:
Not a regulated crypto exchange
Trading platform can be complex for beginners
Your capital is at risk.
3. Capital.com – Best Platform to Buy Cryptocurrency CFDs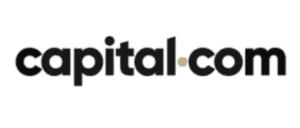 If you're wondering where to buy cryptocurrency CFDs, we recommend Capital.com. This global CFD broker offers more than 80 cryptocurrencies and crypto-crypto trading pairs like BTC/ETH. There are zero commissions for trading cryptocurrency CFDs and spreads start at just 150 pips (around 0.40%).
Capital.com stands out for its easy to use trading platform. The interface is intuitive while providing advanced technical charts and indicators. We especially like that you can integrate charts from TradingView, which enables you to customize your studies and build more advanced analyses as needed.
Another neat thing about Capital.com's platform is its use of AI. Built-in software will analyze your trading activity to search for patterns and then provide you with the results. You can easily see what factors are contributing to your wins and losses, and then modify your trading behavior accordingly to improve your win rate.
Capital.com also has a huge library of educational resources, which is a plus for learning how to buy crypto. There are dozens of video tutorials that cover the basics of CFD trading and popular trading strategies. You'll also find written articles and a dedicated mobile app that comes complete with quizzes to test your trading knowledge.

Capital.com requires a minimum deposit of just $20 to start trading. You can make a deposit by credit card, debit card, or bank transfer. The platform is regulated by the UK FCA and offers exceptional customer support. The support team is available 24/7 and you can get in touch easily by phone, email, or live chat.
Pros:
Trade CFDs for over 80 crypto pairings
Integration with TradingView
AI analyzes your trading behavior
Educational resources to learn how to buy cryptocurrency
Excellent 24/7 customer support
Cons:
Cannot buy cryptocurrencies outright
Crypto CFD trading not available in the UK
71.2% of retail investor accounts lose money when spread betting and/or trading CFDs with this provider.
Step 2: Choose Which Cryptocurrencies You Want to Buy
Once you've decided where to buy cryptocurrency, the next step is to determine which coins you want to buy. There are over 10,000 cryptocurrencies to choose from – so how do you decide which ones to buy?
In this section, we'll help you choose which cryptocurrencies to focus your attention on.
What are the Best Cryptocurrencies to Invest in?
The best cryptocurrencies to invest in are the ones that have long-term potential. For most cryptocurrencies, that means gaining more users and investors around the world. The more people that hold a cryptocurrency, the more its value rises.
That's a big part of the reason why just a handful of cryptocurrencies have dominated the market. Bitcoin, for example, has a market cap of nearly $700 billion, whereas the 10th most popular cryptocurrency, Uniswap, has a market cap of just $12 billion. Bitcoin and other popular cryptocurrencies see more trading volume, too, which makes it easier to buy and sell them.

For most traders then, it makes sense to focus on just a handful of popular tokens. These include:
Bitcoin
Ethereum
Litecoin
Ripple
Bitcoin Cash
Cardano
Dogecoin
Stellar
Buying Altcoins
An altcoin is any cryptocurrency other than Bitcoin. However, this term is usually used to refer to less-popular cryptocurrencies that don't see a lot of trading activity. For example, Aave, which has a market cap of just $3.5 billion, is an altcoin.
Trading altcoins is kind of like trading penny stocks. These coins have a lot of potential to grow in value if they become more popular, but they are very risky since they're not already popular. Altcoins typically have low trading volume, which makes them extra volatile – so you'll need to have a strong stomach if you want to buy altcoins.
Another thing to keep in mind if you want to buy altcoins is that not all crypto brokers and exchanges offer them. If you want a wide selection of altcoins to trade, Binance is likely the best exchange to use.
Buying DeFi Coins
DeFi coins, or decentralized finance coins, are cryptocurrencies built to enable finance. Some DeFi coins make it possible to borrow money on the blockchain, while others act like high-interest savings accounts.
DeFi is widely seen as the next frontier in cryptocurrency, especially since much of the developing world still lacks access to traditional banking infrastructure. So, DeFi coins have a lot of potential to gain value.
The trick is figuring out what cryptocurrency to buy. There are thousands of DeFi coins, but it's likely that only a few will take off. If you're interested in buying DeFi tokens, be sure to do your research into how the coin works and how likely it is to gain traction on a global scale.
DeFi coins are often considered among the next cryptocurrencies to explode.
Understanding the Pros & Cons of Buying Crypto
Cryptocurrency has been one of the fastest-growing asset classes in the world in recent years. That has made it extremely attractive for traders and investors, but there are still risks to buying crypto.
Let's take a quick look at some of the pros and cons of buying crypto:
Pros:
Many coins have rapidly gained value and may jump again
Potential global market, especially for DeFi coins
Can be bought and sold easily through crypto brokers and exchanges
High volatility creates lots of opportunities for trading
Cryptocurrency can provide a hedge against inflation in fiat currencies
Cons:
Cryptocurrencies are highly volatile, so you could lose money
Predicting which coin will be in the spotlight next is difficult
Cryptocurrencies are coming under increasing scrutiny from regulators
Storing tokens requires a digital wallet, which must be protected from hacking
As you learn how to buy crypto, it's important to think carefully about whether this asset class is right for you. Cryptocurrency can be a key part of a diversified portfolio, but if you're not comfortable with the risk, then it's okay to trade more traditional assets like stocks.
Step 3: Choose Your Payment Method
Once you've decided on the best platform to buy cryptocurrency and the coin you want to buy, it's time to choose your payment method.
Which payment methods you can use will be determined to an extent by your broker or exchange. With that in mind, let's take a look at how to buy cryptocurrency using several popular payment methods.
Buying Cryptocurrency with PayPal
Some exchanges like eToro make it possible to buy cryptocurrency with PayPal and other e-wallets. This is convenient because transfers from PayPal are processed instantly, so you don't have to wait to start investing. With eToro, you'll need to make at least a $50 deposit from PayPal in order to buy crypto.
Buying Cryptocurrency with a Debit or Credit Card
Most crypto brokers and exchanges, including all 3 that we reviewed, accept debit cards and credit cards for payment. Debit and credit transactions are processed instantly, which makes these forms of payment very popular.
Just keep in mind that some exchanges, including Binance, charge extra fees when you make a deposit using a debit or credit card. Be sure to check how much these fees cost when comparing platforms.
Buying Cryptocurrency with Bitcoin or another Crypto
You can also buy crypto using Bitcoin or another cryptocurrency. This is helpful if you want to move from a popular coin like BTC or ETH into an altcoin or DeFi coin.
To buy cryptocurrency with crypto, you'll need to connect your crypto wallet to your broker or exchange. Keep in mind that most cryptocurrencies carry transaction fees separate from your broker's fees, so this payment method may be more expensive.
Step 4: Buy Cryptocurrency
At this point, you're ready to buy cryptocurrency. We'll show you how to buy crypto using eToro in a few simple steps:
1. Open an Account with eToro
To open an account with eToro, head to the eToro website and click 'Join Now.' Enter your email and a password or sign up with Google or Facebook to open a new account.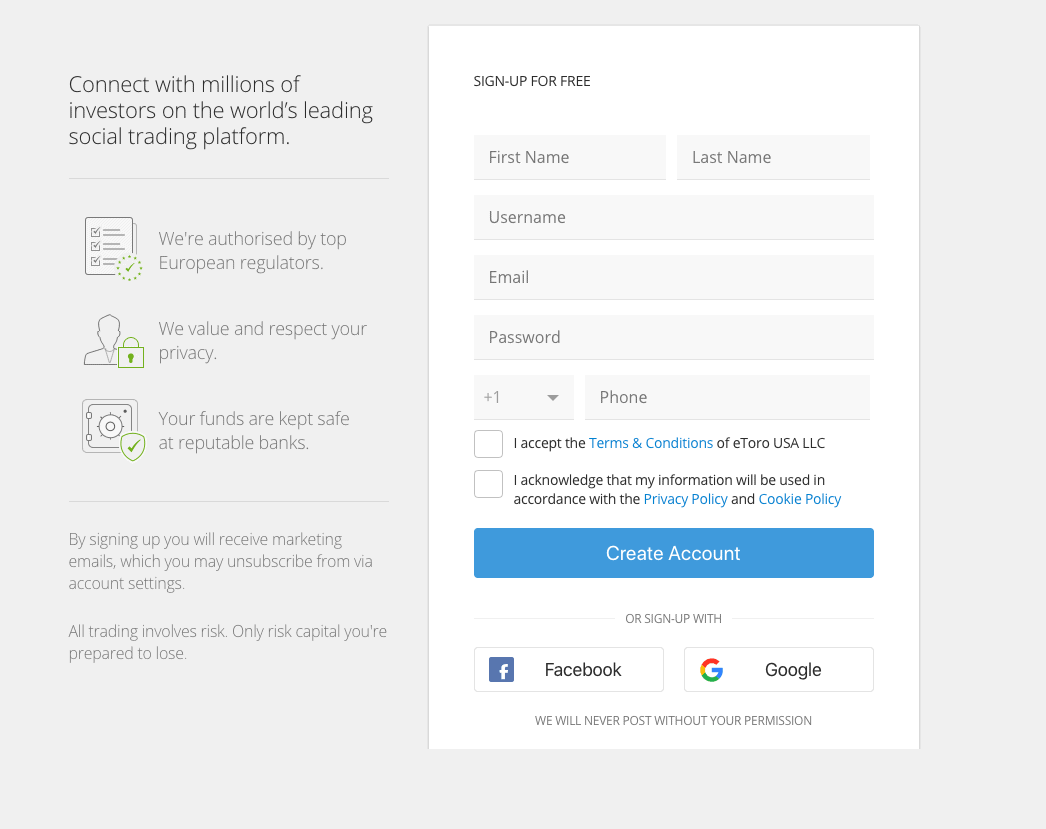 2. Upload ID
eToro requires you to verify your identity before you can start trading crypto. Upload a copy of your passport or driver's license along with a recent utility bill or bank statement that shows your address. eToro will automatically check your documents and approve your account.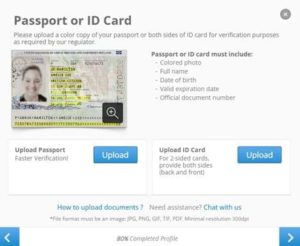 3. Deposit
Next, it's time to add funds to your new trading account. eToro requires a minimum deposit of $50 ($200 for international traders), which you can pay with a debit card, credit card, bank transfer, PayPal, Neteller, or Skrill.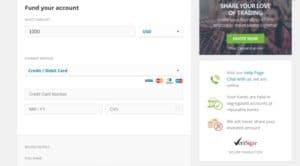 4. Buy Cryptocurrency
Now you're ready to buy cryptocurrency with eToro. Search for the coin you want to buy and click 'Trade' when it appears in the drop-down menu.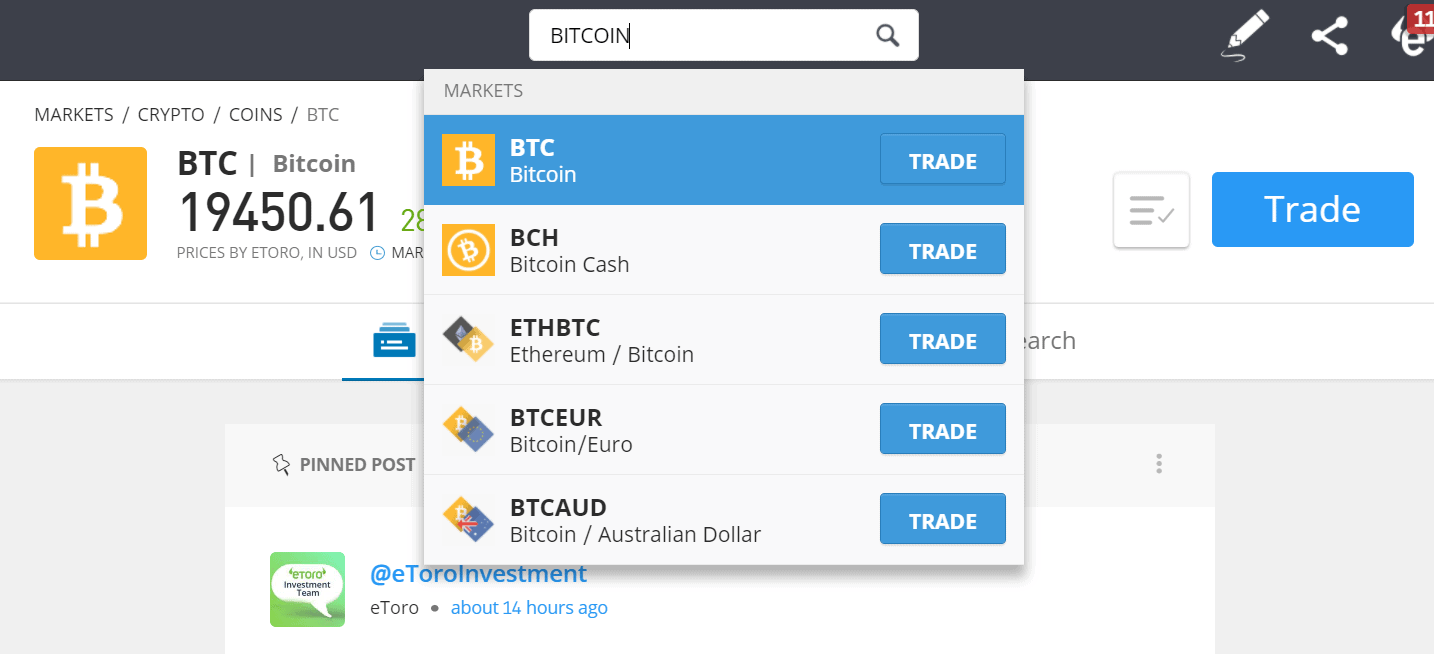 In the order form, enter the amount of the cryptocurrency you want to buy in US dollars. Then select a stop-loss or take-profit if they make sense for your trading strategy. When your trade is ready, click 'Open Position' to buy your first cryptocurrency.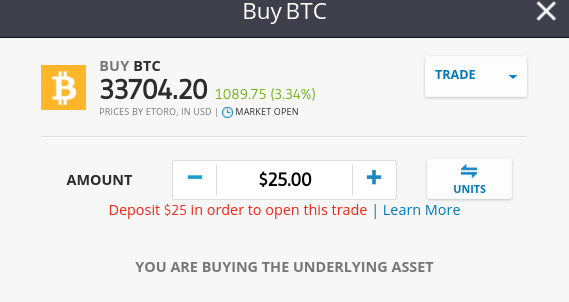 Conclusion
Learning how to buy cryptocurrency is an important first step to getting in on the booming crypto market. Thanks to our guide, you can easily find the best platform to buy cryptocurrency and get started trading.
Ready to buy cryptocurrency? Click the link below to sign up for an eToro account today!
eToro – Best Platform to Buy Cryptocurrencies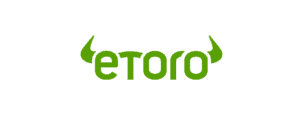 67% of retail investor accounts lose money when trading CFDs with this provider.
FAQs
How do I buy cryptocurrency?
What cryptocurrency should I buy?
Where can I buy cryptocurrency?
Can I buy cryptocurrency with a credit card?
What is a cryptocurrency exchange?
Do I need a cryptocurrency exchange to buy crypto?