Tron Price Prediction
2021 may be called the year for cryptocurrencies, but many people fail to acknowledge the sporadic rise in the demand for decentralized applications (dApps) platforms. One of the most popular dapps platforms is the Tron network which aims to decentralize the web.
Tron has been one of the runaway successes in the crypto space since the year began. The crypto protocol, which started the year at $0.0268400, shot to global prominence when it hit an all-time high (ATH) of $0.166178 in mid-April.
However, the Tron price movement has been rocky, like several crypto protocols. With the crypto market hitting a major market correction, Tron saw its value plummet to a three-month low of $0.50 on June 23. At press time, Tron is seeing a slight modification from its previous day gain of $0.065021. It is currently down 0.9% and trading at $0.064113.
Tron Price Prediction 2021
Searching for a quick Tron forecast breakdown? This quick breakdown should help. In this section, we highlight our Tron price prediction over several timeframes, determined through extensive research and analysis of the booming crypto market. In subsequent sections, we will look at Tron in detail and give a sneak peek into the decentralized application's potential for future gain.
One Month – A late bullish run in July is pointing to a new surge in Tron price. We predict a new lower-high on the trading chart, which could put Tron at $0.07650 in the next few weeks.
Three Months – Given the latest crypto market recovery, Tron could continue its upside march until it retests its previous highs. This could see the bulls push the digital asset to $0.09100 in three months.
Start of 2022 – Our Tron price prediction for 2022 is bullish, and this could see the crypto asset break through its 2018 all-time highs of $0.23167, moving towards the $0.2500 mark.
Start of 2023 – 2023 is expected even to post better returns for Tron hodlers. Our price forecast could see Tron make its long-awaited debut on the $0.50 mark and continue on this strength to reach an all-time high (ATH) of $1.
Your capital is at risk.
Tron Price History – The Story of 2021 So Far
The Tron price action has been a sour reflection of the entire crypto market ecosystem. The nascent industry, which caught investors' eye in 2017 following Bitcoin's fated run to $20K, has been plagued by volatility issues.
Just like investors can make a killing from trading cryptocurrencies, crypto slumps have remained one of the most market-disrupting events. Bitcoin's decline in 2018 was a sour reflection, with the top crypto asset crashing more than 40% in one day. Its peak price of $20,000 dipped to as low as $5,000 before the end of the year.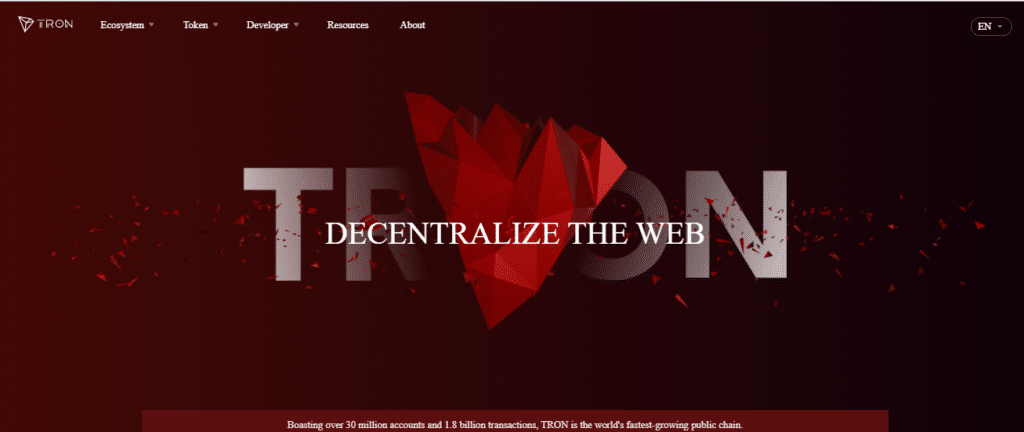 Tron has also seen its value slashed by half severally. Since launching in 2018 at a peak price of $0.218, the Tron network has not retested that price action again. It came close in April this year but met resistance at the $0.16 mark.
Like several alternative currencies (altcoins), Tron is tied at the hip to the Bitcoin price action and has risen and ebbed with the top digital asset.
May 2018 offered an insight into Tron's strong market appeal as it rose to $0.092490. However, 20% of its gains were wiped off in a week, and it dipped to $0.066094. It picked up steam again but stopped at $0.082202, 5% shy of its intra-week high of $0.092.
This rally was the last rebound the Tron price action experienced as it continued its downward spiral bottoming out at $0.0102 on March 14, 2020.
However, 2021 presented a new leaf to the decentralized protocol, and Tron has made good use of the crypto frenzy that has characterized several activities in the market. It has traded at an average of $0.05 for much of the last eight months.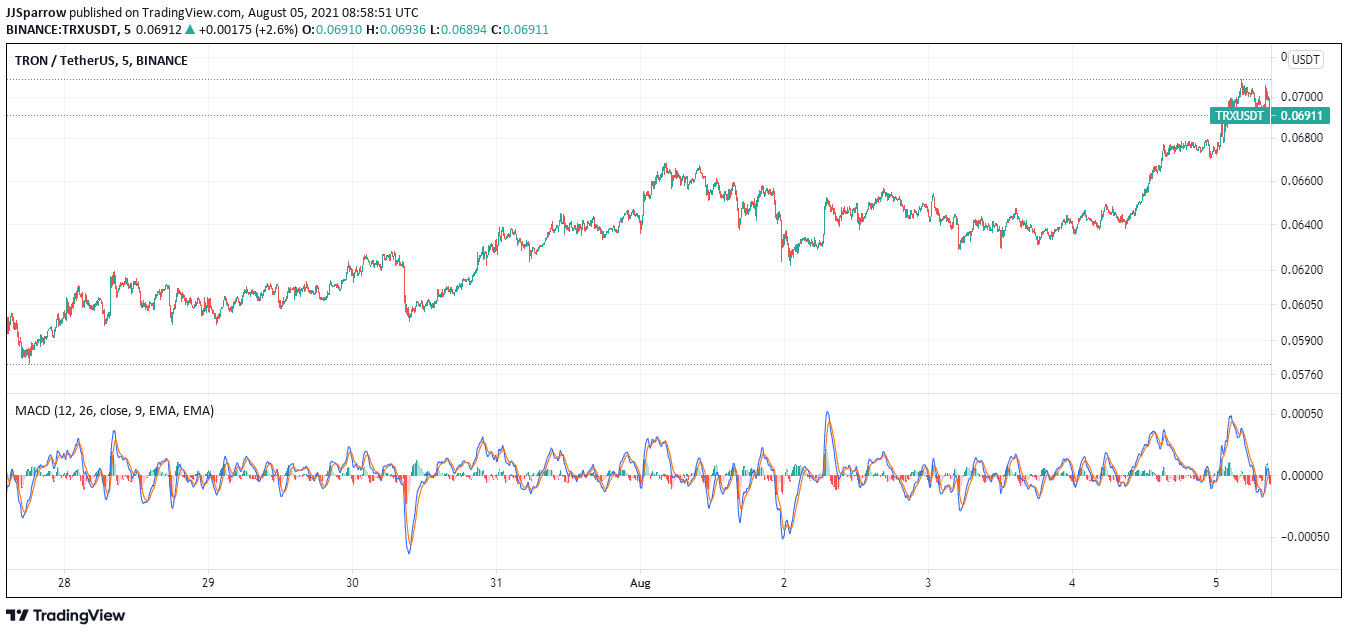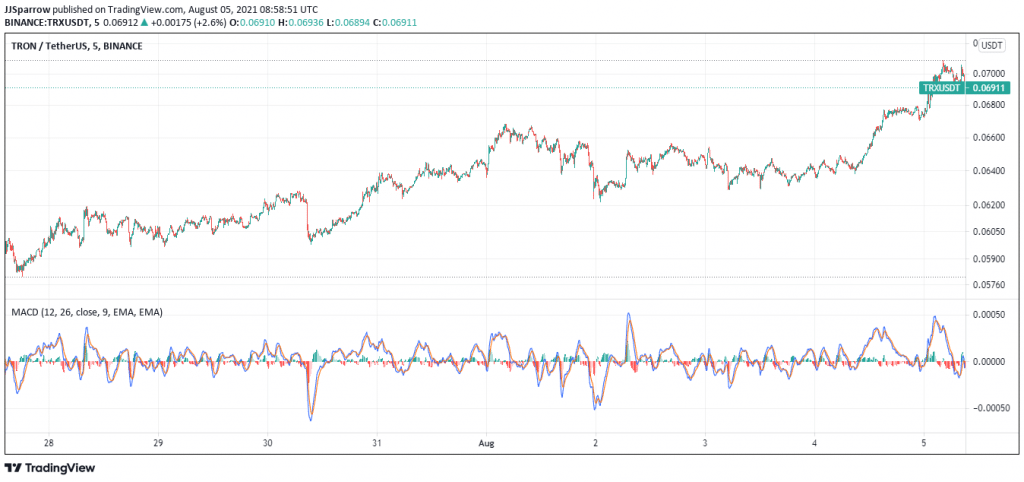 Your capital is at risk.
In a bid to expand its decentralized offering to users, the Tron Foundation (which oversees the platform's development) acquired the popular P2P network BitTorrent in 2018. The platform has since gone on to become the largest decentralized P2P communications protocol globally.
Tron's strategic moves and global appeal have since it plays host to over 1,500 dApps on its network. Its popularity also led to the launch of popular stablecoin USDT on its network.
Since launching on the Tron network, the stablecoin has surpassed its Ethereum ERC-20 token hosted on the popular dApps platform. The TRC20 – USDT posted over $30.9 billion in transactions on the Tron network. Circle's USDC also has a presence in the Tron network, further driving up the appeal of the popular Ethereum competitor. The integration with Tron is meant to make the second-largest stablecoin available for the Asian market.
Tron has also become the centerpiece for a growing community of dapps. Blockchain-based casino company Playza launched its platform on the Tron network. Users will enjoy an extensive gaming experience without being bogged down with registering on the protocol or filling signup forms.
The integration, which took place on April 1, enabled Tron to access the burgeoning gambling industry. Not stopping there, Tron also collaborated with a decentralized autonomous organization (DAO) known in the crypto circles as DAO Maker. This partnership enables users to access the top decentralized protocol's services on the Tron network while allowing users to interact with DAO Maker's community.
Founder and CEO Justin Sun noted that the partnership is a key part of the Tron network's drive to expand the network's functionality in the rapidly growing blockchain space. He also stated that cross-chain community incubation and fundraising would be available on the Tron network.
Tron Price Forecast
The Tron price has seen an admixture of both bullish and bearish momentum given the changing climate of the crypto market. However, 2021 has shown the strength of the decentralized protocol.
Technical
A glimpse of its remarkable run was first seen in February when the bulls seized control of the crypto market, and Tron's TRX token rallied to $0.059349 in the middle of the month. Although it dipped after that, Tron did not lose its bullish streak and continued rising through much of March.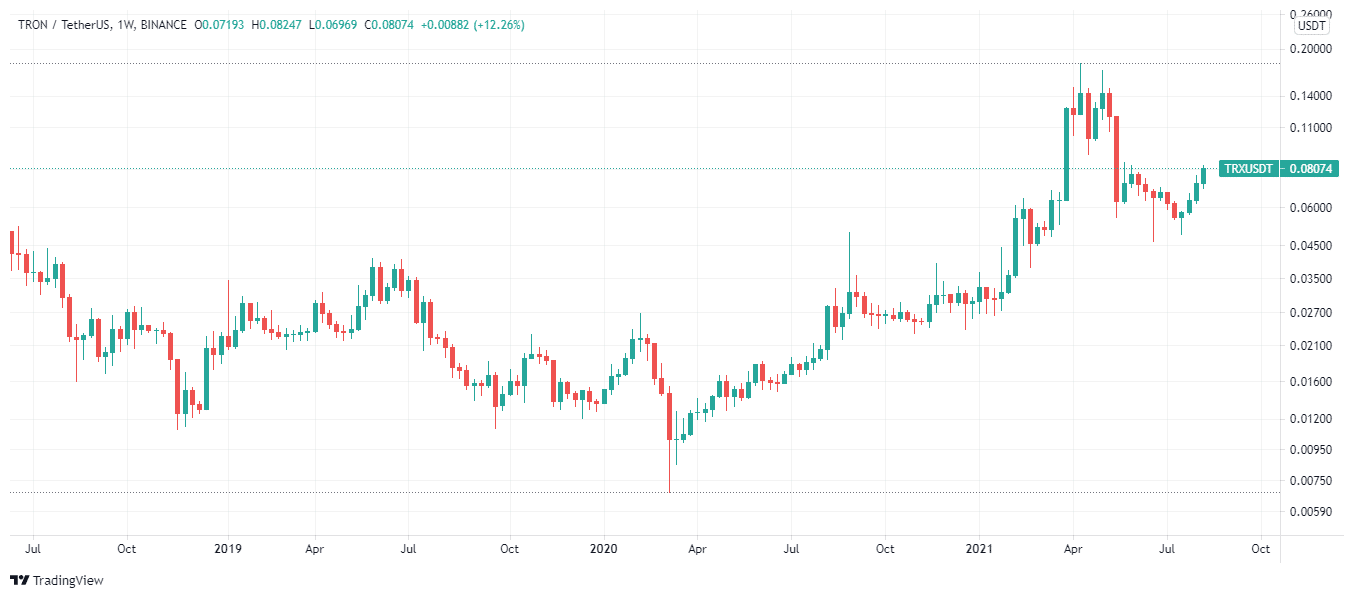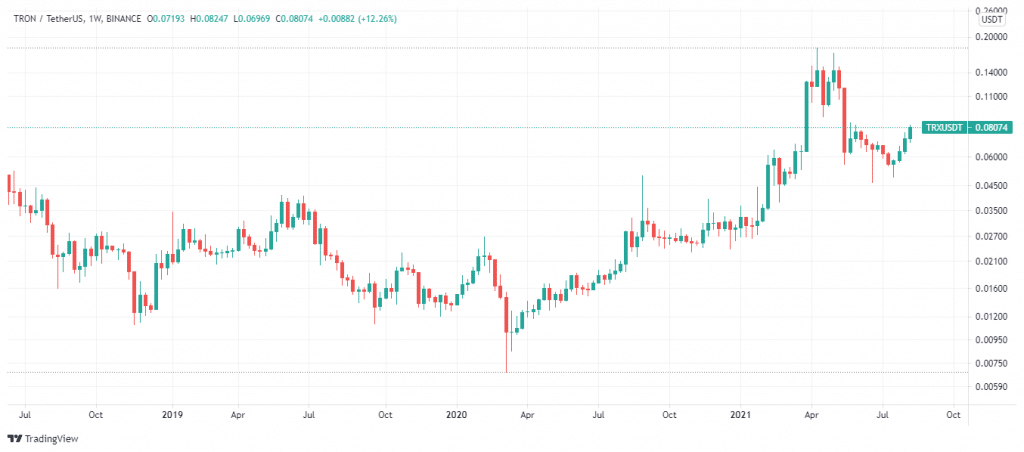 Tron got a major boost in the final week of March and started trading at $0.09 at the start of April, which saw it touch the $0.128 mark a few days later.
With the crypto market crossing the $2 trillion mark that month, Tron's price skyrocketed to $0.161525 on April 14. The bullish momentum has since slowed down, but Tron is still one of the top crypto protocols in the world. August and September are bullish windows for altcoins, and this could see Tron regaining most of the gains it lost in the bear market.
Experts believe that Tron could surpass its record value of $0.2 by the end of this year. A consensus is that the decentralized token could end the year between $0.7 and $0.8. Coinpedia forecasts that Tron's price could hit the $1 mark by the end of 2022 if the crypto market repeats the phenomenal growth of the past few months.
Primexbt is also very bullish on the token, with its 2021 best scenario forecast putting at $1.20 by the close of the crypto calendar year.
Its five-year take is even more bullish, with the market analyst stating that Tron could go as high as $3 in 2025, while a worst-case scenario may see it dip to $0.31.
Fundamental
As we have stated earlier, Tron's use case is its strong suit. Given its focusing on revolutionizing the internet and the entertainment industry, Tron is one blockchain platform to watch out for. Another major cause for it is its adoption as a decentralized applications (dApps) platform. With DeFi becoming a major hit this last year, Tron's cost-effective and more scalable network could see it attract more developers to its network.
To this end, Tron has recently signed a partnership with the social non-fungible token (NFT) platform DeFine. The integration will enable the NFT-focused blockchain to tap into the fledging Tron community of artists, musicians, influencers, gamers, and athletes, to engage and interact with their fanbase with digital assets like NFTs and fan tokens.
NFTs coming into the Tron network could see it become a new hub for the digital collectibles mania. With popular stablecoins USDT finding a home on the blockchain network with a record $1 billion issued so far, the Tron network is gearing to take on dApps giants like Ethereum, Polkadot, Cardano, and several others.
Tron Price Prediction Long Term Outlook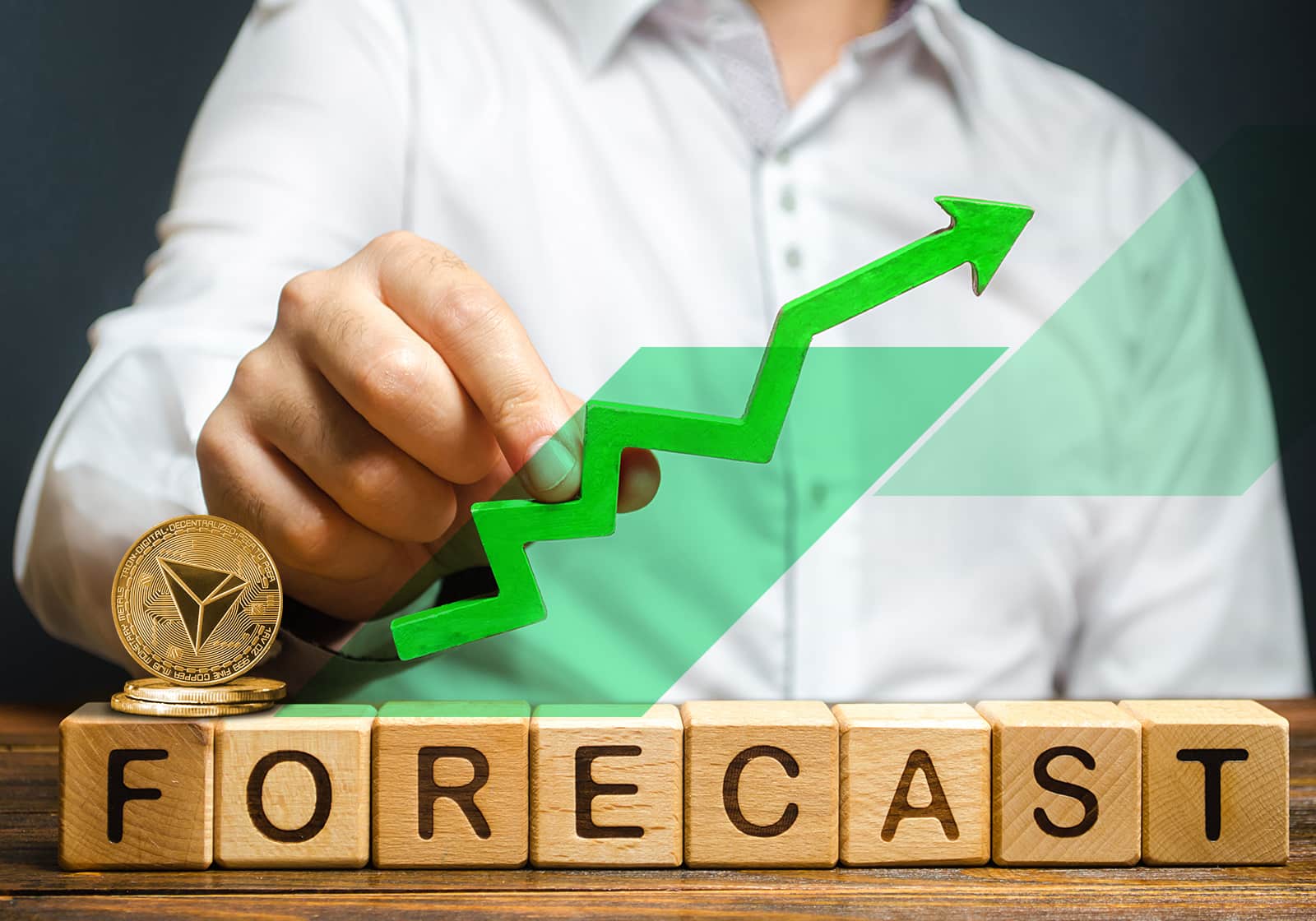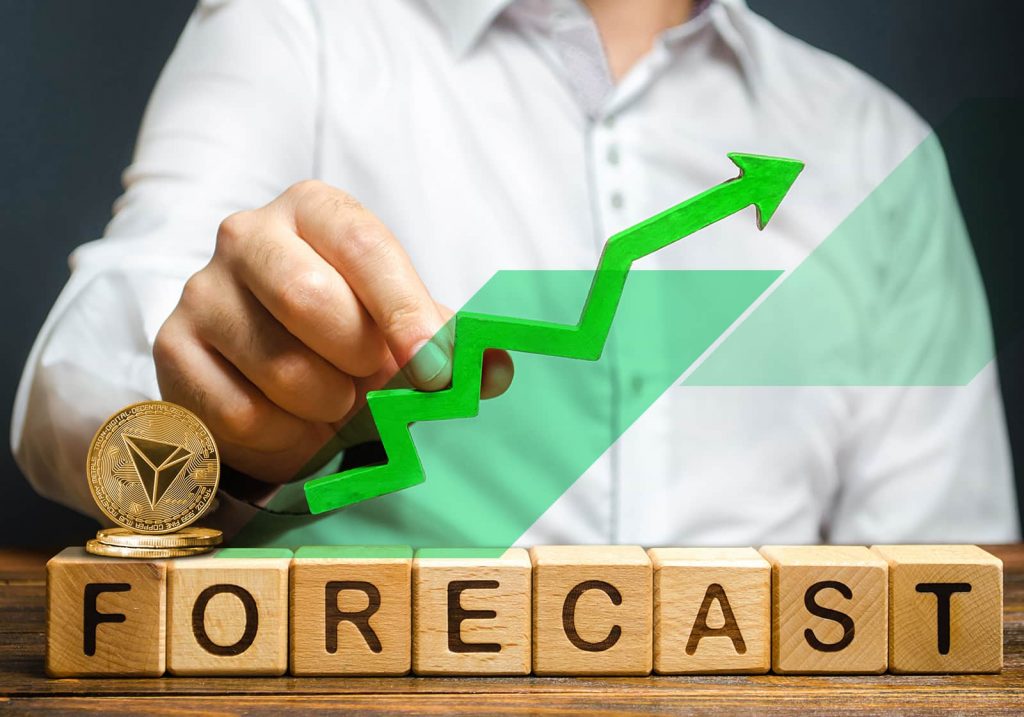 The DeFi sub-sector is gradually becoming the new frontier for top-notched blockchain financial services in the crypto space. With most of the world embracing the new way of doing business, DeFi is here to stay. This will play out in favor of dApps platforms like the Tron network and Ethereum, which is home to some of the leading DeFi services in the crypto space. Tron is expected to become a major hub for dapps development with growing strategic integrations and added functionalities.
A major drawback could likely be its 2,000 TPS verification speed.
Its delegated proof-of-stake (dPoS) competes favorably with centralized payment giants like Visa and MasterCard, but other competing dApps platforms like Polygon, Solana, Polkadot, and Cardano boast higher TPS numbers. This could play out against the crypto protocol in the long term. If it can increase its block finality time, the Tron network could become one of many competitors to the Ethereum network.
Another is Tron's concentration on the entertainment scene. Other 'Ethereum killers' are focused on dApps and smart contracts technology. Even though the Tron network enables these functionalities, its exclusive focus on entertainment could see it miss out on most of the DeFi market. Meanwhile, this could change in the future given the forward-thinking approach of the Tron Foundation.
Despite these hiccups, the Tron network is still the favorite reference point for dApps development teams. It currently hosts over 1,400 dApps and has never suffered a major security breach. This expanding ecosystem could play out in favor of the Tron network.
Tron has seen much adoption in the last few months. The world's first cross-chain DeFi operating system, Reef DeFi, was recently launched on the Tron network. The DeFi platform offers users a smart liquidity aggregator and yield engine that enables trading access to liquidity from centralized exchanges (CEXs) and decentralized exchanges (DEXs).
Multi-staking crypto wallet Moonstake was also integrated with the Tron network in June. Moonstake's partnership with Tron will allow its users to stake TRX coins on its digital wallet.
This growing adoption points out that Tron's TRX is meant for the top, given the crypto protocols that enable the buying and selling of TRX on their platforms.
Tron Price Chart
On its technical part, Tron has had to deal with a continued downturn in the crypto market. Since the May crypto market crash, several crypto protocols have seen their value plummet, and Tron has been no exception. In July, its value dipped 26.55%, reflecting the broader crypto market's downward spiral. However, Tron rallied at the beginning of August and is presently showing a bullish streak. This is expected to continue as the crypto market moves towards recovery.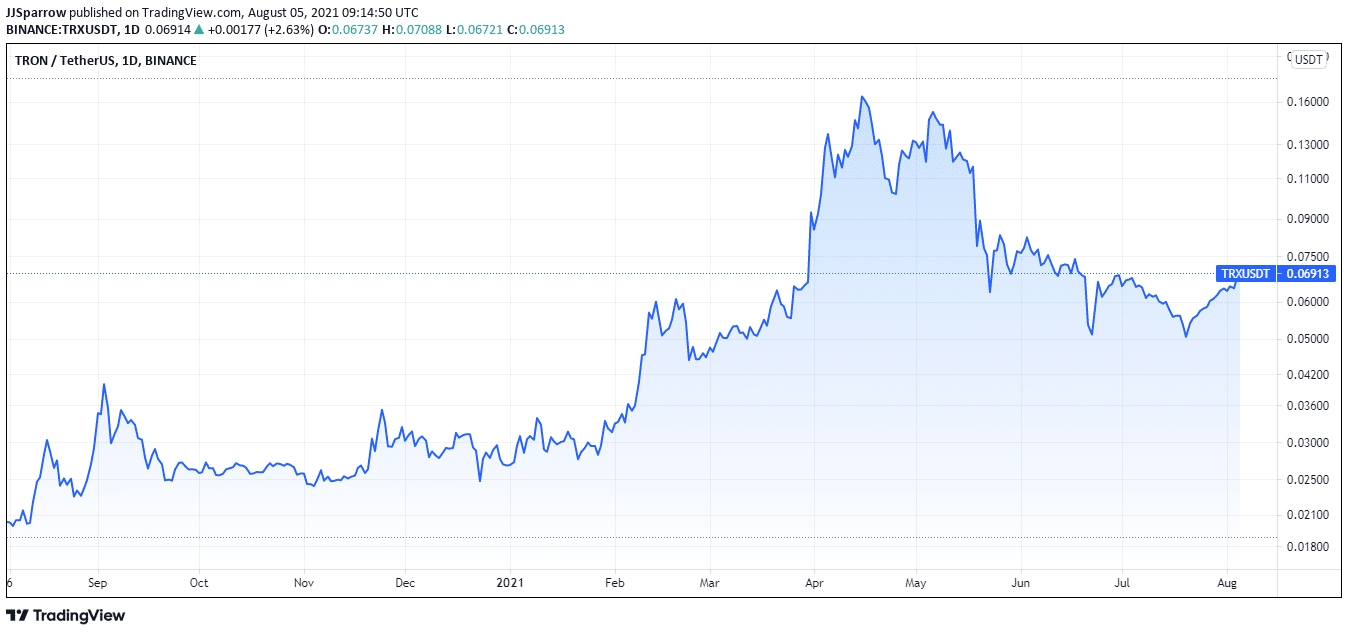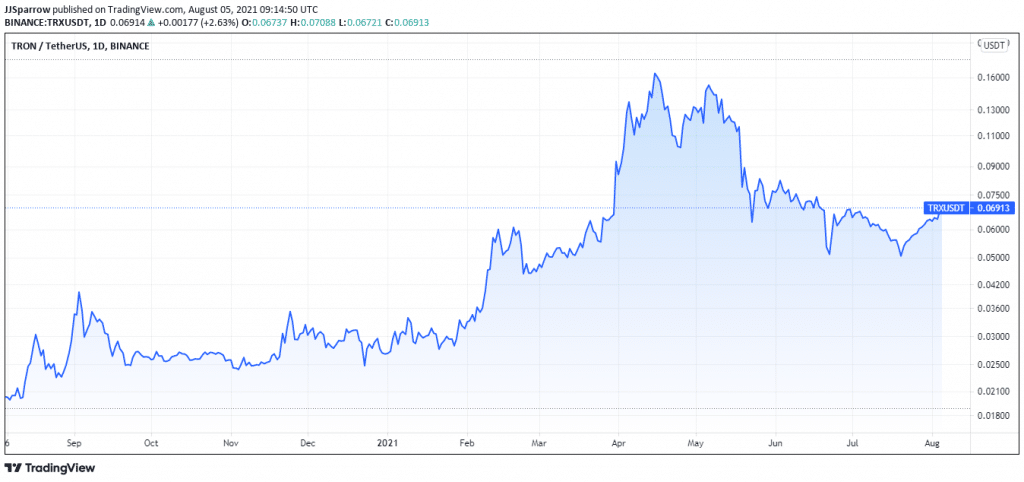 In the last 72 hours, Tron has rallied and found support at $0.064. it is trading above the 20-day moving average (MA) support price of $0.05849 indicating a bullish run. The relative strength index (RSI) is also promising, with Tron currently standing at 58.86, showing that several investors want to buy Tron. However, its 200-day MA is bearish as the digital asset is trading below the indicator at $0.07.
Where to Invest in Tron?
There are numerous cryptocurrency brokers to pick from when it comes to trading Tron. However, we recommend eToro. eToro is quite easy to use and it offers investor protection. eToro is a standout performer when it comes to crypto trading.
Your capital is at risk.
The crypto broker sells convenience mixed with an assortment of features. eToro simplifies Tron trading along with other cryptocurrencies. Besides crypto products, you can also trade in Tesla stocks, commodities, ETFs, indices, and forex. The eToro app is simple to use and readily available on popular platforms. This includes iOS, Android, and desktops.
How To Buy Tron on eToro
This section will highlight how you can buy Tron on the eToro platform with a 0% commission.
Step 1: Open an account with eToro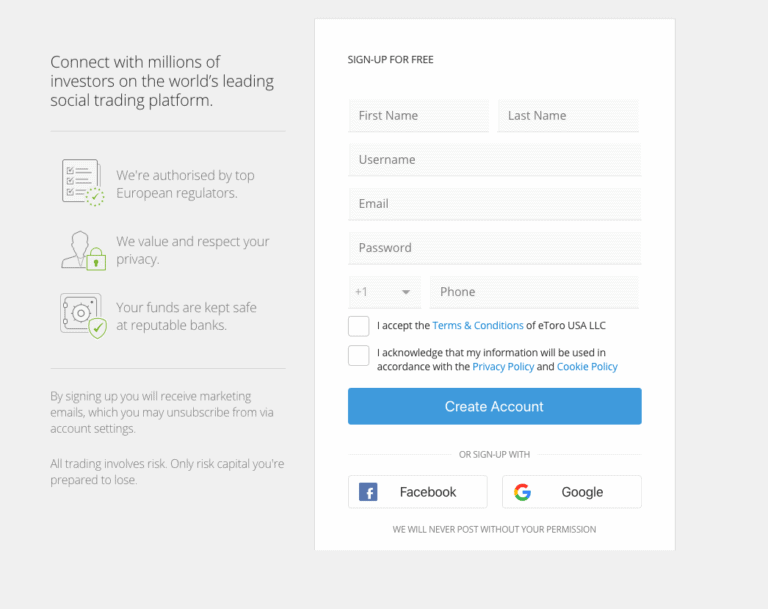 Your capital is at risk.
The first step you need to take to buy Tron is to create a free account on the eToro platform. To get started, visit the official website of eToro and click on 'Join Now' in the top right-hand corner. You will be redirected to a signup page where you will be asked to provide your email address, password and choose a username.
If you do not want to go through this route, you can scroll down and click on 'Sign up with Facebook' or 'Sign up with Google' to create an account on the eToro platform instantly.
Step 2: Verify Your Identity
The next step you need to complete to buy Tron on eToro is to verify your identity. eToro is a regulated broker, and you will need to supply a number of documents as part of its know-your-customer (KYC) protocol.
All you need to do to scale through this stage is to upload a copy of your driver's license and official passport. You will also be asked to upload a recent copy of your utility bill or financial statement (not more than three months) as proof of residence. Once these documents are submitted, your account will be verified within minutes.
Step 3: Deposit Funds
eToro offers several payment methods for users to fund their accounts. You can make deposits through the following platforms:
Credit card
Debit card
Bank transfer
PayPal
Skrill
Neteller
Klarna
Trustly
In addition, you will need to make a minimum deposit of $200 (only accepted denomination) to get started. Bank wire deposits are much higher, and you will need to make a first deposit of $500 to buy Tron.
Step 4: Buy Tron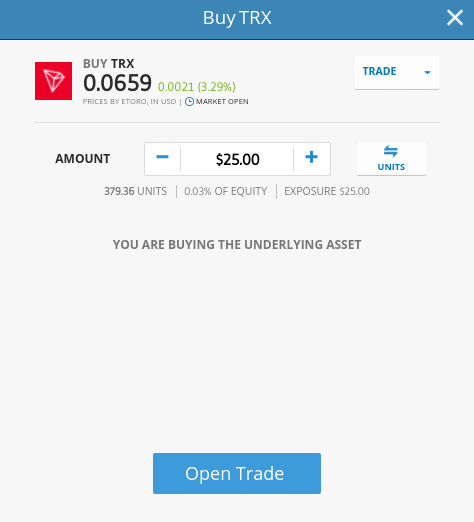 Your capital is at risk.
Once your deposit is complete, you can now buy Tron. To do this, click on the search bar and type in 'Tron.' Click on the first result that pops up, and you will be directed to the digital asset's page. While you are there, you can click on the 'Feeds' tab to learn what other traders feel about Tron and its likely future potential.
When you click on the 'Chart' tab, you will be shown the price movement of Tron and its historical track performance.
To start trading Tron, click on the 'Trade' button on the far right-hand corner to open an order page. Here, you will need to set how much you want to invest to buy Tron. The minimum amount is $25 to open a position. Click on 'Trade Now' when you are done, and Tron will automatically be added to your portfolio.
Conclusion
Tron is an exciting blockchain protocol and is seeing much adoption. With its recent acquisition of American Crypto Systems Inc., the Tron network is gradually building an American and global presence. This could see it become the de facto blockchain platform for the American entertainment industry. This would likely see the Tron network become a true competitor to the Ethereum network.
If you decide to buy Tron, we recommend using the eToro platform due to its user-friendly and intuitive platform. It is also a secure trading platform, given that it is regulated by top bodies like the UK's FCA and CySEC. It is also a social trading platform, meaning eToro lets you learn trading financial instruments from experienced traders through its CopyTrade feature. You can also automatically diversify your portfolio across several industries and regions by leveraging its one-of-a-kind CopyPortfolio functionality.
eToro is also our top choice given the fact that it charges zero commission for trades. This means you only have to pay for the underlying asset and no broker fees for buying assets.
Your capital is at risk.
FAQs
What will Tron Be Worth in 5 Years?
Is Tron Good Investment 2021?