Since its launch nine years ago, Ripple has seen lots of ups and downs, much like other crypto coins and the cryptocurrency market in general. But even with the rising controversy over the Ripple SEC lawsuit, the XRP coin remains one of the most stable digital assets in the world. The Ripple project is also one of the most effective payments and exchange platforms that is expected to make a huge impact in the banking and financial industry.
So, if you are looking where to buy XRP, this guide will show you the easiest way to do that. We'll explore the XRP coin and the Ripple company, help you decide if it's a good investment right now, suggest the best place to buy XRP, and show you different ways to buy the coin.
How to Buy XRP – Quick Steps
If you ready to make an instant purchase of XRP coin, simply follow our quick guide below.
Open an account with Binance:  To get started, open an account with Binance. Simply visit the exchange homepage and submit your email address and create a password.
Upload ID: Binance has three verification levels (Basic, Intermediate, and Advanced). But, if you want to able to make transactions above $300, then you must choose the intermediate level. For that matter, you need to provide more personal details, upload a government ID, and complete facial verification.
Buy Ripple: The easiest way to buy Ripple on Binance is with a credit and debit card. To do that, navigate to the 'Buy Crypto' section, insert the amount you want to invest in USD (or in one of the other supported fiat currencies), choose Ripple from the drop-down menu, and click on the 'Buy' button. 
Step 1 – Choose a Crypto Broker
Whether you are planning to make a one-time purchase or you want to actively trade XRP, the most important thing you need to do is to find a good platform that supports Ripple stock. To help you get this process started, below we suggest top exchanges and crypto trading platforms where you can buy XRP coin:
1. eToro – Overall Best Cryptocurrency Platform to Buy Ripple Coin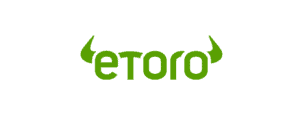 With more than 17 million users, eToro is certainly one of the best choices out there to trade cryptocurrencies like Ripple. This broker, which was founded in 2006 and is heavily regulated by top agencies around the world, is offering a huge range of assets including shares, indices, commodities, ETFs, FX currency pairs, and digital assets.
eToro is definitely not a pure crypto exchange but it offers a great way to buy and sell cryptos with a leverage ratio of 2:1 and without paying any trading commissions. Moreover, unlike the vast majority of crypto exchanges that are extremely complicated to use – eToro offers a user-friendly platform that is easy to understand. The platform is best for beginners who seek an easy-to-use trading experience and want to get into the markets without a long learning process. Further, eToro does not charge a fixed fee when you buy XRP stock. Instead, you only need to pay the bid and ask spread of 2.45%.
In terms of the selection of assets, eToro offers a huge range of 2400 financial instruments across various markets, though its crypto selection is lower than other platforms on our list. Overall, you'll get access to 26 digital currencies that include Ripple, Bitcoin, Ethereum Dogecoin, Bitcoin Cash, NEO, Litecoin, etc.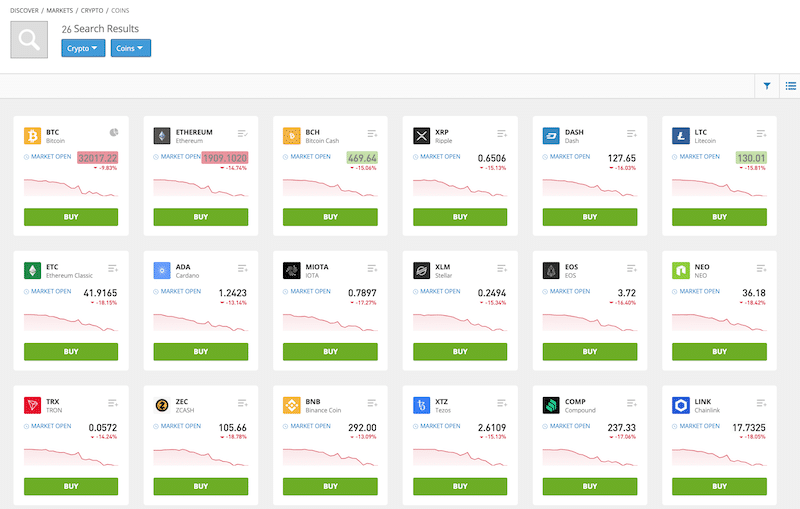 If you decide to use eToro, you'll also be able to get access to its social trading tools, with the most notable of them are the CopyTrade and the CopyPortfolios. First, the CopyTrade tool is simply an automated system that allows you to choose another best-performing trader on eToro's network and copy the exact trades that the chosen investor is making.
And, while the CopyTrade is a great solution for those who want to take a short-term trading strategy, the CopyPortfolios, on the other hand, is perfect if you would like to take a long-term position in eToro's built-in cryptocurrency-managed portfolios. All in all, the broker offers four crypto-related portfolios, with the most popular being the eToro CryptoPortfolio.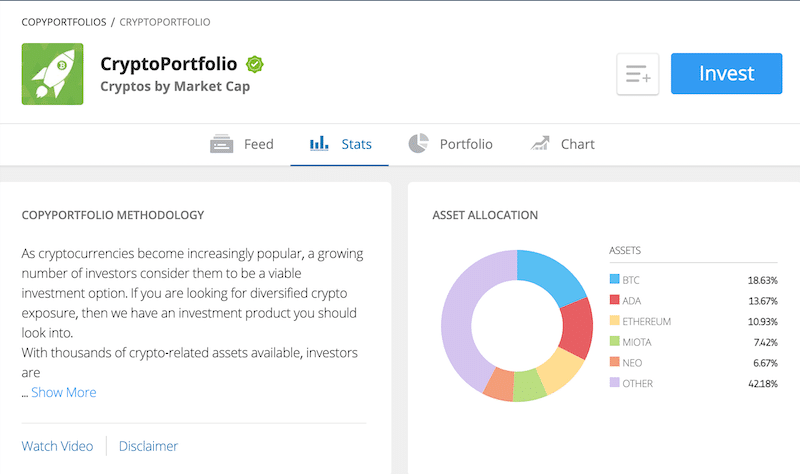 Finally, eToro is also one of the most heavily regulated platforms that support cryptocurrencies, which is a major factor given the fact that the cryptocurrency market is not yet regulated.
Pros
Largest social trading in the world with more than 17 million members
Offers commission-free trading on XRP stock
A range of social trading tools – CopyTrade and CopyPortfolios
Over 2,400 instruments
Supports built in managed CopyPortfolios, including crypto-related portfolios
Heavily regulated across the globe
Easy to use and user friendly social trading platform
Cons
Charges withdrawal and inactivity fees
Not suited for professional day traders
67% of retail investor accounts lose money when trading CFDs with this provider. 
2. Binance – Best Crypto Exchange for Professional Traders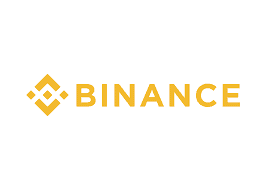 If you do have previous trading experience or you are planning to become an active cryptocurrency day trader, then Binance is a great choice. This is the largest and most famous cryptocurrency exchange in the world with around 15 million users from all over the world. It is also one of the most feature-rich platforms and has a high selection of 150 crypto coins to trade on.
The main attraction of Binance is that it offers users a variety of options of how to buy XRP. The first option is to open a Binance account, verify your ID and buy XRP with a credit and debit card. For doing that, you simply need to click on the Buy Crypto in the top menu, switch to XRP in the bottom receive box, insert the amount you want to invest, and click on continue to insert the details of your credit/debit card.  Bear in mind that you have the option to buy XRP without verification at Binance if your investment does not exceed the maximum total lifetime limit of $300.
The second option is more suited to active traders that are looking to trade the XRP coin on a pure crypto exchange. In this case, you need to make a deposit and trade via the Binance exchange, which is undoubtedly among the best and most cost-effective cryptocurrency trading platforms in the world (Binance charges a transaction fee of a maximum of 0.10%).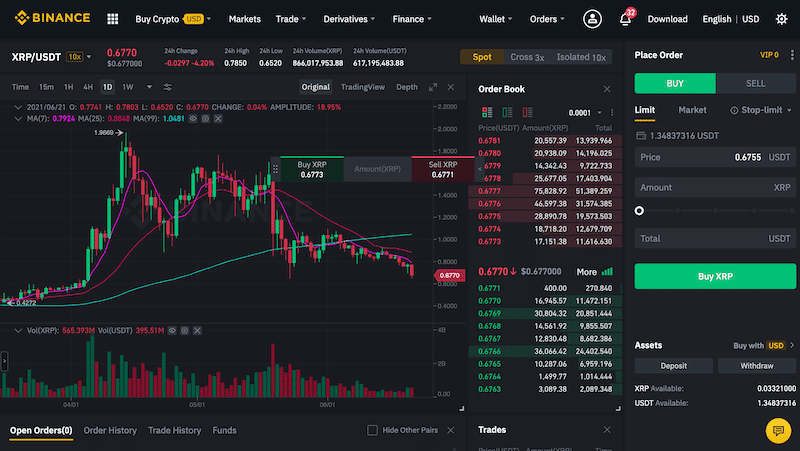 The bottom line, Binance is the best option for you if you are looking for a pure cryptocurrency exchange to buy and hold XRP coins. Not only it provides a reliable and secure platform to trade cryptocurrencies but it also has its own hot wallet, known as the Binance Trust Wallet. This means you can buy XRP stock and hold the coins on Binance mobile app, or its web application.
Pros
A low trading commission of just 0.10% per slide
Supports over 150 crypto coins
Offers an easy to use platform to purchase XRP tokens with a credit and debit card
Great trading platform for beginners and experienced traders
Supports a secure crypto wallet
Cons
High fees on debit/credit deposits
Cryptoassets are speculative and carry high volatility levels. Always consider the risks involved. 
3. Capital.com – Best Trading Platform to Trade Ripple CFDs

Finally, another platform we really like that is offering a huge range of crypto assets is Capital.com. This CFD broker gives users access to more than 3,700 assets including a huge range of 200 digital assets, more than Binance and eToro together. As such, it is not a wonder that you'll also get access to Ripple XRP.
As a CFD service provider, Capital.com also enables users to buy XRP stock with a leverage ratio of 2:1 and without paying any trading commissions. Additionally, Capital.com is considered a cost-effective broker choice in terms of the spreads it offers and the low management fees (the spread for XRP/USD stands at just 0.0228).
Best of all, Capital.com has an excellent trading platform that is available on web browsers and on mobile devices. The platform is the world's first AI-powered trading platform that sends users trading insights based on their previous trading activity and searches.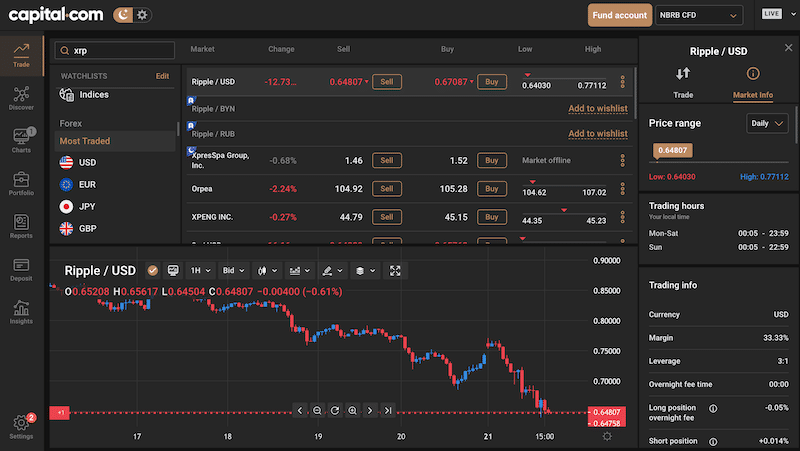 Besides Capital.com's in-house trading platform, the UK-based broker also offers the popular MetaTrader4 and a range of trading tools for active traders. This includes the Capital.com TV, news and analysis section, market sentiment tool, and access to trading view. Plus, you'll be able to trade XRP versus the USD, EUR, and BTC.
Overall, Capital.com is a great solution to buy XRP through a safe and secure brokerage firm. To get started the broker maintains a very low minimum deposit requirement of just $20 or equivalent.
Pros:
Tight spreads and low management fees
Thousands of markets available including cryptos, stocks, forex, indices, and commodities
Minimum deposit of just $20
Supports debit/credit cards and e-wallets
MT4 supported
World's first AI trading platform
A leverage ratio of 2:1
Cons:
67.7% of retail investor accounts lose money when trading CFDs with this provider
Step 2 – Research XRP
Even though Ripple is among the most popular coins in the market, it is still important to make research before you make any investment decision. In this section of our guide, we are going to analyze the coin's merits and help you decide whether it is the right to make a purchase.
What is XRP?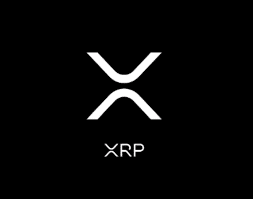 XRP is the native cryptocurrency that is used on the Ripple network to facilitate money exchanges of different currencies. The coin was developed by Ripple Labs as a global payment system and is primarily used by large financial institutions and big banks like Santander and Bank of America. According to Ripple, this payment system can settle transactions in 3-5 seconds and has the ability to significantly reduce fees and the time of processing global money transactions when compared to fiat currencies and other popular digital assets like Bitcoin and Litecoin.
Is XRP a Good Buy?
Even though XRP is currently ranked the 7th largest crypto coin by market cap, many analysts still believe that it has a lot of room to grow. After all, the coin is far off from the high levels of slightly above $3 it reached in early 2018.
Right now, the major challenge that Ripple is facing is the ongoing SEC lawsuit. The lawsuit claims that XRP is a security not currency, and the US regulator charges Ripple to sell its $1.3 billion in unregistered securities. But in case of Ripple will win the SEC lawsuit, then it is very likely, for several reasons, that the XRP price will go up. The first reason is that big banks and large financial institutions will get more confidence in using XRP as a payment system. Secondly, the market will most likely see the victory of Ripple as a sign to buy XRP. Notably, Ripple already has many big clients that are already using its payment system such as Bank of America, Santander, American Express, SABB, and many more.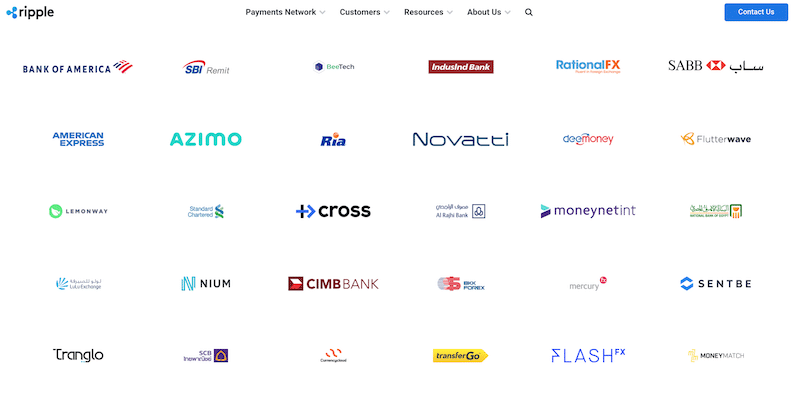 All things considered, even though there's a high risk in buying XRP stock right now, it is one of the cryptos that is predicted to grow in value in the long term.
XRP Price
Ripple price, like any other financial asset, is determined by supply and demand. In the case of Ripple, the interesting part is actually the supply side. Ripple's total supply stands at 100 billion XRP tokens, with 46,205,772,880 XRP coins in circulation and 55 billion XRP tokens that are owned by Ripple Labs, which has the ability to release 1 billion tokens per month. So, Ripple Labs eventually has a massive stake of over 50% in XRP, which is the main reason why the SEC has filed a lawsuit versus Ripple Labs and why some people claim that Ripple is sort of a scam. As a matter of fact, when you buy Ripple coin, you invest in the company and not in the coin itself, and as such you buy XRP stocks.
Further, Ripple is not really a pure digital coin like Bitcoin, Ether, and Litecoin. It has no mining process or miners that are getting rewarded for solving problems on their blockchain network. The idea of Ripple is that it serves as an agent between two parties in a transaction while the Ripple network can confirm the transaction. Nonetheless, Ripple Labs has no real intention that the XRP price will rise in value. Instead, its goal is that institutions and big banks will keep using it as a payment system. And indeed, Ripple has many big clients who are currently using its network.
In terms of price performance, XRP has been on a great run during the crypto bubble in 2017-18, hitting an all-time high of $3.04. However, the XRP coin's price dropped in early 2018 and was trading at a range of around $0.2-$0.5 for nearly three years until the beginning of 2021. In April, the coin climbed to its highest level since 2018 of $1.55, but dropped again to its current price of $0.68, largely due to the crypto mini-crash that started in May. From the start of the year, however, XRP stock gained almost 200% (at the current price of $0.68).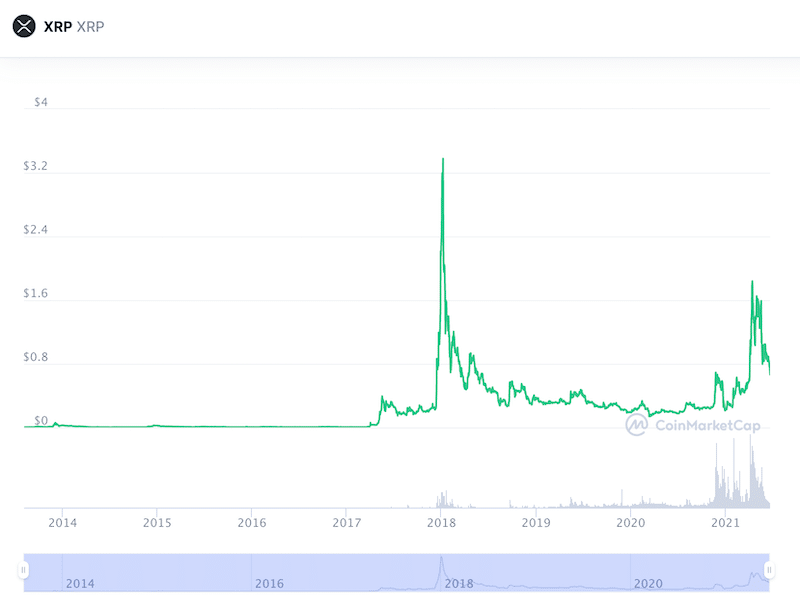 XRP Price Prediction
Even though there are lots of unreliable XRP price predictions out there, the price of XRP is predicted to trade around $1-$5 by the end of 2025. The most considerable factor for which there is no high probability for XRP to reach high levels of $10 and higher is the fact that XRPs are mostly held by Ripple Lab that releases approximately 1 billion XRP tokens on the first day of every month.
Regardless, the vast majority of crypto analysts predict that the price of XRP will rise again to above $1 by the end of the year or in 2022. This is a solid Ripple price prediction to base your strategy on.
Step 3 – Choose Your Payment Method
Before you choose a broker, it would be wise to know what is your preferred payment method. This is because each brokerage firm or crypto exchange offers different methods to buy XRP coins. With that in mind, let's take a close look at three of the most popular methods to buy Ripple:
Buy XRP with PayPal
PayPal is certainly one of the most trusted payment service providers in the world, and many crypto investors are looking for a platform that supports PayPal. From our research, you can buy XRP coin with PayPal via Binance Peer to Peer (P2P) network though it is not clear whether you can directly buy XRP on Binance P2P trading. Nonetheless, you can make a purchase of other cryptos like Bitcoin or Tether and then exchange them with XRP on Binance exchange.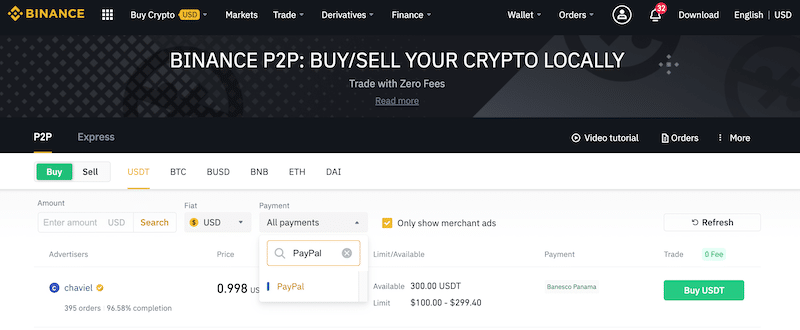 The second choice is easier and more cost-effective than the first. This is because eToro accepts PayPal as a payment method and allows you to make a deposit and instantly purchase Ripple CFDs.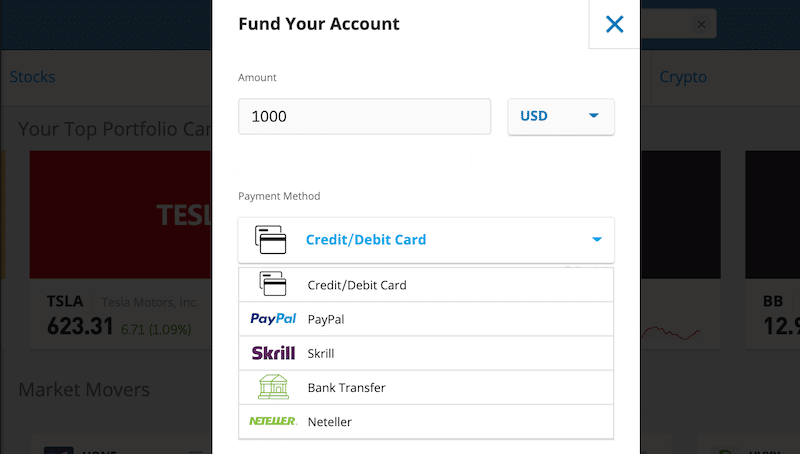 Buy XRP with Debit/Credit Card
As most people are looking to buy cryptocurrency with fiat currency, the vast majority of crypto exchanges and online trading platforms allow you to use a credit and debit card as a payment method. As such, all of our recommended brokers enable users to buy XRP with a credit/debit card. That said, you need to take into consideration the fee that each platform charges for using a credit and debit card in order to buy XRP. Binance, for example, charges a relatively high fee of 3.5% per transaction or 10 USD (whichever is higher). eToro, on the other hand, is much more cost-effective than any other platform as it does not charge any credit card deposit fee.
Buy XRP with Bitcoin
Another option to buy XRP is with Bitcoin, in case you already own it. For that matter, the best exchange that offers you to exchange Bitcoin with XRP is Binance. It is also the most cost-effective option as this exchange charges a transaction fee of 0.10%, which is below the average in the crypto industry that stands at around 0.2%-0.5%.
Step 4: Buy XRP
If you are ready to make a purchase, we are now going to show you how to invest in XRP through one of our recommended brokers, eToro.
Step 1: Open an eToro Account and Verify Your ID
At first, you need to open an account with eToro. The process is fairly simple though it takes around 2-3 until the broker verifies your identity and you'll be able to trade with real money. Nonetheless, to get started you simply need to submit your email address, create a username and password and provide additional personal information about your trading experience and financial status.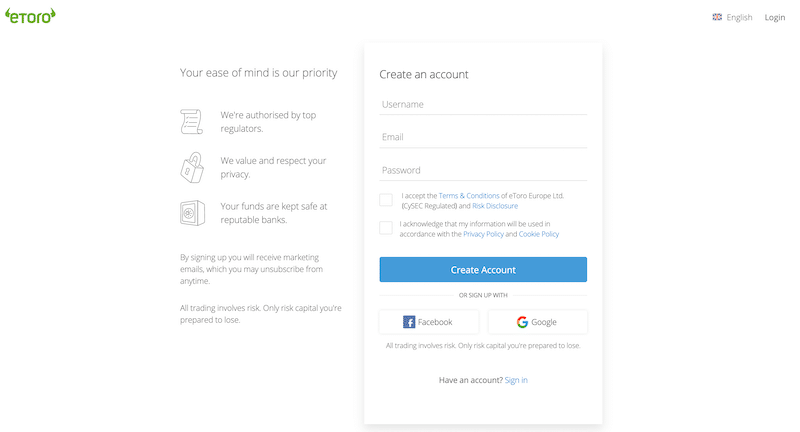 Then, you need to verify your identity by uploading a copy of your passport or driver's license or any other national ID and a copy of a bank statement or utility bill.
Step 2: Deposit Funds
eToro provides a demo account where you can practice your trading with virtual money, however, once you are ready to start trading the live markets, you need to make a deposit. Generally, eToro has a minimum deposit requirement of $200 or equivalent, which can be funded using one of the supported payment methods – credit and debit card, bank wire transfer, PayPal, Neteller, and Skrill.
Step 3: Buy Ripple XRP Coin
If you decide to deposit funds with a debit card and online banking, then your eToro account will be credited with the funds within seconds. Otherwise, a deposit with a wire transfer can take around 4-7 business days. Regardless of the deposit method you choose, once the funds have been credited to your eToro account, you can immediately buy Ripple XRP.
To buy XRP, you need to search for the coin's instrument page by entering XRP or Ripple at the search bar. As mentioned previously, eToro offers users to trade XRP versus a variety of fiat currencies including EUR, AUD, GBP, and CHF. However, if you would like to buy XRP versus the US dollar, simply click on the first result the appears in the drop-down menu.

Next, you'll be transferred to the Ripple XRP instrument page. On this page, you can analyze the coin by using the feed from other members on eToro's network, stats, charts, and research (market sentiment, analysts' opinions, etc).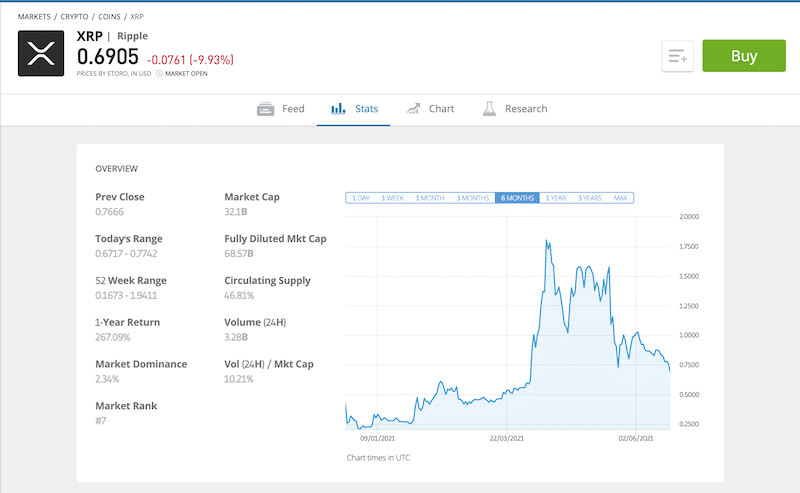 Then, whenever you are ready to make a purchase of XRP, click on the 'Buy' button and you'll see an order form. At this point, all you need to do is to insert the amount you want to invest in Ripple coin and click on the Open Trade button.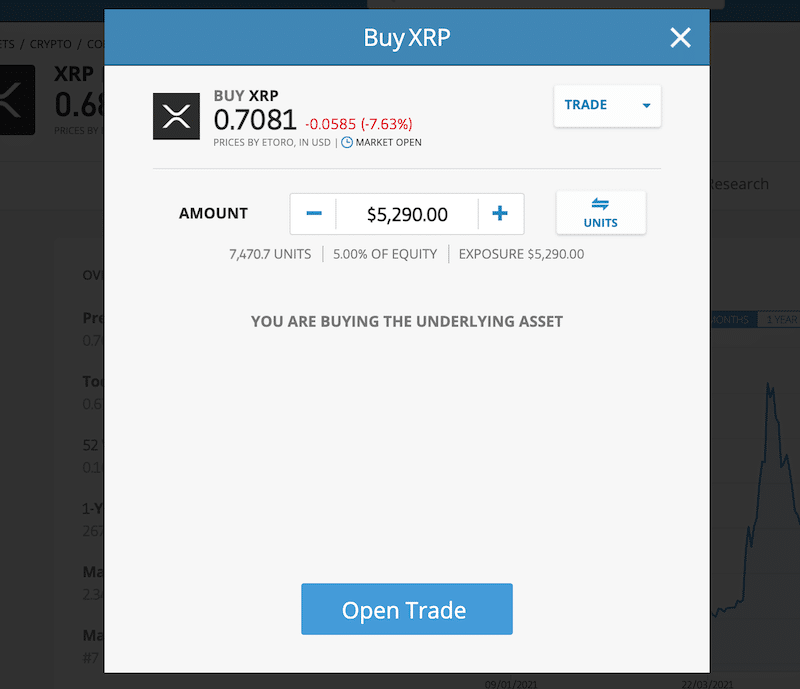 eToro – Best Platform Buy Ripple Online
In conclusion, despite the controversy around Ripple's XRP token, it is still one of the largest and most interesting crypto projects in the world. And, as the current price of XRP is a low barrier if you are a beginner that wants to diversify your portfolios, Ripple might be a great long-term investment right now.
Throughout this guide, we have covered all the essential factors about Ripple and its native token XRP. We also discussed the how to buy Ripple and where to buy XRP. So, if you are looking where to buy XRP, then we found that eToro is the best place to buy XRP in the market. This broker allows you to buy XRP with credit and debit at no cost, or with PayPal. In addition, the platform is easy to use and you get access to the largest social trading platform in the world and to the famous eToro's CopyTrade tool.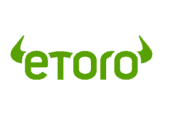 FAQs
Where can I buy XRP stock?