USD/JPY technical analysis ► review of the major events that will move the Japanese Yen and dollar/yen during the week.
USD/JPY posted its sharpest weekly drop since July 2016, as the pair fell 280 points. The pair closed the week at 114.35. This week has four events. Here is an outlook for the highlights of this week and an updated technical analysis for USD/JPY.
The US dollar was sent reeling last week, as Donald Trump disappointed markets with a press conference that was heavy on theatrics and light on substance. Trump didn't lay out any economic vision or discuss fiscal stimulus, the catalyst for the greenback's impressive run since the election. Japan's current account surplus dipped in November but still beat expectations.
do action="autoupdate" tag="USDJPYUpdate"/]
USD/JPY graph with support and resistance lines on it. Click to enlarge: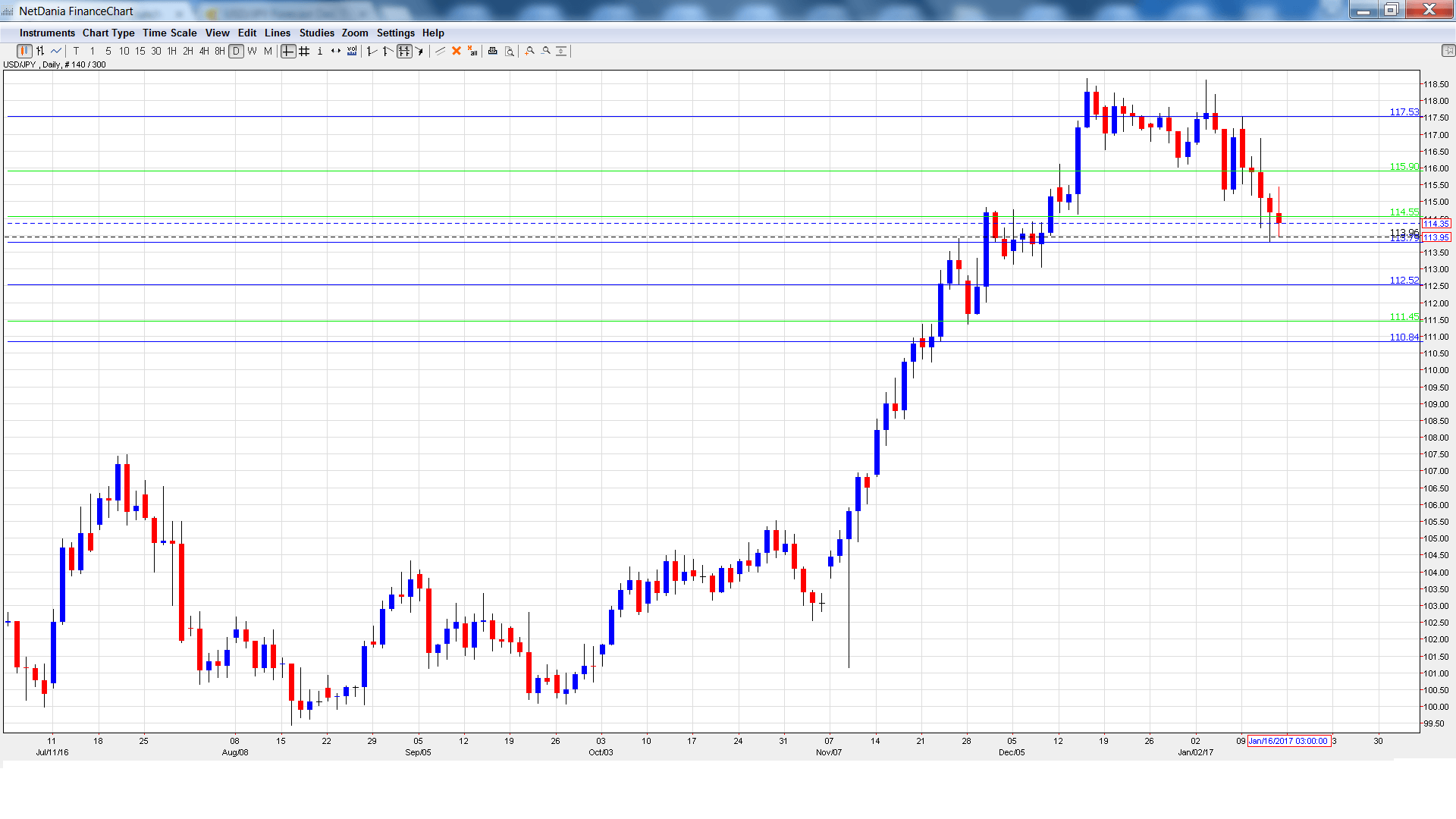 Core Machinery Orders: Sunday, 23:50. This manufacturing indicator rebounded in October, posting a strong gain of 4.1%. This easily surpassed the estimate of 1.3%. The markets are braced for a decline in November, with an estimate of -1.3%.
Tertiary Industry Activity: Monday, 4:30. This indicator looks at the change in spending by businesses. In October, the indicator posted a small gain of 0.2%, shy of the forecast of 0.3%. The forecast for November stands at 0.2%.
Preliminary Machine Tool Orders: Monday, 6:00. Continuing declines by this indicator points to weakness in the Japanese manufacturing sector. The indicator last posted a gain in August 2015, and we can expect another decline in the December report.
Revised Industrial Production: Tuesday, 4:30. The indicator dropped to a flat 0.0% in October, within expectations. The markets are expecting a strong turnaround in November, with an estimate of 1.5%.
USD/JPY Technical Analysis
USD/JPY opened the week at 117.14 and quickly climbed to a high of 117.53, testing resistance at 117.52 (discussed last week). The pair then reversed directions and dropped to a low of 113.79. USD/JPY closed the week at 114.35.
Live chart of USD/JPY:
Technical lines from top to bottom:
With USD/JPY posting sharp losses, we start at lower levels:
118.79 was last breached in February 2016.
117.52 was tested early in the week before USD/JPY dropped sharply.
115.90 is next.
114.55 marked a high point in March 2015. It is a weak resistance line.
113.80 is the next support level.
112.53 was a cap in April 2016.
111.45 is next.
110.83 was the start of a rally in June which saw USD/JPY drop below the 102 line. It is the final support line for now.
I remain bullish on USD/JPY
All eyes will be on Donald Trump's inauguration on Friday and  raise expectations for fiscal stimulus, boosting the US dollar.
Our latest podcast is titled Trump Train or Donald Derailed?
Follow us on Sticher or iTunes
Further reading:
Get the 5 most predictable currency pairs