XRP Price Prediction
As the 6th largest cryptocurrency in terms of market cap, XRP is well-known by investors worldwide. After a rocky few months in the market, XRP has begun showing some positive signs in recent weeks – leading many people to consider an investment in this crypto in search of positive returns.In this article, we'll present our  XRP Price Prediction for the months and years to come.
We'll cover XRP in detail, highlighting both the short-term and long-term outlook, before rounding off with a review of the best place to buy XRP right now.
XRP Price Prediction 2021
Will Ripple's XRP have a good performance during this year and the upcoming ones? If you're looking for a quick XRP forecast breakdown, then look no further. Below you'll find our Ripple price prediction over various timeframes, determined through extensive research and analysis of the crypto market. In the following sections, we'll dive into XRP in detail, giving our thoughts on the cryptos outlook in the future.
One Month  – A bullish push in late July has given new impetus to the price of XRP. We'd expect another lower-high to form on the daily chart, which would put XRP around $0.8650.
Three Months  – Given the current XRP price is beginning to trend upwards, we'd anticipate this trend to continue until recent highs are met. This would mean that XRP could be valued at around $1.0550 in three months' time.
Start of 2022  – Our Ripple price prediction for the beginning of 2022 would see the crypto breaking through the highs of May and June 2021 and progressing upwards, towards the $1.5550 range.
Start of 2023  – Finally, our XRP price forecast for the beginning of 2023 could see the crypto be valued at around $2, narrowly breaching the highs of April 2021. This would then give XRP the impetus to continue heading back to all-time highs.
XRP Price History – the Story of 2021 So Far
If you're wondering  how to buy cryptocurrency, and are considering an investment in Ripple XRP, then it's a good idea to look at how we got to this point to provide insight into future cryptocurrency price movements. But first, let's take a quick look at what XRP is before diving into how XRP has performed in 2021.
Notably, XRP is actually the digital currency used on the Ripple blockchain platform – although Ripple and XRP are often used interchangeably. The RippleNet platform was created by Ripple Labs and is used as a digital payment network that allows users to send and receive money faster and more streamlined than the SWIFT network. Furthermore, Ripple is much cheaper than using large banks to complete transfers, which many admirers say is one of the main reasons the platform should become more popular in the years to come.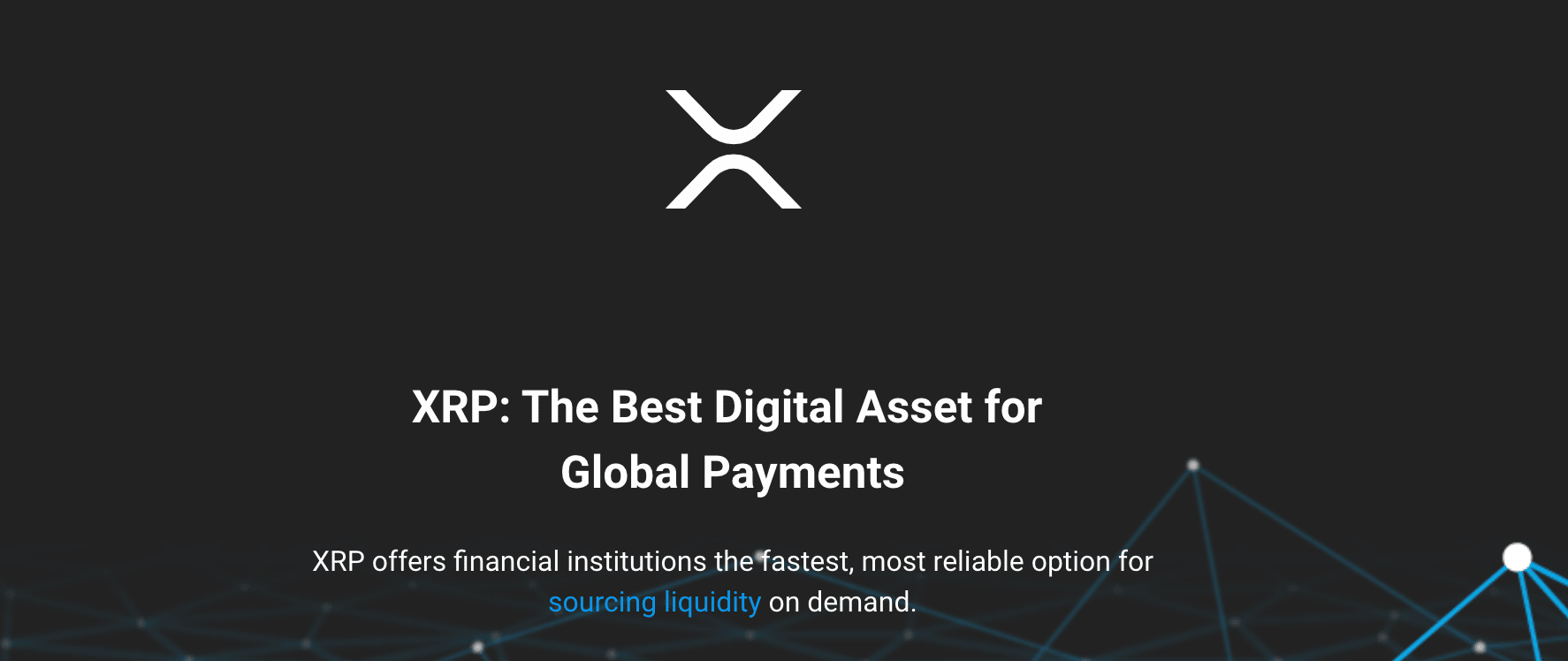 The current price  of XRP is $0.7162, representing an increase of 225.11% since the turn of the year. Furthermore, looking at the real-time XRP price, we can see that the currency is up 142% since this date last year. However, although these stats look incredible, they don't tell the whole story.
In April 2021, XRP's price rocketed to $1.9642 – nearly reaching the $2 mark. At this point, XRP looked as if it would be the  next cryptocurrency to explode; however, since then, the digital coin's value has decreased by around 63% to current levels. Why is this?
The number one cause of XRP coin's poor showing over the last few months is the ongoing lawsuit brought by the SEC. In December 2020, the SEC initiated legal proceedings against the Ripple co-founders, claiming that they sold $1.38 billion in unregistered securities. The main point of the SEC's filing was that XRP is a 'security' rather than a commodity – meaning that the way it was used could be deemed illegal.

67% of retail investor accounts lose money when trading CFDs with this provider.
The looming threat of this lawsuit has meant that XRP struggled to maintain its lofty heights from April 2021.  CryptoGlobe  recently reported that a prominent US lawyer stated that he doesn't think a settlement is coming anytime soon, which puts more pressure on XRP's price. What's more, numerous exchanges have delisted XRP for the time being, making trading more difficult for investors.
Another reason XRP has slowed down in 2021 is that the platform releases 1 billion XRP every month. Due to the increased supply of the altcoin, this will naturally push the price downwards if there is no other bullish momentum. Thus, the combination of enormous supply plus SEC-based worries has led the XRP price to be relatively low at the time of writing.
XRP Price Forecast
So, taking the above into account, what is our XRP price predictions for the remainder of 2021? Well, there are two critical elements to determining a crypto's price – technical analysis and fundamental analysis. In this section, we'll break down both factors, giving a comprehensive overview of our XRP forecast in the cryptocurrency market for the months to come.
Technical
At the time of writing, the XRP price has begun showing some positive momentum on the daily chart and seems to be forming a bull flag. Typically, bull flags can be thought of as a 'pause' before further bullish momentum – so this is a great sign for investors in XRP. If the XRP price breaks above the $0.7633 range, there's a clear path for reaching the $1 level.
The $1 level will be a strong one to break, as we can see through the XRP price analysis that price has been rejected off of this area numerous times in the past. Furthermore, this level has a strong psychological element to it, which adds further issues when trying to break above. Nevertheless, some strong impulses upwards over the next few weeks would undoubtedly see this resistance  level being tested – and a close above it would allow price to consolidate.

If the XRP future price can break the $1 level, then there's a clear path towards the $1.5800 range. If this does happen, it would be relatively quick. The last bullish impulse from XRP rocketed upwards over a week or so – so do keep an eye out for this.
Fundamental
As noted, XRP does have a strong use case – the ability to perform transactions rapidly and cost-effectively. As such, there's scope for it to be used by large financial institutions. In fact,  Invezz  reported that Ripple has partnered with SBI Remit, a Japanese money transfer firm.
This partnership adds further credibility to XRP's system, which could mean great things for the price. However, the necessary element that needs to be sorted is the SEC filing. Whilst litigation is ongoing, it'll mean fewer investors wish to get involved with the cryptocurrency.
On a brighter note, if there is a good outcome from the lawsuit for Ripple, this would alleviate much of the downward price pressure. In turn, this would allow the fundamentals and technicals to align, which all point upwards. If this happens, there's every chance we could see XRP head towards the $1.5500 range by the end of 2021.
XRP Price Prediction Long Term Outlook
Moving on to our XRP price forecast over the longer term, the XRP outlook looks pretty bright. As noted earlier, XRP does have the potential to finish 2021 strongly, with bullish momentum beginning to creep into the price chart. If this happens, it'll provide a solid platform for growth over the next few years.
One of the fundamental factors that could come into play is if Ripple can partner with some larger financial institutions to use their payments network. At present, companies such as Santander, Bank of American, and American Express all utilise elements of the Ripple network. As more and more companies see the benefits and partner with Ripple, it will add value to the platform, pushing XRP's price higher.

67% of retail investor accounts lose money when trading CFDs with this provider.
Our Ripple price prediction 2025 is certainly bright, as the fundamentals and technicals look set to align. The threat of the SEC lawsuit should have died down by this point, which would pave the way for other  crypto exchanges to begin offering XRP for trading again. If more traders can invest in the crypto, it'll mean further bullish momentum for XRP's price.
Maybe you're wondering what will XRP be worth in 2025. Well, our XRP price forecast for 2025 would put the digital currency's price around the $2.50 mark. This would be just below the all-time highs of January 2018, the next XRP price target. At this level, we could expect to see some prolonged consolidation as investors find a 'support level' for a further push.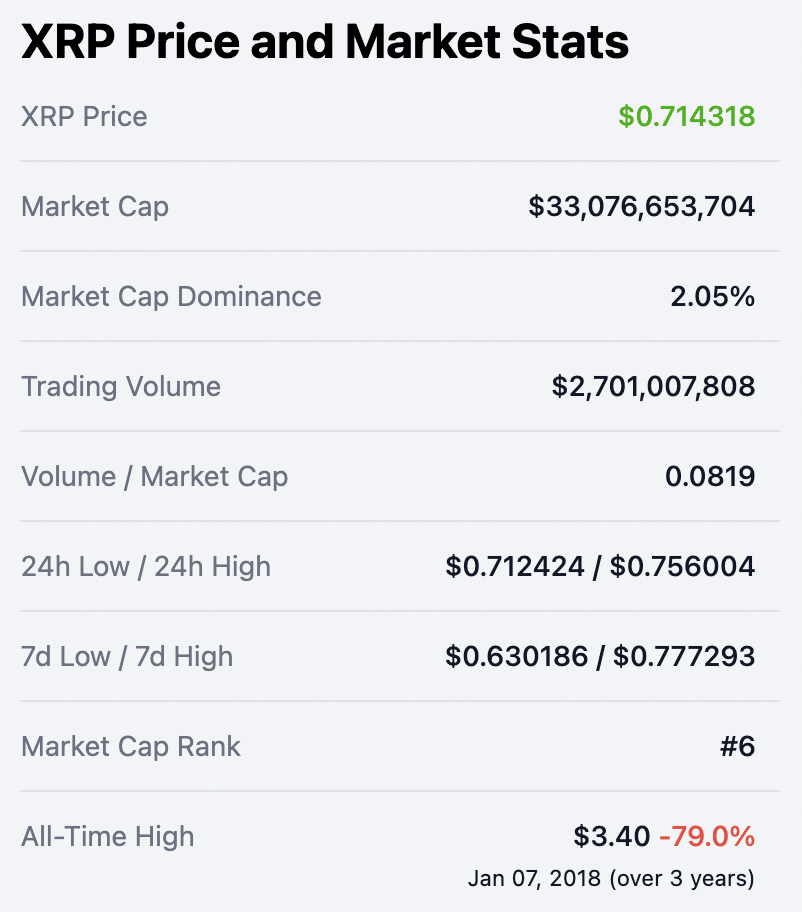 This takes us nicely into our Ripple price prediction 2030. As a disclaimer, there's no technical basis for an accurate XRP forecast – as prices above the $3.30 level have never been hit before! However, at this point, if XRP continues partnering with large institutions, it's not unlikely that the digital asset's price could have doubled – or even tripled.
The fact of the matter is that our current payments system is outdated – and this position is untenable going forward. Ripple's platform offers the best way to improve on the current payments system, which is why so many people are on board with this crypto. If the adoption rate of Ripple increases, we could see Ripple price in 2030 reach the $10 mark by 2030 – and maybe even beyond.
XRP Price Chart
As has been noted earlier in our XRP forecast, the cryptocurrency's price has been on somewhat of a rollercoaster this year. As you can see from the price chart below, XRP's price saw considerable volatility in April 2021.  CoinTelegraph  reported that these price changes  were down to XRP's founders, Brad Garlinghouse and Chris Larsen, posting a blog on the website discussing how Ripple has partnered with companies, universities, and NGOs to create a brighter future.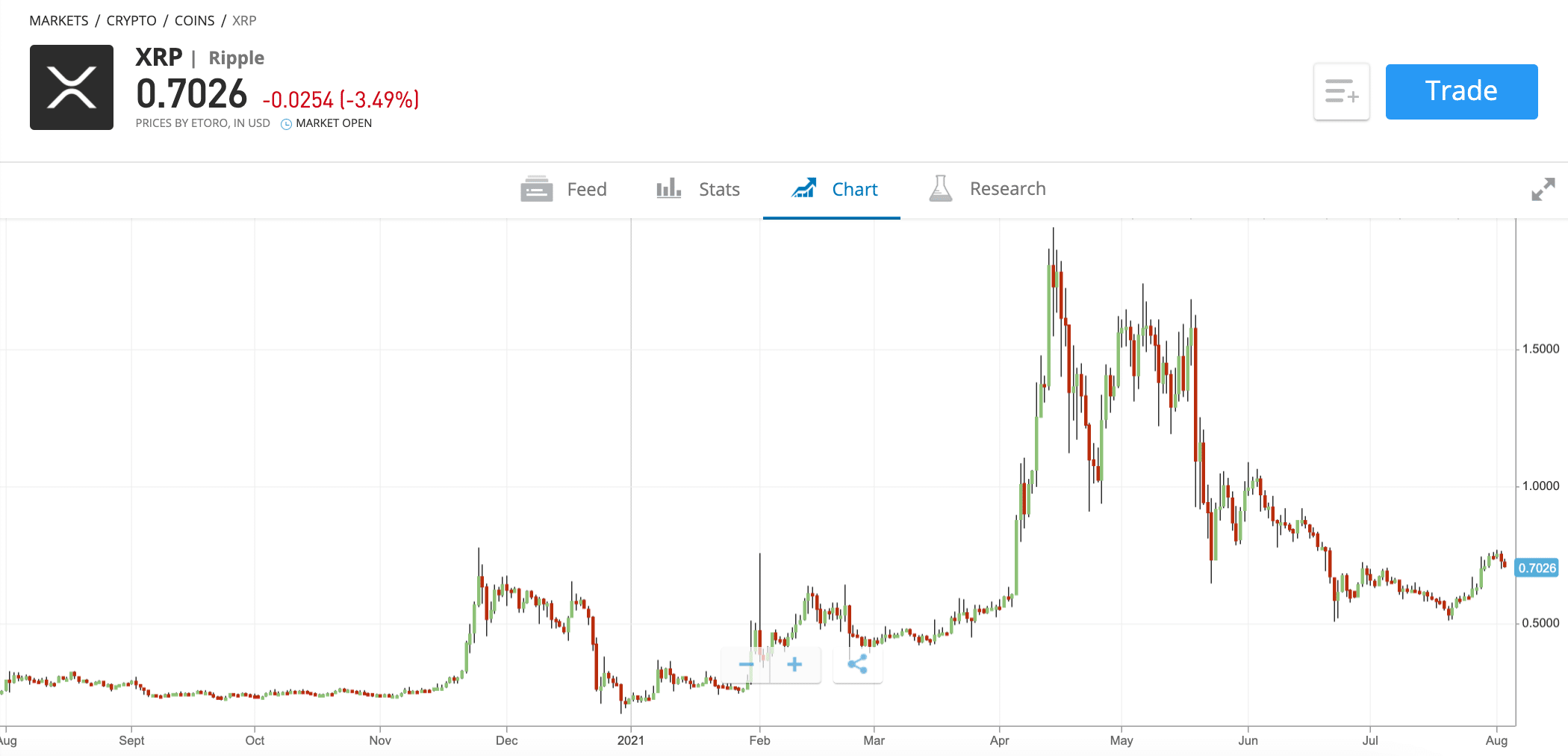 67% of retail investor accounts lose money when trading CFDs with this provider.
Price was further boosted after Ripple purchased a cross-border payments system, Tranglo. At this time, investors firmly believed that this was XRP's opportunity to skyrocket, as all the signs were there for the crypto to push upwards. However, the threat of the SEC lawsuit has forced XRP down from these lofty heights in recent months.
Since early June, momentum has been pretty slow with this crypto, which has also been the case with other crypto assets such as Bitcoin (BTC), Ethereum (ETH), and Dogecoin. As noted earlier, some bullish momentum has begun to occur, which is great news for XRP investors. If XRP can show some positive price action to break out of this bull flag on the daily chart, we could see a bull run towards the $1 level.
Where to Invest in XRP
Now that you have a firm understanding of our XRP forecast, you may want to consider an investment in this cryptocurrency. To do so, you'll need to create an account with one of the best  crypto trading platforms  to facilitate your investment. As noted earlier, some platforms have delisted XRP whilst the SEC lawsuit is ongoing, so do be aware of this when choosing a cryptocurrency exchange.
However, through our research and testing, we've found that  eToro  offers the best platform to invest in XRP this year. Firstly, eToro is regulated by numerous top-tier entities, such as the FCA and CySec. This is vital for traders' safety, as regulation from these institutions ensures that eToro uses the strictest security procedures to protect your personal information and trading capital.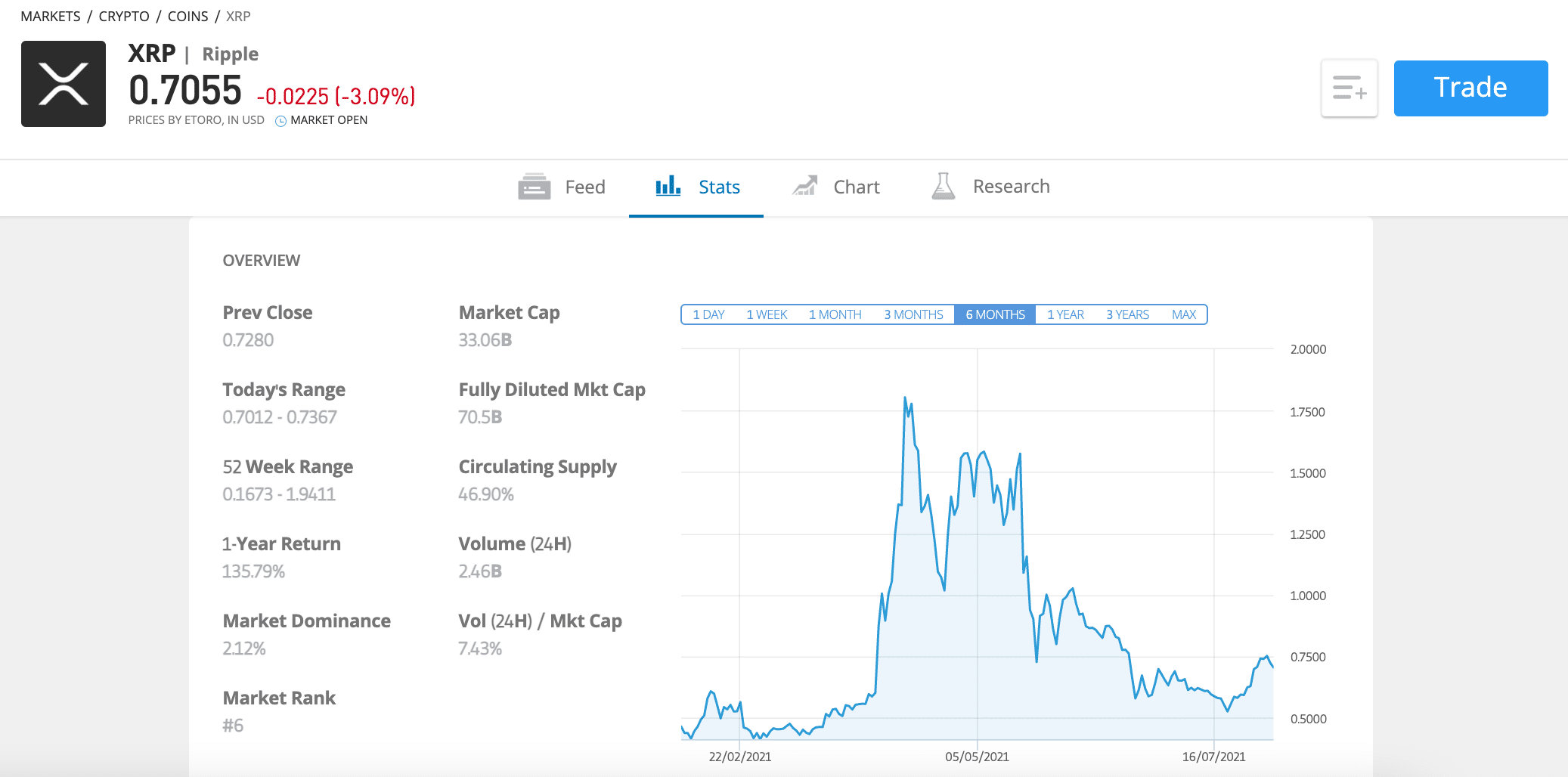 One of the main reasons we recommend using eToro as your  crypto broker  is that they do not charge any commissions when you place a trade. This contrasts with numerous others brokers who tend to charge a percentage of the trade size as their 'fee'. Instead, all of eToro's fees are included in the spread.
Furthermore, eToro offers fee-free deposits via numerous methods such as credit/debit cards, bank transfers, and e-wallets such as PayPal and Skrill. New eToro users must deposit a minimum of $200 to fund their account; however, if you are a US-based trader, this amount drops to $50.
Finally, eToro offers various handy features for traders, such as their CopyTrader feature. This allows users to seamlessly and automatically copy the trades placed by other users on the eToro platform. The CopyTrader feature is ideal for new traders who wish to generate profits whilst still learning the markets, making eToro one of the  best copy trading platforms  available at present.
XRP Price Prediction – Conclusion
In summary, this article has presented our XRP price prediction over the short-term and long-term, providing insight into potential targets for this crypto's price. Although 2021 has been an up and down year for XRP, the currency has solid fundamentals and firm community backing. If the threat of the SEC lawsuit can be alleviated, the XRP forecast would certainly brighten – and we could see some huge gains being made over the next year.
So, if you'd like to invest in XRP today, we'd recommend using eToro. eToro is our favoured broker for trading XRP as they are regulated by the FCA and CySEC, ensuring all users are as safe as possible. What's more, eToro doesn't charge any commissions at all, meaning users can invest in XRP quickly and cheaply.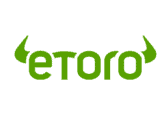 67% of retail investor accounts lose money when trading CFDs with this provider.
FAQs
What factors affect XRP's price?
Where is the best place to buy XRP?
What will XRP be worth in 2025?