Bitcoin Price Prediction
Bitcoin remains the world's most popular cryptocurrency. At the peak of its powers, one bitcoin was worth more than $60,000. However, the onset of the recent bear market has caused the price of bitcoin to take a hit and fall far below its all-time high value.
But despite the recent dips in bitcoin's market value, many remain optimistic that bitcoin can and will rise again. It is only a matter of time. In this article, we will look at the history of the price of the world's most popular cryptocurrency, and give our bitcoin price prediction for the year, and for the next few years.
Bitcoin Price Prediction 2021 to 2022
Our bitcoin price prediction for 2021 is built on analysing the trend in bitcoin prices throughout the year. As expected, bitcoin's price will oscillate between different price points as time goes by, and our bitcoin price forecast puts this into consideration.
Found below are our predictions for Bitcoin's price over the upcoming time periods, ensuring you have a solid understanding of the digital currency's future prospects:
One Month – Bitcoin has showcased some positive momentum in recent weeks, leading many investors to become optimistic about the coin's prospects. Our Bitcoin forecast sees the crypto heading towards the $55,000 range over the next month or so.
Three Months – If Bitcoin can consolidate around the $55,000 level, we could see further bullish momentum propel the Bitcoin price towards the all-time highs of $64,000 from April 2021.
Start of 2022 – Assuming Bitcoin breaks past April's peak, this would provide the impetus needed to print new all-time highs. By the start of 2022, there's every chance that Bitcoin could be worth around $70,000 per coin.
Bitcoin Price History – the Story of 2021 So Far
Bitcoin's price has seen a lot of highs and lows in 2021. At the beginning of the year 2021, it fluctuated between the $30,000 and $40,000 range, peaking at $41,973 on January 8. The price of bitcoin continued to rise throughout February. This was the month when bitcoin broke the $50,000 mark on February 16 for the first time, setting a new all-time high in the process. On February 22, bitcoin peaked at $57,000.
A significant part of the reason for the surge in the bitcoin price in February 2021 was an announcement made by Elon Musk and Tesla. The electric car manufacturers started accepting bitcoin as a payment method while also investing $1.5 billion in bitcoin. This announcement sent the market into the frenzy that caused bitcoin's market to spike.
Expectedly, there was a correction in bitcoin prices in March after the frenzy died down, and bitcoin's price came down to $45,000 on March 1. Two weeks later, bitcoin hit another all-time high, reaching $60,000 for the first time.
April saw the price of bitcoin reach unprecedented heights. Still reeling from the effects of the Elon Musk and Tesla announcement, coupled with the bull run the entire cryptocurrency market experienced in April, bitcoin's value reached an all-time high of more than $63,000. It has not risen above that since.
May came with the biggest price corrections of 2021. Within one month after attaining its present all-time high value, bitcoin lost nearly 50% of its value, crashing to $30,000 by May 19. This price crash came about mostly due to announcements made by Elon Musk and Tesla that the electric automobiles maker was suspending its acceptance of bitcoin as a valid payment method.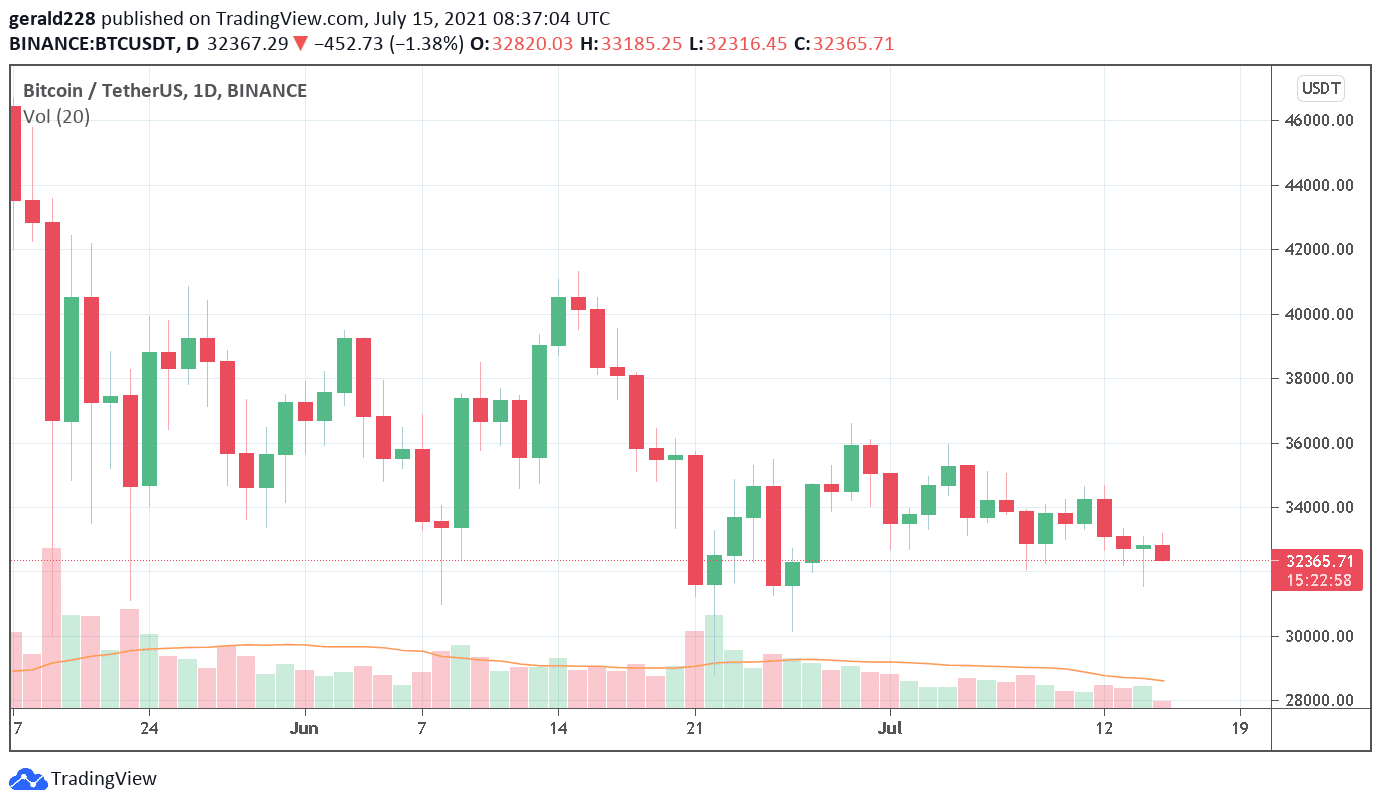 Your capital is at risk.
Additionally, there was some speculation about Tesla selling its bitcoin holdings which it had acquired a couple of months prior. This led to high selling pressure on bitcoin, causing its price to plummet. Around this time, the Chinese government began to crack down heavily on cryptocurrencies, causing a further decline in the price of bitcoin.
There has been little drama surrounding Bitcoin lately, allowing its price to stabilize as the cryptocurrency market slowly recovers from its bearish run. The recent announcement by the El Salvador government that made Bitcoin legal tender has not yet done much to increase the value of Bitcoin, but it has certainly set the ball rolling in the right direction. As Paraguay considers a bill that also makes bitcoin legal tender in the country, a continued upturn in the price of Bitcoin is inevitable, especially as more countries begin to adopt it as their official currency.
Bitcoin Price Forecast 2021
As mentioned earlier, we expect that by August 2021, the price of bitcoin will continue to rise as it aims to gain more mainstream appeal and widespread mass adoption. El Salvador recently adopted bitcoin as its official currency, making bitcoin legal tender within El Salvador. Paraguay is set to follow suit soon.
These instances of increased mass adoption mean that the current bitcoin price today is on an upward trajectory. The logic behind this is simple. Cryptocurrencies, like any other economic variable, are heavily influenced by the forces of supply and demand. With more mass adoption comes more use cases and acceptance for bitcoin, leading to greater demand for the cryptocurrency. Greater demand would invariably lead to an increase in the perceived value of bitcoin, causing its price to surge.
The current bitcoin price live appears to be holding a stable level. The price of bitcoin has remained within the $30,000 to $35,000 range for the past month with slight upward trends in-between. Our bitcoin forecast relies on a careful analysis of the bitcoin price chart history and a structural analysis of its support and resistance levels. We also consider the opinions and predictions of expert financial analysts in the cryptocurrency space.
Considering the fundamental and technical analysis elements that we have researched, our Bitcoin price prediction sees the currency head higher towards the $64,000 level that was printed back in April 2021. At this level, expect to see strong resistance as price has rebounded from here previously. Furthermore, the psychological element will also come into play, as assets tend to struggle at previous all-time highs.
If Bitcoin can breach and close beyond these highs, it will provide a solid base for future momentum. Expect to see this resistance change to a support level, which the Bitcoin price will push off of for more bullish impetus. Ultimately, there is certainly scope for Bitcoin to reach the $100,000 mark by the end of 2022, if the fundamental and technical factors align.
Bitcoin Price Prediction: Long Term Outlook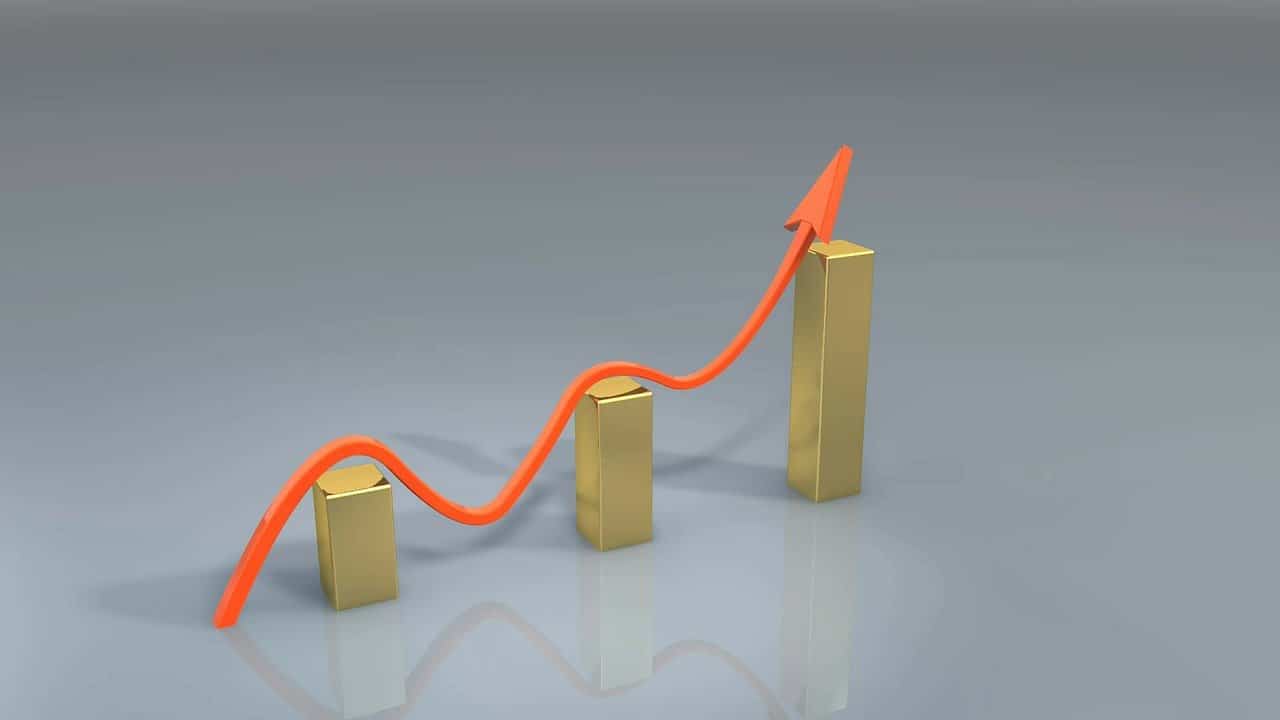 Every bitcoin forecast predicts that the price of bitcoin will continue to rise. So far in this article, we have looked at bitcoin price predictions spanning within the next year or two. But what are the prospects with bitcoin further into the future? What do the experts say about bitcoin's price in 2024, or even 2025?
The predictions are very much the same as we look further into bitcoin's future. Bitcoin is expected to become an accepted payment method on several more platforms, leading to an increase in its market value. Companies like Microsoft, Paypal, Etsy, Starbucks, and Whole Foods already accept bitcoin as a payment method. As trust in the utility of bitcoin continues to grow, more establishments will begin to accept it as a payment method, slowly pushing the value of bitcoin up, depending on the pedigree of the company.
As digital currencies and decentralised finance continue to push the boundaries of traditional finance, bitcoin will continue to grow in leaps and bounds far into the future. As major players in global finance like Elon Musk, Jack Dorsey, and Mark Cuban continue to push cryptocurrency acceptance, the cryptocurrency market, in general, will continue to grow.
With these factors in mind, our Bitcoin price prediction 2025 will see price head beyond the $100,000 mark. This represents a powerful psychological level for Bitcoin investors, which price will be drawn towards over the coming years. Although there could be pullbacks along the way, it is not out of the question that Bitcoin may be valued at over $100,000 by 2025.
Moving forward, our Bitcoin price prediction 2030 is even more optimistic. By this point, its likely that major financial institutions and companies will have adopted cryptocurrency, with Bitcoin being the most likely crypto for these entities to partner with. This would mean Bitcoin's value would be sky high, with a valuation of around $400,000 being likely at this point.
Bitcoin Price Chart
Bitcoin has experienced a lot of price fluctuations over the last year as 2021 has seen the cryptocurrency market, in general, go through both bullish and bearish periods. These periods have had effects, both positive and negative, on the price of Bitcoin. Below is a chart, courtesy of eToro, showing the different price points that bitcoin's market value has travelled through over the course of the last year.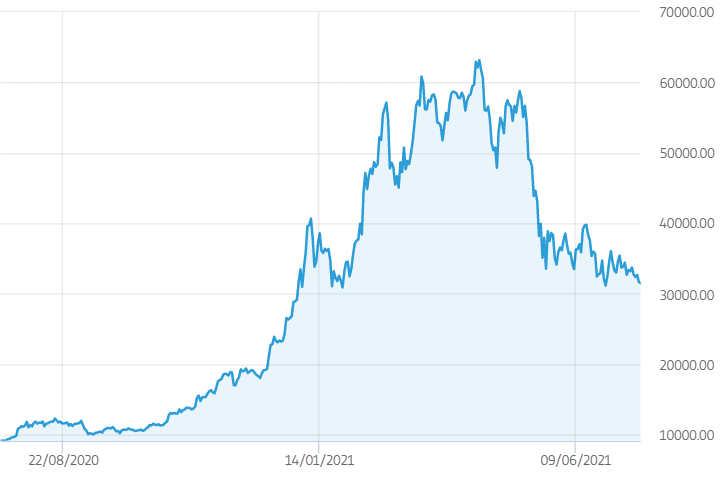 Chart showing the price history of bitcoin over the last one year | Image source: eToro
Where to Invest in Bitcoin?
There are several crypto brokers and crypto trading platforms that offer cryptocurrency trading and investment options. However, we always recommend that users invest with eToro. With eToro, users can rest assured that their investments are in the hands of the best broker in the market right now. There are several reasons for this.
The foremost reason why we recommend eToro is convenience. For convenience, eToro offers a mobile app on both iOS and Android, as well as a website for PCs and macs. This makes it easy to access eToro's services anywhere and at any time.
Your capital is at risk.
With eToro, you also never fall short of options. Not only can you invest in bitcoin on eToro, but you can also invest in several other crypto assets, stocks, commodities, ETFs, fiat currencies, and indices. Most other brokers do not offer such a plethora of options for investors and this makes eToro easily stand out from the rest of the pack.
How to Buy Bitcoin on eToro
To buy bitcoin on eToro, our most trusted brokerage service provider, follow the steps below:
Open an eToro account: eToro is the best destination for potential investors looking to buy bitcoin as you only need to cover the spread. You can visit the eToro website or access its services via the mobile app to create an account.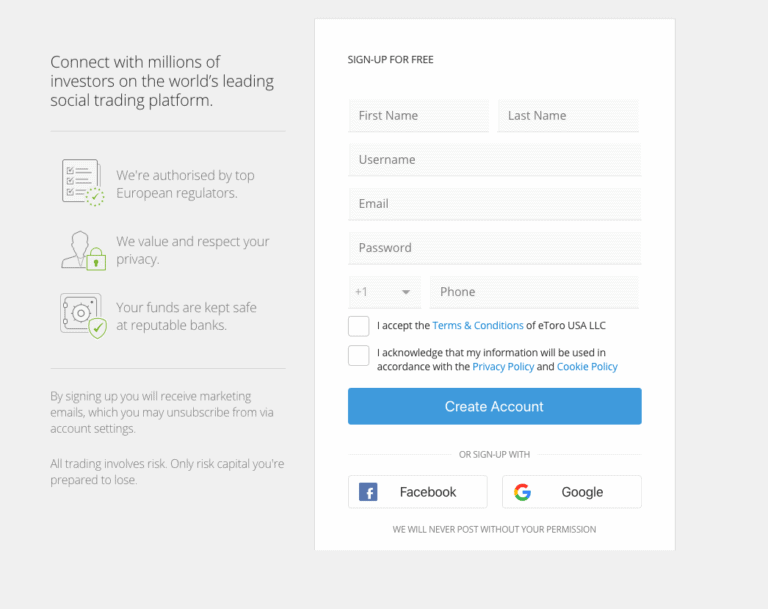 Your capital is at risk.
Upload ID: eToro has a KYC process that you must complete. This is to protect the integrity of the eToro platform and prevent scams. You can easily complete the KYC process by uploading a copy of any valid government-issued ID that you own.
Deposit: After verifying your identity, you can now make a deposit into your eToro account. Register your debit or credit card on eToro's secure payment portal, or connect your PayPal account to deposit your funds quickly.
In terms of deposit methods, eToro accepts the following options:
Credit card
Debit card
Bank transfer
PayPal
Skrill
Neteller
Klarna
Trustly
Buy Bitcoin: Lastly, search for bitcoin within the eToro website or mobile app interface and type in your preferred amount. You can either type in the number of coins you want to buy or the amount you want in dollars. Then confirm your order to buy bitcoin!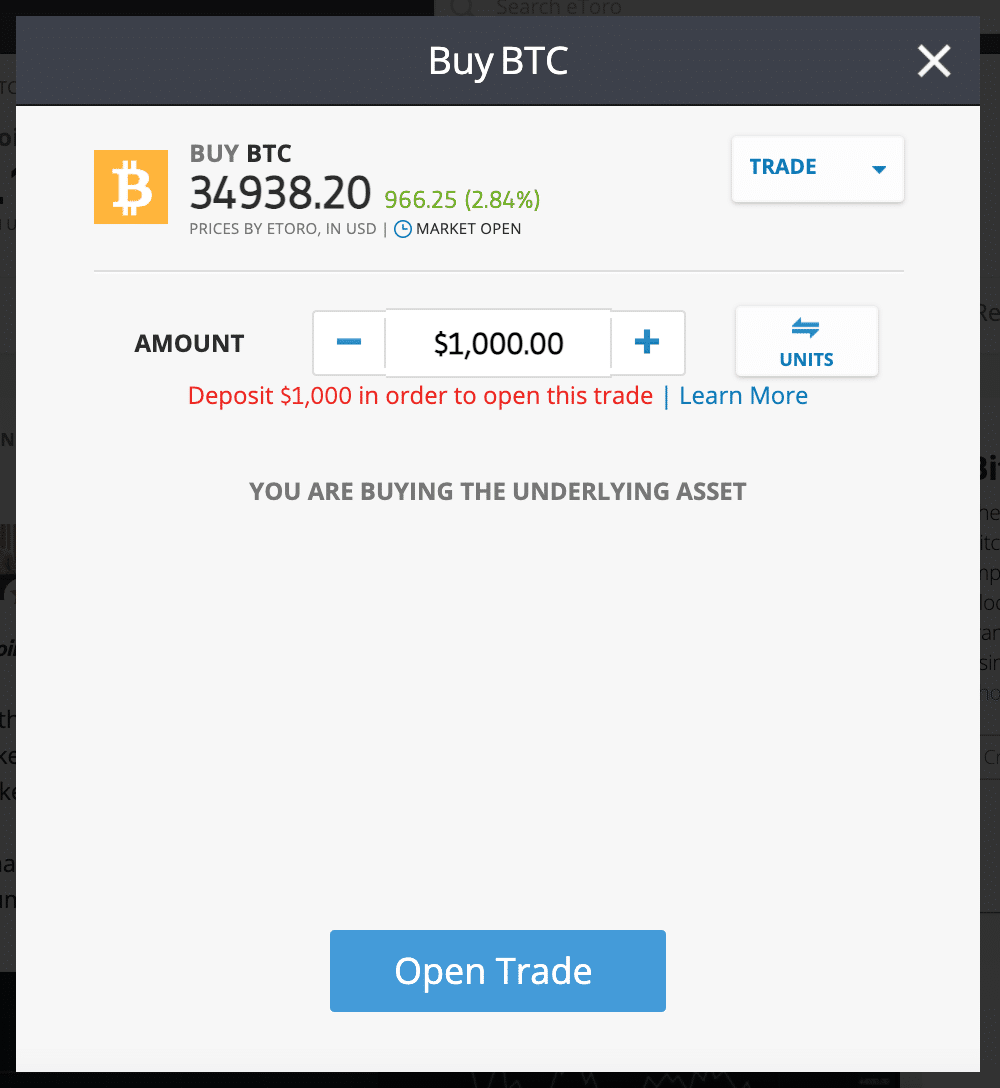 Conclusion
Bitcoin continues to push the frontiers of traditional finance and remains the pioneer of blockchain technologies. This is evident in the track record of Bitcoin and its continued increased popularity. With the trend in the price of Bitcoin and the constant buy-in from major industry players""both individual and corporate""in the finance sector, the price of Bitcoin can only go one way""up.
Our analysis of the price of bitcoin takes into consideration all of these factors, including bitcoin's price history, what the experts say, and our personal analysis of bitcoin's price trajectory. Ultimately, Bitcoin remains the top cryptocurrency in the world, and with a market cap of nearly $600 billion (three times the market cap of the second leading cryptocurrency, Ethereum) at the time of writing this article, bitcoin's relevance is not going away anytime soon.
Your capital is at risk.
FAQs
What is the price of Bitcoin today?
What price did Bitcoin start at?
What determines the price of Bitcoin?
What will Bitcoin be worth in 2023?
What will Bitcoin be worth in 2025?