IOTA Price Prediction
Since the beginning of the year, IOTA has been rising and falling along with other popular cryptocurrencies and the crypto market in general. The coin of IOTA, which is known as one of the most effective projects in the cryptocurrency market, was trading in April at $2.54, nearly 800% return from the start of the year. But, as we already know, the crypto market is another story, and IOTA dropped around 65% due to the crypto mini-crash that started in May.Still, IOTA has the potential to rise again in value in the short and long term. So, in this IOTA price prediction, we'll take a closer at IOTA price history performance and include IOTA forecast for 2021 and beyond.
We'll also help you get the necessary information to determine whether it is the right time to buy or short sell IOTA and suggest the best online trading platforms that support IOTA coin.
IOTA Price Prediction 2021
Before we continue to analyze the technical aspects of the IOTA project and its coin historical price performance, it's best to first find out what's the prediction for IOTA price for 2021 and beyond. Our IOTA price prediction is based on technical and fundamental analysis as well as on analysts' market predictions.
First, our IOTA technical analysis shows a bullish setup based on the recent break above 0.8028. As you can see in the chart below, IOTA was hovering around the 0.8028 (0.786 Fibonacci level) for several weeks as a support level, but as soon as the coin bounced back up, IOTA has managed to stabilize above this level. Thus, our 1-3 months IOTA price prediction shows that the next Fibonacci resistance level is somewhere around $1.2153-$1.5050.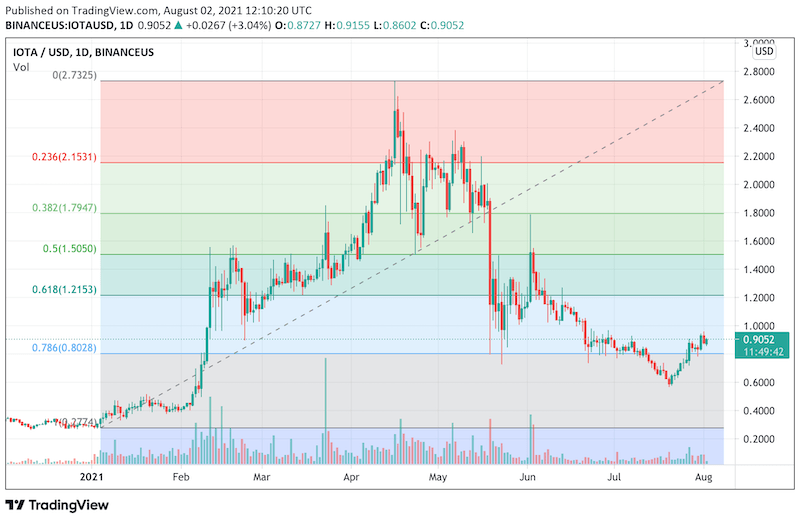 67% of retail investor accounts lose money when trading CFDs with this provider.
IOTA Price Prediction 2022-2023
Looking ahead, IOTA is forecasted by some analysts in the crypto world to continue its upward trend that started in January, after a long period of range trading. As a matter of fact, MIOTA was trading in a very narrow range between $0.19 to $0.51 for two years from January 2019 until January 2021. But as often happens after a long period of range trading, an asset is ready to pick a trend. In the case of IOTA, it seems that the coin started a positive upward trend.
By the beginning of 2022, MIOTA is expected to reach around $1.5, an increase of 66% from the current IOTA price today. By the start of 2023, some analysts predict the coin could be trading at $2.3, though some analysts provide more optimistic target prices for MIOTA at $3.5-$4 in 2023.
IOTA Price History – the Story of 2021 So Far
So far this year, IOTA has had a crazy start of the year, rising from $0.29 on January 1st to its yearly high of $2.59 on April 16. Then, IOTA fell sharply by nearly 80% to its lowest level of the year of $0.59 on July 21, largely due to the mini-crash in the crypto market that started in mid-May. The crypto market crash came as a result of Elon Musk and Tesla's announcement that the electric car company would not accept payments in Bitcoin or any other cryptocurrency due to the bad impact it has on the environment.
Further, China's war on Bitcoin and the crypto market, in general, has had a huge impact on each digital coin after the Chinese government banned companies and financial institutions from providing crypto-related services in May. But over the last two weeks, the crypto market rebounded strongly amid rumors that Amazon would start accepting Bitcoin and cryptocurrencies soon – Bitcoin, IOTA, and other altcoins surged higher after Amazon posted crypto and blockchain-related position.
IOTA, like the vast majority of digital assets, soared by more than 70% in less than two weeks, and it is now trading slightly below a crucial resistance level of $0.95-$0.98. Overall, since the beginning of the year, IOTA's YTD return stands at 195% as of August 3, 2021.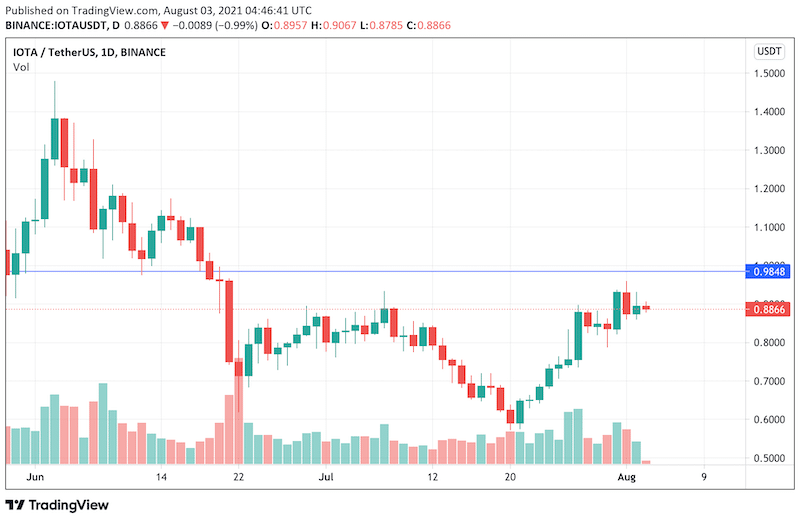 67% of retail investor accounts lose money when trading CFDs with this provider.
IOTA Price Forecast
Recently, there are signs of recovery in the crypto field, so it might be the right time to buy IOTA. Bitcoin jumped from below $30,000 to above $40,000 in two weeks and the vast majority of altcoins, including IOTA, followed. The main reason for the recovery in Bitcoin and cryptocurrency prices is the rumor that Amazon might accept cryptocurrency as a form of payment in the future. This could be a major boost to crypto prices and to the price of IOTA, similar to what happened when PayPal announced in April it allows purchases using Bitcoin and other digital assets.
Nonetheless, the IOTA coin is still in a neutral area and it's difficult to say if the last surge in price was a correction or a beginning of a new trend. The current IOTA price live seems to reach a point of consolidation, which sets up a flag pattern. An ideal flag pattern is characterized by a strong higher move, followed by sideways trading. Thus, if the coin breaks above the $0.96 level and the psychological 1$ mark, it is a signal for a strong move up.
Crucially, like many other altcoins in the cryptocurrency market, IOTA is highly correlated to Bitcoin at the present moment, meaning it is important to follow any news and updates about the most important digital currency in the world. In the chart below, you can see the high correlation between IOTA and Bitcoin since IOTA was launched in 2017.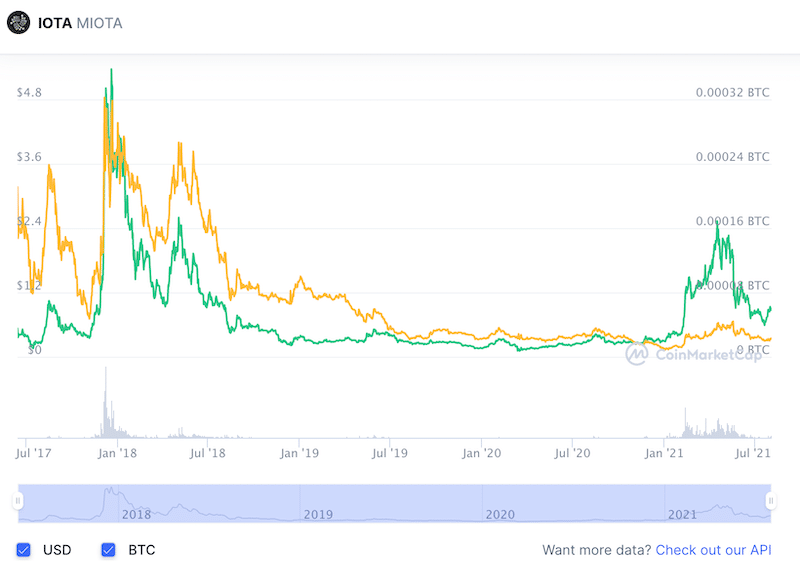 In the second half of 2021, it's predicted that the IOTA price will close the year at around $1.26 to $1.33. On the contrary, if the crypto market fails to continue its recovery mode in the upcoming month, the bearish IOTA forecast is that the coin will end up the year at around $0.67-$0.76.
IOTA Price Prediction Long Term Outlook
Much like Bitcoin and other cryptocurrencies, IOTA has struggled to stabilize its price this year and remained far away from its all-time high level of $5.36 in 2017. That said, the future of the coin that best represents the Internet of Things technology still seems very positive, at least in the eyes of investors and crypto analysts. The fact that IOTA has a great distributed ledger technology that is used for daily operations makes this project valuable and unique, something that is not very common with all projects in the crypto space.
For those of you who are familiar with the IoT, it is essentially a real-world application that is being used in smart homes, smart cars, security cameras and sensors, a connection of health devices, intelligent traffic control, etc. Some of the most famous IoT examples include WiFi, Siri and Alexa, autonomous cars, iRobots, smart watches, etc. Another thing that is very special about the IOTA network is that it has developed its own platform knowns as Tangle, which functions the same as the traditional blockchain technology, but it was designed for Internet of Things applications and devices.
When we take a look at the IOTA project, it is very likely that IOTA will become the most dominant IoT (Internet of Things) network in the future, a field that is growing exponentially and is expected to be a huge part of information and communications technology (ICT) ecosystems in small businesses and large infrastructures. Overall, the IoT market is expected to grow to 1.6 trillion  U.S. dollars in size by the end of 2025.
All things considered, it's 'perfectly logical' that MIOTA price will reach at least the mid-level of the previous high of $5.36 in 2017, meaning $2.68 – the highest level of the latest upward trend in 2021.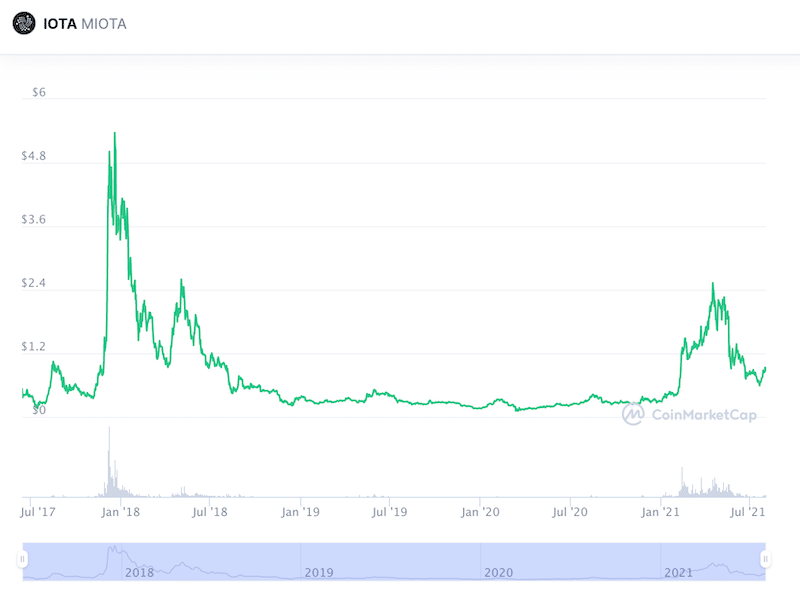 IOTA Price Chart
Based on IOTA daily, weekly, and monthly charts – IOTA is trading in a rising channel (if we remove the unexpected increase in value in late 2017 – early 2018). In the monthly chart, MIOTA is trading above the 50-period simple moving average of 0.7162 and above the exponential MA of 0.7129. If the coin will stay around these levels for some time, then IOTA is in a bullish trend and the next resistance is at 1.04, 1.16, 1.39, and then at 1.52.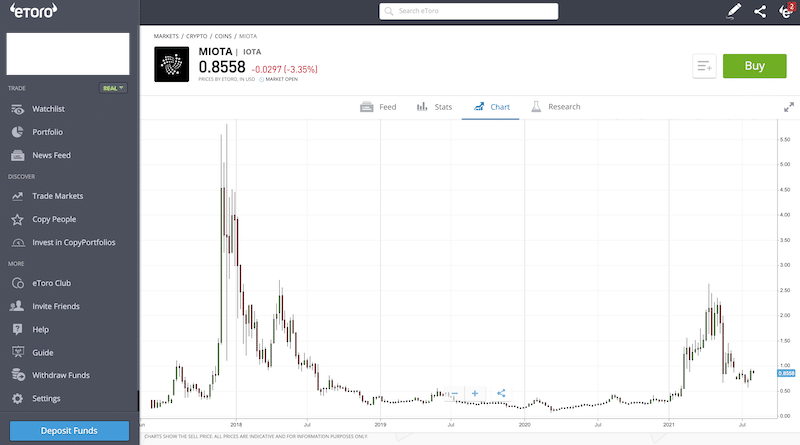 With that in mind, the crypto market is very unpredictable and volatile, meaning anything can happen. If IOTA's price drops – then, the next support level is at 0.8028 (0.786 Fibonacci level), 0.68, 0.56, and 0.44.
Where to Invest in IOTA?
As IOTA is one of the most popular crypto coins in the world, it is no wonder that you can find many platforms and exchanges that enables you to buy and sell this coin. That said, there are some crucial factors you need to take into consideration before you choose a crypto exchange or an online platform such as fees, regulations, the safety of funds, account creation, and the verification process.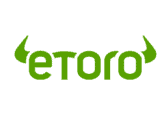 In our view, one of the best brokers and crypto exchanges to buy IOTA is eToro, an online social trading network that offers commission-free trading on cryptocurrencies and a huge range of features and tools. With more than 17 million users, eToro offers a different trading experience than other DIY platforms. Instead of conducting the market research and analysis on your own, at eToro you can contact other traders, share trading ideas and even automatically copy trades of other users by using a feature called the CopyTrade tool.
Further, unlike most crypto exchanges in the market, the eToro platform is user-friendly and easy to use. Plus, you get to trade cryptocurrencies like IOTA with extremely low fees and with a leverage ratio of 2:1, meaning you need to invest only 50% of the size of the position. Moreover, with eToro, you'll get access to the IOTA news feed, updates, posts from other users, and crucial stats about the coin such as analysts' opinions, market sentiment, etc.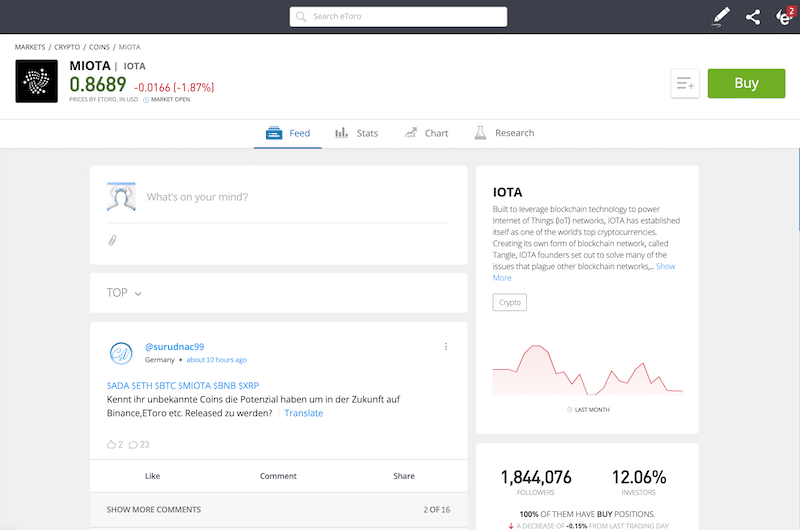 Finally, eToro is a great option to buy cryptocurrencies as it is one of the few regulated platforms in the crypto industry. This broker is regulated by the Financial Conduct Authority (FCA) in the UK, CySEC in Cyprus, ASIC in Australia, and is registered with FinCEN as a Money Services Business in the United States. As such, you can buy, sell, and store 29 different coins like Bitcoin, Ethereum, Ripple, Litecoin, Bitcoin Cash, and more without any concerns at all about potential hacking.
How to Buy IOTA on eToro
As mentioned earlier, if you are keen to buy IOTA coins right now, you need to find an online platform like eToro that supports this coin and is available in your country. Fortunately, buying IOTA at eToro's platform is a very simple and straightforward process. To do that, simply follow the steps below.
Open an eToro Account – First, visit eToro's account and sign up for an online trading account by submitting your email address and password.
Verify Your ID – As eToro is regulated in several regions across the world, you first need to verify your identity before you can buy IOTA. As such, you need to provide personal details and upload a copy of your ID and a copy of a utility bill.
Deposit Funds – After your account is approved and verified, you can add funds to your account balance. eToro requires a minimum of $200, which can be funded using one of the following payment options: credit and debit card, bank wire transfer, Skrill, Neteller, PayPal, Klarna, and Trustly.
Buy IOTA – At last, search for IOTA/USD in the search bar and click on the 'Buy' button. Then, insert the amount you want to invest in IOTA, choose market order, and click on the 'Place Order' button.
67% of retail investor accounts lose money when trading CFDs with this provider.
IOTA Price Prediction – Conclusion
At the time of writing, MIOTA is ranked as the 45th largest cryptocurrency in the world in terms of market capitalization with a market cap of nearly $2.5 billion. But IOTA used to be one of the five largest cryptocurrencies in the world in 2017, and for a good reason. It is certainly the most leading platform and cryptocurrency that enables data transfer between machines, computers, and devices in the ecosystem of the Internet of Things (IoT). And, it already has many clients worldwide and it has over 100 collaborations and partnerships with many tech companies, governments, etc.
The bottom line, IOTA has a lot of really attractive qualities, and thus, the price of IOTA is predicted to rise in the short and long term. After all, it is the largest and most popular Directed Acyclic Graph (DAG) network in the world. According to most analysts, IOTA stock is a good investment right now as it could reach $1.26-$1.3 by the end of the year and rise to around $4 at some point in 2023. For example, WalletInvestor says that IOTA's 1-year forecast is currently at 1.554 USD and the 5-year forecast stands at 4.154 USD.
To sum up, from our research and based on analysts' opinions and the sentiment in IOTA's market price action, this crypto coin could be a good investment right now with the right stop-loss rate.
67% of retail investor accounts lose money when trading CFDs with this provider.
FAQs
What is the current price of IOTA?
How high will the IOTA price go?
What is the forecast for IOTA?
What will MIOTA be worth in 2022?
What will IOTA be worth in 2030?